Coronavirus: Students 'scared and confused' as university halls locked down 'without warning'
'There's a lot of confusion, frustration, worry that you're not going to be able to get food'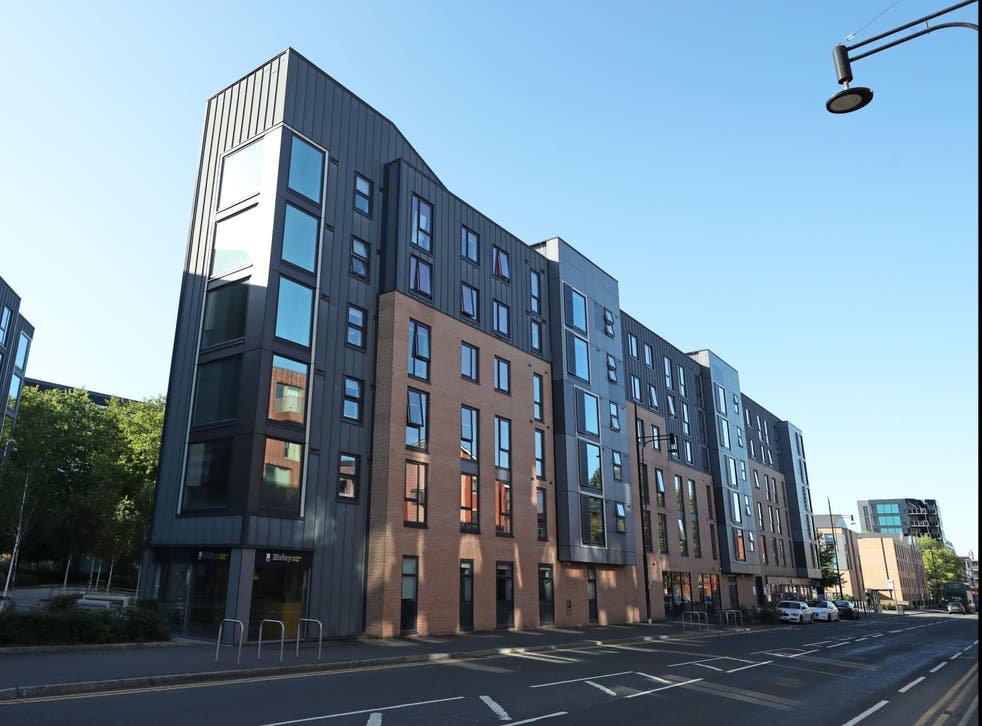 Students in lockdown at university have claimed police and security staff prevented them from leaving their accommodation after a coronavirus outbreak.
Manchester Metropolitan University has ordered residents at its Birley and Cambridge halls to self-isolate in their rooms for 14 days and only leave for medical emergencies.
The decision was announced by the city council on Friday after 127 students tested positive for coronavirus.
However students complained that they were given no warning of the lockdown and no guidance on how they would get food and other supplies.
One sign put up in a window at Birley Halls compared the university to a prison by referring to "HMP MMU".
Megan Tingey, a 19-year-old criminology student, said police turned up outside her Birley Vine accommodation.
"It was quite scary and confusing," she told Press Association. "A police van turned up and there were police outside the gate, quite a lot of them just walking around looking at everyone, especially because we didn't know what was going on.
"No one's really told us much and then the police turn up as well with security outside - it's a really, really difficult situation."
Dominic Waddell, a first-year filmmaking student staying at Birley campus, said t his fellow residents were "very angry".
"People are jokingly saying we'll rush the gates and stuff," he said.
"There's a lot of confusion, frustration, worry that you're not going to be able to get food - I think that's the main worry."
He added: "A few people got an email to announce they were locking down my accommodation, but not everyone got that so there was a big freak-out with everyone.
"There was a security guard that then just arrived at the gate of our accommodation and he wasn't letting anybody leave, not really explaining what was going on."
Human rights lawyers questioned whether the university had legal authority to prevent the students leaving and even suggested it could amount to false imprisonment.
Adam Wagner, a barrister who has made podcasts explaining coronavirus regulations, tweeted: "This very troubling. There is currently no law against travelling having tested positive."
On Saturday night Manchester Metropolitan University sent students a further email with information about food deliveries and other services, including an arrangement with the local Asda supermarket.
However it repeated its warning that students must not leave their accommodation "including for study, part-time work or socialising, unless there is a medical emergency".
The university added: "While you are allowed – and encouraged - to use the courtyard spaces at the Halls we must ask that you are considerate of your fellow students and local residents and ensure noise is kept to a minimum please.
"We appreciate this self-isolation period will present difficulties for you, especially coming so soon after your arrival at the University."
Additional reporting by Press Association
Join our new commenting forum
Join thought-provoking conversations, follow other Independent readers and see their replies