Manchester students to debate banning 'dangerous' David Cameron from campus
'We must make a stand against this undemocratic regime by banning David Cameron and his Tory government from our democratic Students Union and our University Campus,' motion says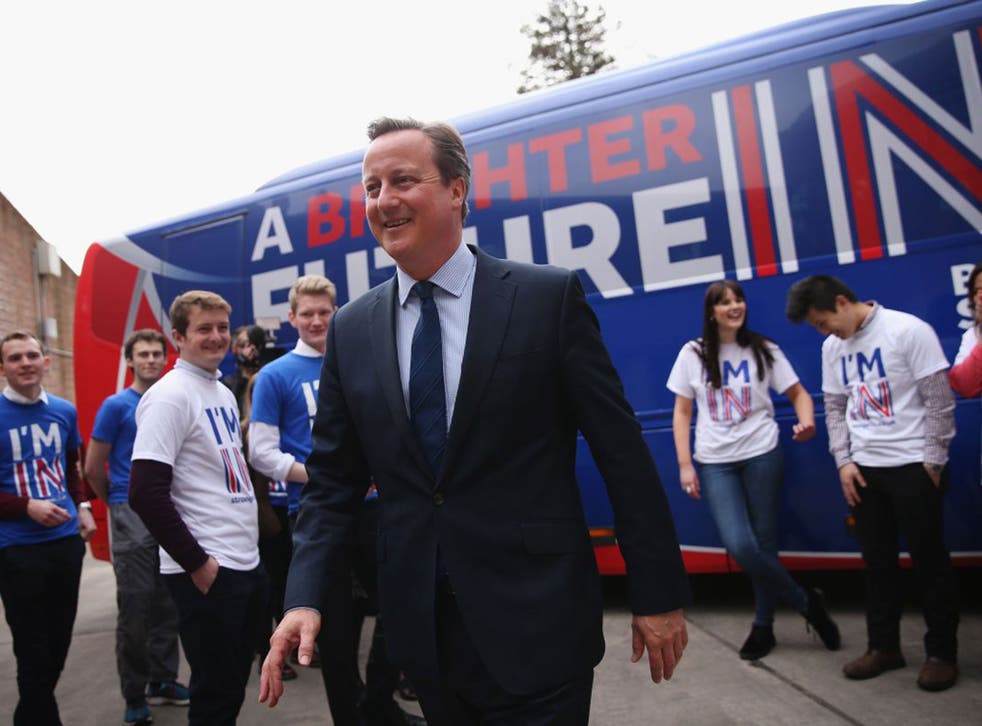 Manchester University students are to debate a motion calling for David Cameron to be banned from the campus to prevent him "manipulating" vulnerable people.
A motion submitted to the Students' Union uses the language of the controversial "no platform" movement to make the case for the Prime Minister to be prevented from visiting.
Conservative students condemned the "ludicrous" motion as an attack on free speech by the "loony left".
Previously Manchester Students' Union has been criticised for preventing feminist writer Julie Bindel from speaking at a society event about censorship, saying her views that transgender women should not be considered women was a breach of "safe space" policies. In Spiked magazine's 2016 Free Speech Rankings, Manchester University was classified as "red" because it had "banned and actively censored ideas on campus".
The unidentified student who wrote the motion argues that Mr Cameron should be banned because the Government's policies about the NHS are a breach of "safe space" policies.
"David Cameron is a dangerous Tory whom has continually attacked the welfare state with the intent of destroying it since the Tory government assumed absolute power in a so-called 'democratic' vote," the motion says.
"David Cameron and his right-wing Tory government were elected by a minority of the electorate, and zero students voted Tory, therefore we must make a stand against this undemocratic regime by banning David Cameron and his Tory government from our democratic Students Union and our University Campus.
"In addition, David Cameron has continually violated the Safe-Space policy by implementing changes to Junior Doctors NHS contracts.
"We must fight back against the Tory steamroller which is destroying the NHS and destroying the United Kingdom and also Europe. Also David Cameron has said that we should vote to stay in the EU, but he is a Tory and therefore he must have lied, therefore to prevent him being able to manipulate venerable students at the University we must ban him."
Manchester Conservative Future, which represents the party on campus, said the motion was "the most recent example of a long line of ludicrous motions to be debated by the union, a body mainly comprised of ideological Marxists, who are intent of trampling over the opinions of anyone who doesn't sign up to their loony left agenda. The student body will not stand for further erosions of free speech".
Naa Acquah, general secretary of the Students' Union, confirmed that the motion would be debated at the next senate meeting, which will be held on 14 April.
"This idea was submitted by one of our students rather than the Students' Union as an organisation, but we have established a place for students to debate any topic that they feel is important to them," she said.
"And I would encourage any University of Manchester student to get involved in these debates and shape relevant policies."
A spokeswoman for the Students Union later admitted it had "no power or jurisdiction over University facilities".
UK news in pictures

Show all 50
Register for free to continue reading
Registration is a free and easy way to support our truly independent journalism
By registering, you will also enjoy limited access to Premium articles, exclusive newsletters, commenting, and virtual events with our leading journalists
Already have an account? sign in
Register for free to continue reading
Registration is a free and easy way to support our truly independent journalism
By registering, you will also enjoy limited access to Premium articles, exclusive newsletters, commenting, and virtual events with our leading journalists
Already have an account? sign in
Join our new commenting forum
Join thought-provoking conversations, follow other Independent readers and see their replies