Marcus Rashford to launch budget cooking tutorials on Instagram
'Sometimes a lot of people are afraid of mistakes (in the kitchen), so if a lot of kids engage with it then it will be a lot of fun', Rashford says
Vincent Wood
Thursday 22 April 2021 18:49 Comments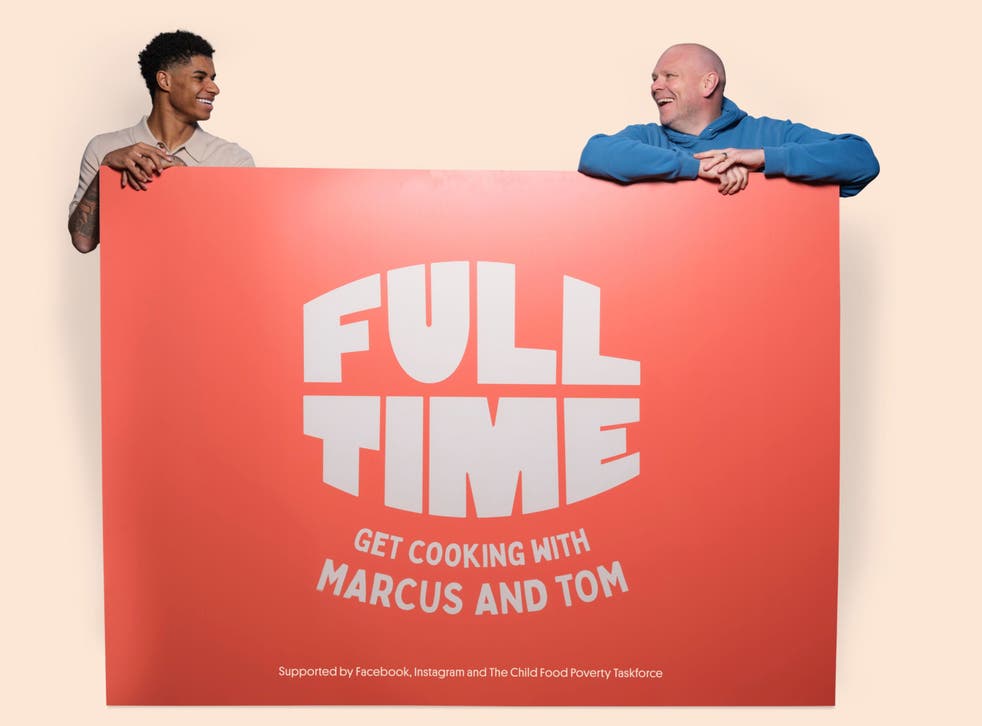 International Footballer and food poverty campaigner Marcus Rashford has traded in the pitch for the kitchen after working with chef Tom Kerridge to offer recipe ideas for low income families.
Rashford, who has lobbied for change around child food poverty throughout the coronavirus pandemic and last year forced a government u-turn on free school meal provisions, will be working alongside the Michelin star chef as well as other famous faces to help offer culinary education online.
His campaign - Full Time: Get Cooking with Marcus and Tom - is set to launch on Sunday alongside the government's Healthy Start payment scheme, which will give pregnant adults and children under four a weekly of £4.25 to buy milk, vegetables and pulses.
The policy was one of a number advocated for as a remedy to child food poverty by the footballer, along with holiday clubs to tackle holiday hunger and expansions to free school meal eligibility.
The pair's 52 tutorials will be posted on Instagram every Sunday, and cover recipes including fish pie, Mexican-style chicken, as well as lighter courses such as overnight oats and sandwiches.
Rashford, a self-confessed novice in the kitchen, will take part in around 20 video "how-to" sessions, with celebrity guests such as broadcaster Fearne Cotton and fitness guru Joe Wicks among those substituting in to join Kerridge, 47.
The pair, who will focus on the ingredients that healthy start vouchers will allow for on their FullTimeMeals instagram page, said they were inspired to join forces due to their personal experiences of growing up in single-parent households on low incomes.
Rashford, 23, told reporters ahead of the launch: "Is it fair if people go hungry? No it's not, it's unfair if somebody goes to sleep without eating a meal.
"I want it to get to a stage where, worst case scenario, everybody has to be at least eating three meals, breakfast, lunch and dinner, that's my aim."
He said the Full Time campaign sought to tackle any fears people may have about their own skills in the kitchen.
"Sometimes a lot of people are afraid of mistakes (in the kitchen), so if a lot of kids engage with it then it will be a lot of fun," he said.
Drawing on memories of going hungry as a child, Rashford added: "I remember sometimes at school I would fall asleep - I just hadn't eaten food, I wasn't awake, so I would just literally fall asleep.
"So I can see how it has an effect on their ability to learn and concentrate in class.
"Some of these kids may dream to be a scientist but imagine if they're in science class but they're always tired - I don't want that to happen."
Kerridge praised Rashford for his enthusiasm in the kitchen, and described the other household names taking part in Full Time as "a total mixed bag" in terms of their culinary ability.
"Some are pretty component, others used a bit of creative licence adding their own personal touches to the recipe which as a professional chef I absolutely love," Kerridge said.
"I don't care what level anyone is - just get in the kitchen and have some fun, it'll all be fine and you'll have something tasty to eat - what I can say is Joe Wicks is on the same page as me concerning pineapple and pizza."
Additional reporting by PA
Register for free to continue reading
Registration is a free and easy way to support our truly independent journalism
By registering, you will also enjoy limited access to Premium articles, exclusive newsletters, commenting, and virtual events with our leading journalists
Already have an account? sign in
Join our new commenting forum
Join thought-provoking conversations, follow other Independent readers and see their replies