Marks & Spencer faces threat of 'zombie seal' protests over links to salmon farm with worst culling record
Norwegian-owned salmon producer has legally killed 56 seals since 2013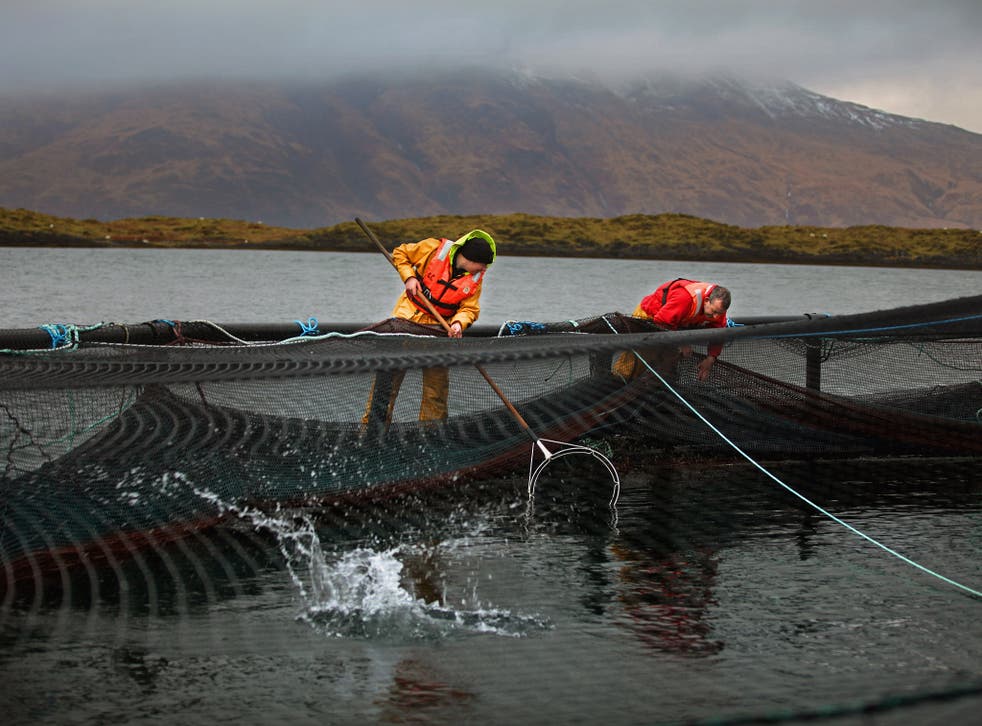 Marks & Spencer is at the centre of a seal culling scandal after it was revealed that it gets salmon for its premium range from the Scottish fish farm with the worst record for killing the protected mammal.
The Lochmuir range is farmed exclusively for Marks & Spencer by Scottish Seafarms across the far north of Scotland, but the high street retailer now risks protests outside its stores after it was revealed by campaigners that the Norwegian-owned salmon producer had legally killed 56 seals since 2013 under a Scottish government licence scheme.
The fish-farming industry, worth more than £500m annually to the Scottish economy, and SNP ministers in Holyrood had sought to keep the "commercially sensitive" data over seal culling secret, but a court victory by the campaigners forced the full disclosure earlier this week.
The documents show that in 2013 and 2014 more than a third of Scotland's 200 fish farms shot at least one seal, with a total of 173 of the mammals killed under licence.
Few salmon farms openly disclose which supermarkets and restaurants they supply, but Don Staniford, director of the Global Alliance Against Industrial Aquaculture (Gaaia), which won the ruling under the Freedom of Information Act, told The Independent there are now plans for a series of "zombie seal" protests outside supermarkets, including M&S, and restaurants who "still source from seal-killing salmon farms".
Gaaia has also written to supermarkets urging a boycott of seal-shooting salmon farms, and to the US Department of Commerce suggesting a ban on imports.
Of the 173 culled seals, 56 were executed by marksmen for Scottish Seafarms, which has been nominated by M&S for a sustainability award in its role as supplier of the Lochmuir range, while Hjaltland Seafarms/Grieg Seafood shot 36, and the Scottish Salmon Company killed 23.
All three firms say they have reduced the number of seals they cull, but few culled seal carcasses are ever recovered and campaigners argue the real number could be far higher. The publication of the data is a victory for campaigners who have accused some salmon farming companies of preferring to shoot seals rather than install costly equipment, such as strengthened anti-predator nets.
A spokesman for Marks & Spencer said: "Neither we nor our salmon farmers have any wish to see seals or any other sea life harmed. We have led the industry on this issue and invested time and money to avoid this happening."
A spokesman for Scottish Seafarms said: "In rare circumstances an individual seal's behaviour can present a persistent and significant threat to the welfare of the salmon, which requires us to utilise the licensed removal of the individual seal."
Register for free to continue reading
Registration is a free and easy way to support our truly independent journalism
By registering, you will also enjoy limited access to Premium articles, exclusive newsletters, commenting, and virtual events with our leading journalists
Already have an account? sign in
Register for free to continue reading
Registration is a free and easy way to support our truly independent journalism
By registering, you will also enjoy limited access to Premium articles, exclusive newsletters, commenting, and virtual events with our leading journalists
Already have an account? sign in
Join our new commenting forum
Join thought-provoking conversations, follow other Independent readers and see their replies