Parents of baby awaiting heart transplant plea for families to join donation register
'It's dreadful', says the father, Nick. 'We're hoping for someone to die'
Harriet Agerholm
Monday 26 September 2016 18:50 Comments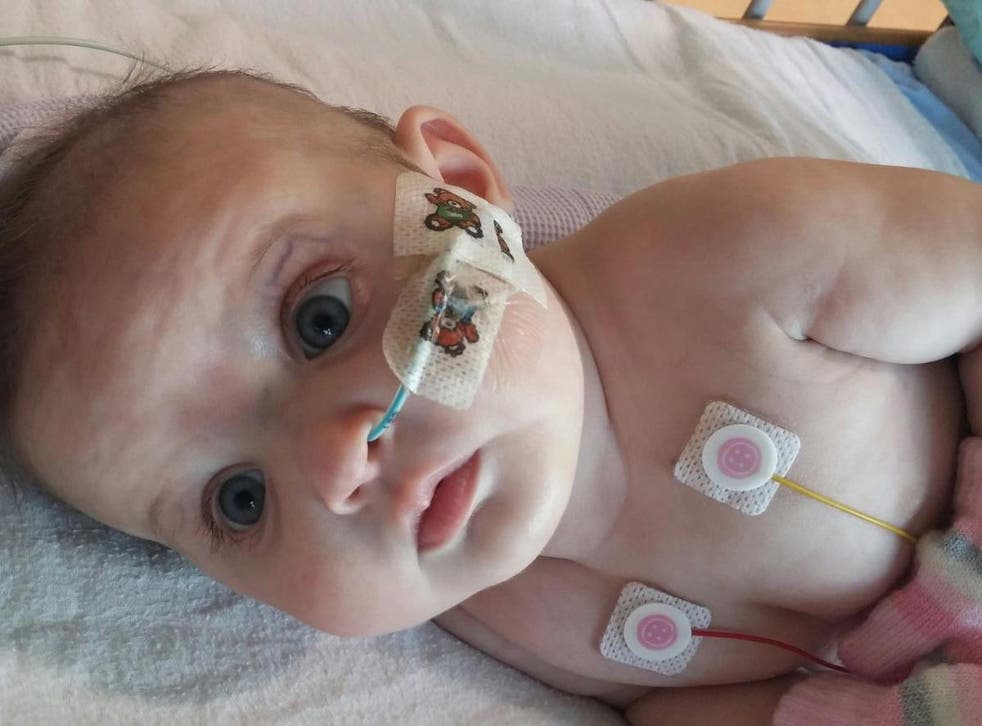 The parents of the UK's youngest patient awaiting a heart transplant – who "could die at any moment" – have made a desperate plea for families to sign up to the organ donor register.
Marnie, who is 20-weeks-old, was born with a severe heart defect. The walls of her heart are thicker than normal, meaning it has to work extra hard to pump her blood. With the strain that the organ is under it could give out at any point.
She needs a new heart – and soon. But her parents, Nick and Amy Brace, have been told it might take a year or more before they find one.
Now the couple, who live in Eastbourne, are campaigning for a change in the law, so that organ donation becomes automatic.
In most of the UK, people have to volunteer to be on the organ donor list.
But Wales had introduced a "deemed consent" system, meaning residents have to expressly opt out. According to the Welsh government, the scheme has saved dozens of lives.
But although the family believes firmly in the principle of organ donation, they feel conflicted about what getting a heart for Marnie means.
"We're relying on another child dying," Nick said. "That's dreadful. We're hoping for someone to die."
The family moved to London when Marnie first became ill to be near a children's hospital with the right facilities for her. During the day they take it in shifts looking after Marnie and her brother Jonah, who is 21-months-old. In the morning Nick looks after Jonah while Amy spends time with Marnie at the hospital, then they swap over.
Nick speaks quickly – he said it's a habit he and Amy have developed from only having a few minutes a day to speak to each other when they swap over at the hospital.
Their brief conversation about how many times Marnie has been sick, what her breathing is like and her what her heart rate is is usually the only conversation they have all day.
Some weeks they may leave Marnie alone for half an hour to have lunch together: "We might go to the [hospital] canteen," said Nick, "That's our treat".
Children can succumb to illness more quickly than adults, Nick said. "If babies do go they can go quicker.
"It's like with children with a cold: they get a cold quickly and they get rid of a it quickly. It's the exact same principle."
It means the family live in constant suspense. Their grief comes in waves: "It's up and down," Nick said, "That's what's nauseating. That's what keeps us awake at night."
Even if they get find a heart transplant soon, it's not going to "fix" Marnie, Nick said.
UK news in pictures

Show all 50
He remembers the day Marnie's doctor invited them into a room and told them even with the heart she was only expected to live 15 or 20 years.
"We were told that and it crushed us," Nick said,
He said he imagined her at school in the future, surrounded by friends who were discussing who they might one day marry.
"She's going to know that it's highly unlikely she'll be marrying", he said.
A fund has been set up to support the Brace family, which you can donate to here
Register for free to continue reading
Registration is a free and easy way to support our truly independent journalism
By registering, you will also enjoy limited access to Premium articles, exclusive newsletters, commenting, and virtual events with our leading journalists
Already have an account? sign in
Join our new commenting forum
Join thought-provoking conversations, follow other Independent readers and see their replies