UK heterosexual marriage rate falls to lowest on record
New statistics show continued decline of unions between opposite-sex couples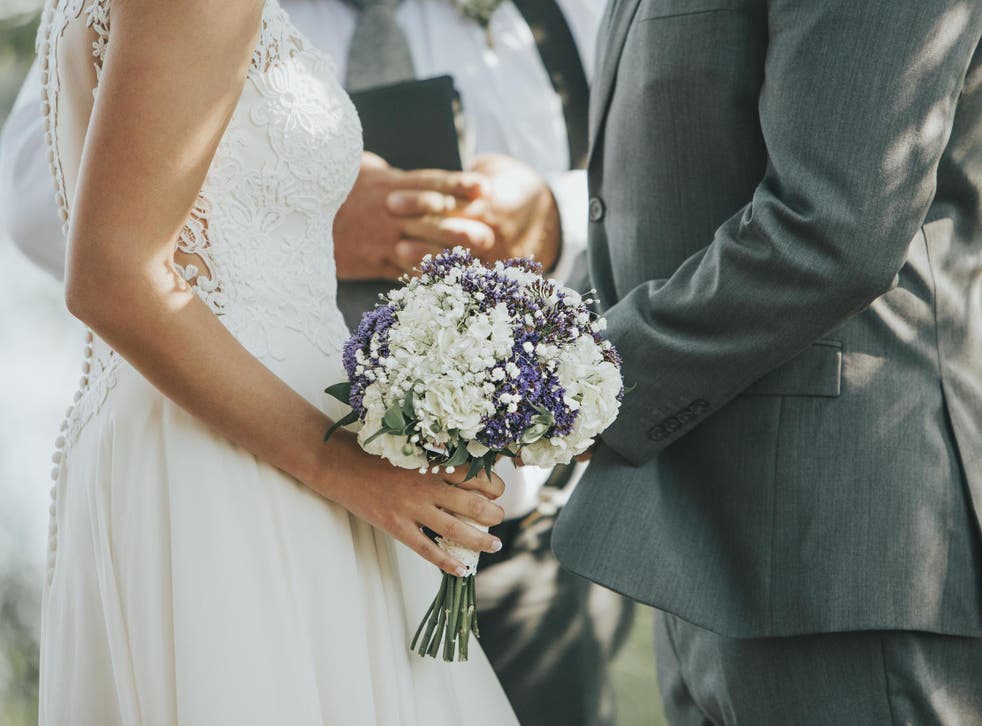 The number of opposite-sex couples getting married has fallen to the lowest level in history, new official figures show.
A total of 242,842 marriages were registered in England and Wales in 2017 – a decrease of 2.8 per cent from 2016.
The drop could be due in part to a decline in religious ceremonies, which fell by 9.5 per cent in 2017 compared to the previous year, according to the Office for National Statistics (ONS).
Some 6,932 of the marriages registered in 2017 were between same-sex couples – 44 per cent between male couples and 56 per cent between females – a similar figure to 2016 when 7,019 were registered, ONS stated.
More than 1,000 couples converted their existing civil partnership into a marriage and 43 same-sex couples married through religious ceremonies in 2017.
UK news in pictures

Show all 50
This is the first time data for the year has been published and it shows a continued long-term trend in declining numbers of marriages between opposite-sex couples, with a 45 per cent decrease since 1972.
The figures also illustrate an age gap among heterosexual couples, with more women than men marrying aged 30 or younger and more men than women marrying aged 30 or older.
This pattern reflects the fact men tend to get into relationships with women younger than themselves on average, the ONS said.
The average age for men marrying in 2017 was 38 years, while for women it was 35.7 years among heterosexual couples.
In comparison, the average age at marriage for same-sex couples was slightly higher, at 40.1 years for men and 36.6 years for women, the figures show.
Over the past decade, there has been a steep drop in opposite-sex marriage rates between men and women younger than 20 (57 per cent for men and 62 per cent for women).
By contrast, marriage rates for those aged 65 years and over have increased, climbing 31 per cent for men and 89 per cent for women, the ONS said.
Alice Rogers, a solicitor from Hall Brown Family Law, said the figures appeared to show a gulf in how different age groups prioritised marriage.
She said: "Many younger couples find themselves still trying to clear their student debts, saving to get on the property ladder and starting careers, and so question the expense of a wedding, especially when they see many of their peers choosing to cohabit instead.
"On the other hand, individuals over the age of 55 seem to grasp more clearly the benefits of marriage, even if they've already been through the pain of divorce.
"The figures suggest women are driving marriage in later life."
Marriage rates are the number of marriages per 1,000 unmarried men and women aged 16 years and over, with official records stretching back to 1862.
Additional reporting by Press Association
Register for free to continue reading
Registration is a free and easy way to support our truly independent journalism
By registering, you will also enjoy limited access to Premium articles, exclusive newsletters, commenting, and virtual events with our leading journalists
Already have an account? sign in
Register for free to continue reading
Registration is a free and easy way to support our truly independent journalism
By registering, you will also enjoy limited access to Premium articles, exclusive newsletters, commenting, and virtual events with our leading journalists
Already have an account? sign in
Join our new commenting forum
Join thought-provoking conversations, follow other Independent readers and see their replies