Mary Beard posts tearful picture of herself after defence of Oxfam aid workers provokes backlash
Academic was criticised both for the original tweet and for 'manipulative' photo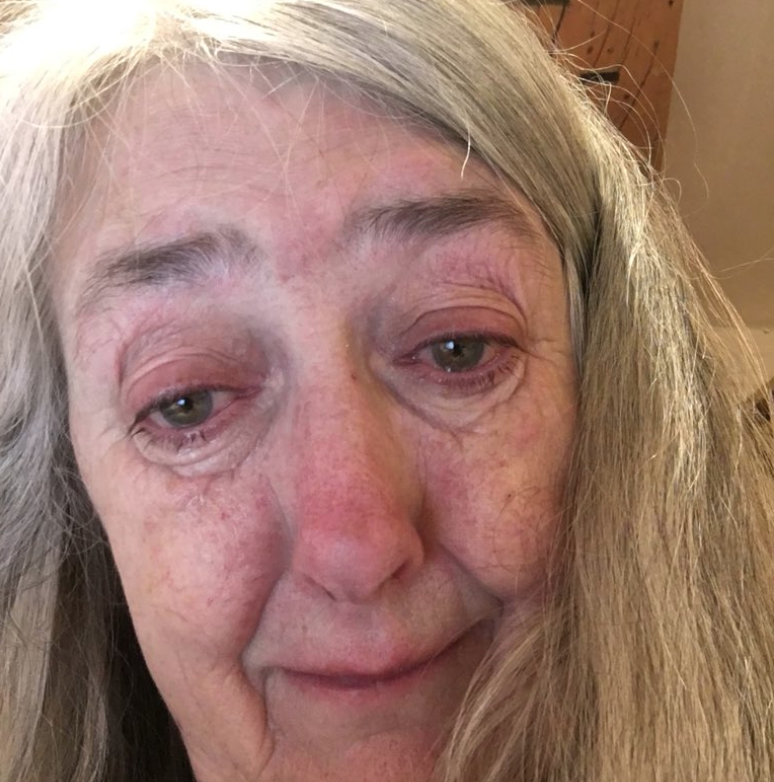 Mary Beard has been hit by a wave of criticism following an apparent attempt to rationalise the behaviour of Oxfam aid workers in Haiti, after reports emerged about the alleged sexual exploitation of women and children.
The Cambridge academic, who was recently announced as the new presenter of the TV version of BBC Radio 4 arts programme Front Row, wrote on Friday that she wondered how hard it would be to "sustain 'civilised' values in a disaster zone".
She also said that while she did not condone the behaviour of Oxfam staff in Haiti and elsewhere, overall she respected "those who go in to help out, where most of us wd not tread".
Oxfam CEO Mark Goldring apologises over Haiti sex scandal
The Independent recently revealed how Oxfam was told of aid workers raping and sexually exploiting children in Haiti a decade ago, with a 2008 report sent to the charity's CEO warning of rape, assault and exploitation on a "significant scale" in Haiti.
Professor Beard's words prompted fierce criticism, including from fellow Cambridge academic Priyamvada Gopal, who wrote in a series of tweets that "this kind of thing is the *progressive* end of the institutional culture I have to survive day in day out" and "Cambridge desperately needs a Breaking the Silence on racism. About time and beyond".
In a following tweet Dr Gopal satirised Prof Beard, writing: "Obviously it's not a great idea to randomly get your d**k out, rape people etc. But it's not easy to be politically correct while in s**tholes. And overall I still respect people who head out to s**tholes 'cos I sure as hell wouldn't dream of it'."
Responding to the backlash Prof Beard then wrote: "I am amazed that after decades of Lord of the Flies being a gcse English set book we haven't got the point about the breakdown of morality in danger zones!! Just saying and this is NOT to condone the actions of a few aid workers".
Oxfam executive director: 'I'm appointing a high-level commission'
In a later tweet she posted a photo of herself and said she was left "sitting here crying", and wrote in her blog about the the torrent of abuse she had experienced: "the predictable name calling 'pervert', 'sick cow', 'disgusting creature' or gross misreadings... 'how hard is it not to gangrape women in a disaster zone?'. 'you've lost your house, your family are dead, fancy a shag? Do you take PayPal?' (I didn't really want to include that, but I felt that you needed to see the tasteless too.)"
She added: "I find it hard to imagine that anyone out there could possibly think that I am wanting to turn a blind eye to the abuse of women and children" and that "while we deplore what has happened and expect better, it is worth thinking of the context in which it took place.
"99% of us have no idea of the stresses of working in these environments (and yes, living in them is worse, as there is no escape route). Most aid workers deal with that, I suspect, by drink and cigarettes. But that kind of societal, infrastructural breakdown provides a space for much worse.
"That is not to condone the awful things that happened but to contextualise them. And that is what we need to do, if we want to stop this happening again."
However, if she had been hoping the post would turn the criticism into sympathy she was disappointed. The Netherlands-based writer and feminist Flavia Dzodan tweeted: "Mary Beard, a prominent woman with almost 200k followers posted a photo of herself crying her white feminist tears. I am amazed by the extent of sentimentality people will go through, debasing themselves if necessary in order to sustain their ignorance, bigotry or both."
Kelechi Okafor wrote: "If it had been a country of white children and women who were sexually violated for the sake of "charity" you wouldn't be opening your long neck to spew this nonsense @wmarybeard. You fail to see the humanity in Blackness."
Others spoke out in her defence: New Statesman deputy editor Helen Lewis tweeted: "FWIW [for what it's worth], I don't think Mary Beard is being "manipulative" or "playing the victim" by showing how she's emotionally affected by Twitter pile-ons. I think she's being (perhaps ill-advisedly) honest.
"She's redefining the behaviour we expect from a public intellectual – by engaging at length on Twitter, not just handing down tablets of stone – and even when I disagree with her (as I do here), that's admirable."
Guardian columnist Hadley Freeman replied to Lewis and added: "It's also pretty much the textbook definition of bullying: mocking someone for showing weakness."
Dr Gopal later posted a detailed response on Medium, where she said she had arranged a private meeting with Prof Beard to discuss the matter but also wanted to address it in public.
"It is not just about you and me, or about an isolated tweet which we know to have shocked and disappointed many of your followers," she said. "It is about what is still acceptable and, indeed, valorised in public discourse in Britain and as such needs to be examined with a degree of detachment…
"Your blogpost is not an adequate intellectual response to your, well, frankly outrageous tweet; it's a series of postures of innocence and a continued refusal to analyse a problem in all its thorny difficulty."
"I am not going to post a picture of myself crying," she said later in the piece. "If I posted every time I was made miserable by abuse or by the genteel liberal racism that is the very lifeblood of Cambridge social intercourse, I would have a feed full of misery. And it would be manipulative.
"I cry privately  –  a lot. But I think the time has come, long since, for Britain's white thought leaders and Oxbridge's more progressive elements to listen and learn with a degree of open-mindedness and humility instead of retreating into postures of self-pity or defensiveness. And private interactions notwithstanding, this conversation has to be public, searing, open and mutually transformative."
Join our commenting forum
Join thought-provoking conversations, follow other Independent readers and see their replies