Max Mosley was the brains behind the Leveson report
The controversial motor racing boss who sued over sex revelations proposed the structure for press regulation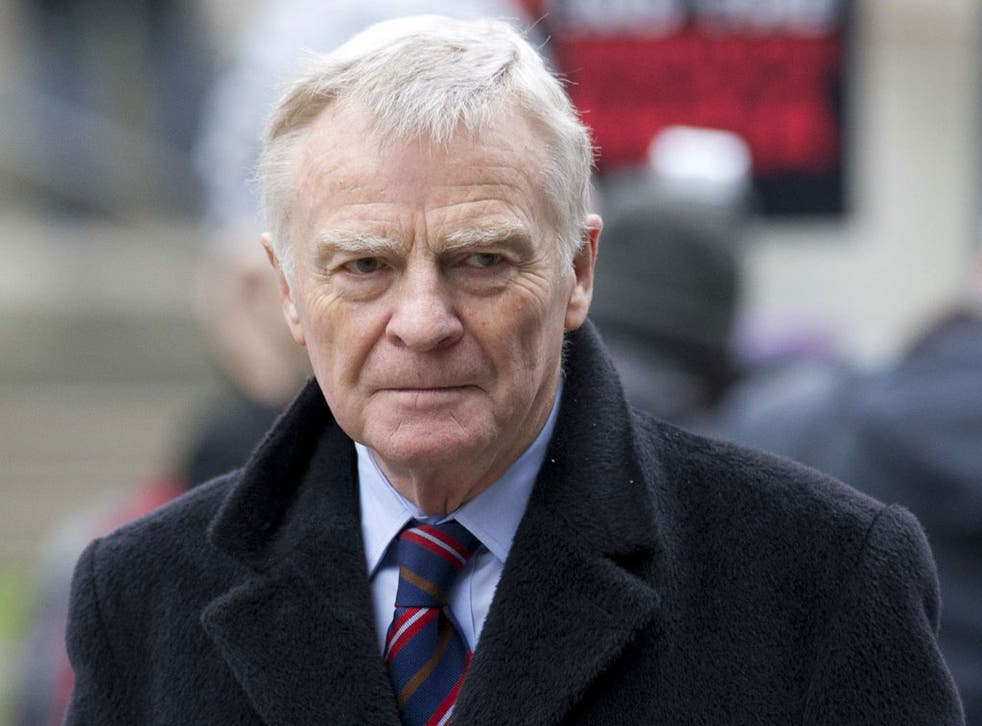 Max Mosley has emerged as having been one of the most influential figures in the drawing up of Lord Justice Leveson's report, The Independent on Sunday has established. The former FIA boss is identified in the final report as being the source of the proposed structure which Lord Justice Leveson eventually endorsed. It was Mr Mosley who advocated a clear distinction between the bodies that write and enforce the rules.
Mr Mosley first gave evidence in November last year, when he was invited to submit any suggestions for Lord Justice Leveson to consider. He did so in January and was invited to elaborate yet further, which resulted in him submitting a written plan in June and returning to give oral evidence in July.
The Leveson report reads: "The third proposition, only explicitly put forward by Max Mosley, is that there should be separate independent bodies which set the standards and enforce them. This would allow for statutory enforcement of press standards without the standards themselves being set by a statutory body." Mr Mosley's testimony appears on eight subsequent occasions.
Mr Mosley, 72, successfully sued the News of the World for invasion of privacy in 2008 after it had run a sexual exposé on him wrongly suggesting that consensual S&M scenes seen on video footage had a neo-Nazi connotation. The judge found in his favour and Mr Mosley, a trained barrister, has campaigned extensively since then.
Mr Mosley said last night: "What I said may have had an influence. I'm just one of many who submitted evidence, and one always hopes one will be listened to when you've put in a lot of time and effort, but it probably has had a modest effect. I think I have helped."
He added that he could quite understand the press being resistant to any attempt to muzzle it by politicians. He also added that of particular concern was to devise a system that allowed those of modest means to get access to remedy in law. Lord Justice Leveson appeared to endorse this during the verbal exchanges.
Mr Mosley added last night: "I absolutely agree that it is the press that knows its own business, and should set its rules. To my mind, the issue was how to enforce those rules once they are set, and surely it's fair enough for that not to be done by journalists. It will be interesting to see how long it takes for the politicians to see the full subtlety of what Leveson has done. They may come to realise that what Leveson is proposing will not have an impact on the freedom of the press. It will just mean the abuses of the past will no longer be possible. At the moment they are all missing the point."
Mr Mosley has lobbied for the press to be required to offer prior notification to the subject of a story, giving them the chance to obtain an injunction. His submission on that issue was rejected.
Register for free to continue reading
Registration is a free and easy way to support our truly independent journalism
By registering, you will also enjoy limited access to Premium articles, exclusive newsletters, commenting, and virtual events with our leading journalists
Already have an account? sign in
Register for free to continue reading
Registration is a free and easy way to support our truly independent journalism
By registering, you will also enjoy limited access to Premium articles, exclusive newsletters, commenting, and virtual events with our leading journalists
Already have an account? sign in
Join our new commenting forum
Join thought-provoking conversations, follow other Independent readers and see their replies