What is May Day 2019 and when is the next UK bank holiday?
Date has also been known for anti-capitalist protests around the world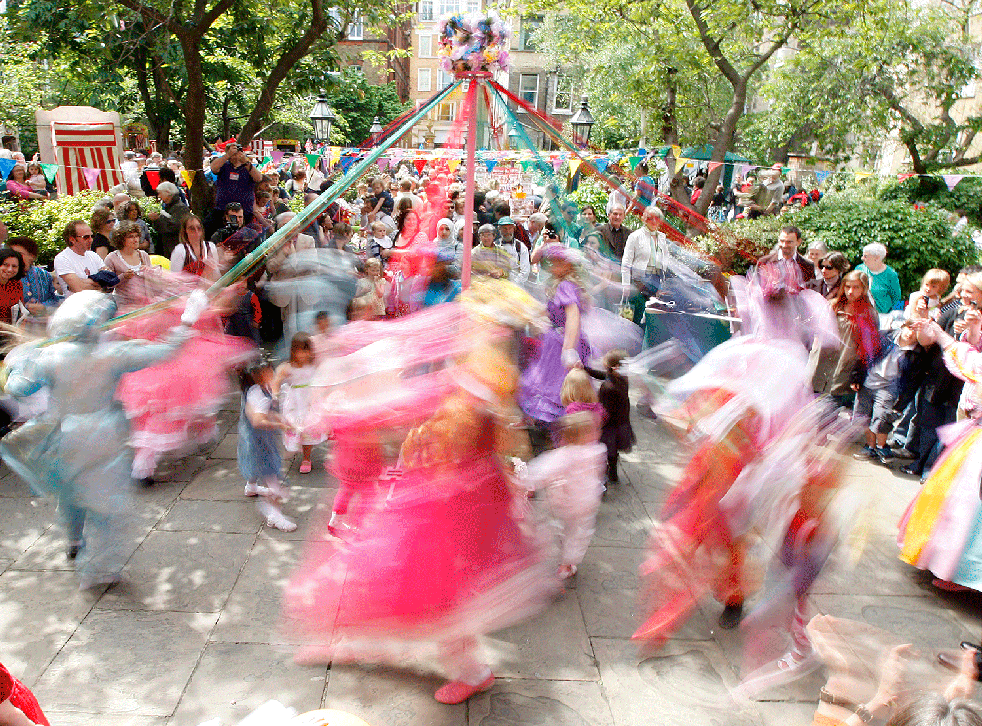 May Day is perhaps most closely associated by Britons with a three-day bank holiday weekend and an excuse not to set the alarm on 2 May.
But the traditions of 1 May have their roots in pagan festivals celebrating spring and fertility, and the date has come to be linked to everything from maypole dancing to anti-capitalist sentiment.
The national holiday itself is a recent invention, with the Labour government only introducing it to the calendar in 1978.
So what is it, and why do we have it?
How did May Day come about?
Three different celebrations in late April seem to have merged to give 1 May its special significance.
Gaelic May Day in Ireland and Scotland, known as Beltane, was held halfway between the spring equinox in the middle of March and the summer solstice in the middle of June.
Marking the beginning of summer, Beltane was celebrated by villagers with bonfires and rituals to protect crops and cattle, along with a big feast.
In Germany, Finland and Sweden, meanwhile, Walpurgis Night celebrated a special saint with a feast on 1 May that included dancing and young women being kissed – and was sometimes seen as a night when witches would await the arrival of spring.
Another festival held by the Romans to celebrate Flora, the goddess of flowers, in late April also marked the arrival of summer.
Eventually, together these celebrations became the secular festival of May Day now in existence.
What happens on May Day?
May Day is synonymous with the maypole, believed to be rooted in a pagan tradition of cutting down young trees and sticking them in the ground to mark the arrival of summer – and then dancing around them in rival performances between villages.
The day is also associated with Morris dancing, usually by groups of men wearing different coloured clothes depending on the part of the country they dance in.
Well-dressing and making flower garlands can be part of the festivities, while a May Queen and sometimes a "Green Man" might also make an appearance as the embodiments of spring.
Why have there been riots on May Day in the past?
The date coincides with International Workers' Day, which has its roots in a labour union movement that advocated an eight-hour working day.
Anti-capitalist riots have marked the date as a result, first in Ohio in 1919 when disorder during a parade of unionists, socialists, communists and anarchists was violently suppressed by police.
In 2000 and 2001 there were May Day protests in London in which McDonalds, a statue of Winston Churchill and the Cenotaph were attacked and 95 people were arrested.
Other protests took place around the world in 2013, 2014 and 2015 to promote workers' rights.
What are some of the weirder facts surrounding May Day?
Oliver Cromwell and his Puritans described maypole dancing as a "heathenish vanity" and passed legislation against it in 1660.
"Merry Monarch" Charles II, however, returned them to national consciousness by erecting a huge 40-metre pole on the Strand in London and remaining there for almost 50 years.
In Oxford, a Latin hymn or carol is sung from the top of Magdalen College tower on May Day morning, followed by the ringing of bells to signal the start of Morris dancing in the streets.
And one of the more unusual annual traditions associated with the date involves students at St Andrews rushing naked into the sea at sunrise on 1 May out of enthusiasm for the change of season.
This article was originally published in April 2016
Register for free to continue reading
Registration is a free and easy way to support our truly independent journalism
By registering, you will also enjoy limited access to Premium articles, exclusive newsletters, commenting, and virtual events with our leading journalists
Already have an account? sign in
Register for free to continue reading
Registration is a free and easy way to support our truly independent journalism
By registering, you will also enjoy limited access to Premium articles, exclusive newsletters, commenting, and virtual events with our leading journalists
Already have an account? sign in
Join our new commenting forum
Join thought-provoking conversations, follow other Independent readers and see their replies