McDonald's criticised for using fake graffiti tags in newly-refurbished Brixton branch
'Hopefully this is another step towards graffiti being really dated and corporate and thus not worth doing'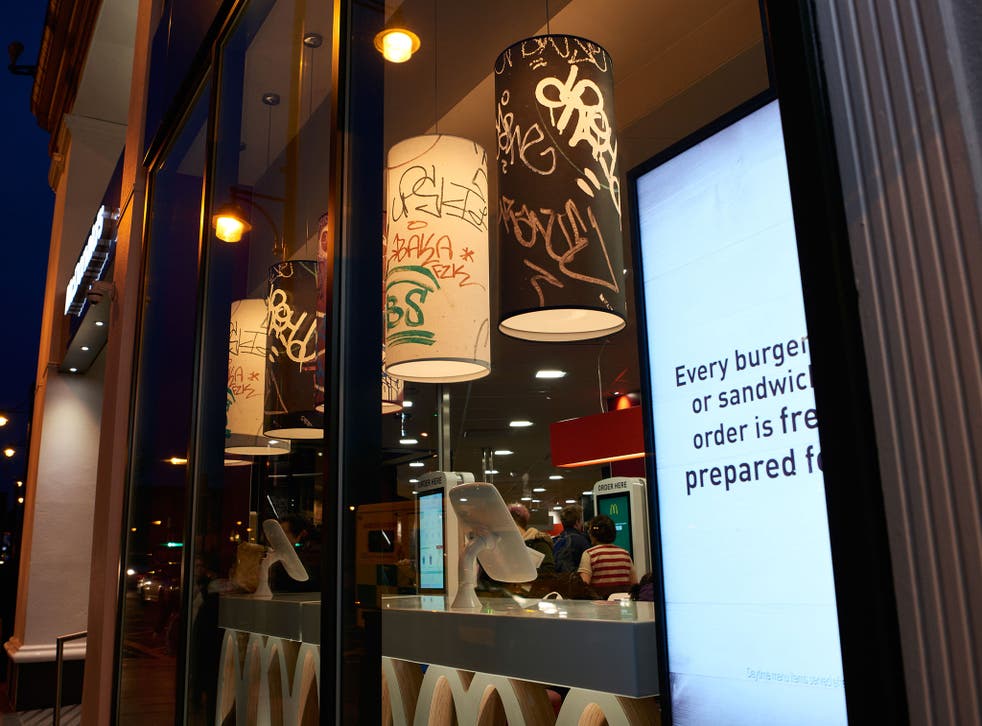 McDonald's has been criticised for using fake graffiti tags to decorate one of its restaurants in an inner city area plagued with the daubings.
The fast food chain's newly-refurbished branch in Brixton, south London features lampshades covered with graffiti markings.
But many locals are not impressed. One said the redesign was "a poorly thought through, corporate attempt at being down with the kids" while another said the fast food giant was "trying to card to be urban cool". Lambeth resident Matthew Jupp said: "Hopefully this is another step towards graffiti being really dated and corporate and thus not worth doing."
Lee Dema, who runs the St Matthew's Project, a young people's support network named after a Brixton estate, told the Independent: "This is just another misguided attempt by suits to identify with 'edgy' Brixton. They should have opened up another outlet in Brixton Village and used Laura Ashley lampshades for all the middle class poseurs around them."
Food critic and TV presenter Jay Rayner called the design a "truly offensive idea" saying that "the real thing blights Brixton".
McDonald's art: They're lovin' it

Show all 8
However, many street artists disagree with the view graffiti has had a negative effect on the south London district. Several graffiti murals have been painted on the shutters of small businesses in Brixton as part of a campaign to stop them being pushed out by a railway development.
The Brixton McDonald's redesign is the latest in a long line of similar interior revamps from the fast food giant that have usually been met with complaints. Leicester, Northampton and Brighton are just some of the cities that have already been given the extreme makeover.
Last October, customers in Redhill, Surrey denounced the same refurbishment at their local outlet as "too ghetto".
Man smuggles knife and McDonalds into Wormwood scrubs
A McDonald's spokesperson said: "The exciting and fresh designs used in Brixton are in use across the UK and in other markets and have received a great reception. With self-order kiosks and free-to-use tablets, the refreshed restaurant has digital innovation at its heart and provides customers with more choice in how they order and pay. We look forward to hearing what local residents think of their new McDonald's."
Register for free to continue reading
Registration is a free and easy way to support our truly independent journalism
By registering, you will also enjoy limited access to Premium articles, exclusive newsletters, commenting, and virtual events with our leading journalists
Already have an account? sign in
Register for free to continue reading
Registration is a free and easy way to support our truly independent journalism
By registering, you will also enjoy limited access to Premium articles, exclusive newsletters, commenting, and virtual events with our leading journalists
Already have an account? sign in
Join our new commenting forum
Join thought-provoking conversations, follow other Independent readers and see their replies