More than 1,000 reports of sexual abuse and harassment at UK McDonald's, campaigners say
Exclusive: 'He texted me to say he was at home alone with just the kids. I just blocked his number. That resulted in him pulling his pants down in the stockroom where there were no cameras,' says McDonald's employee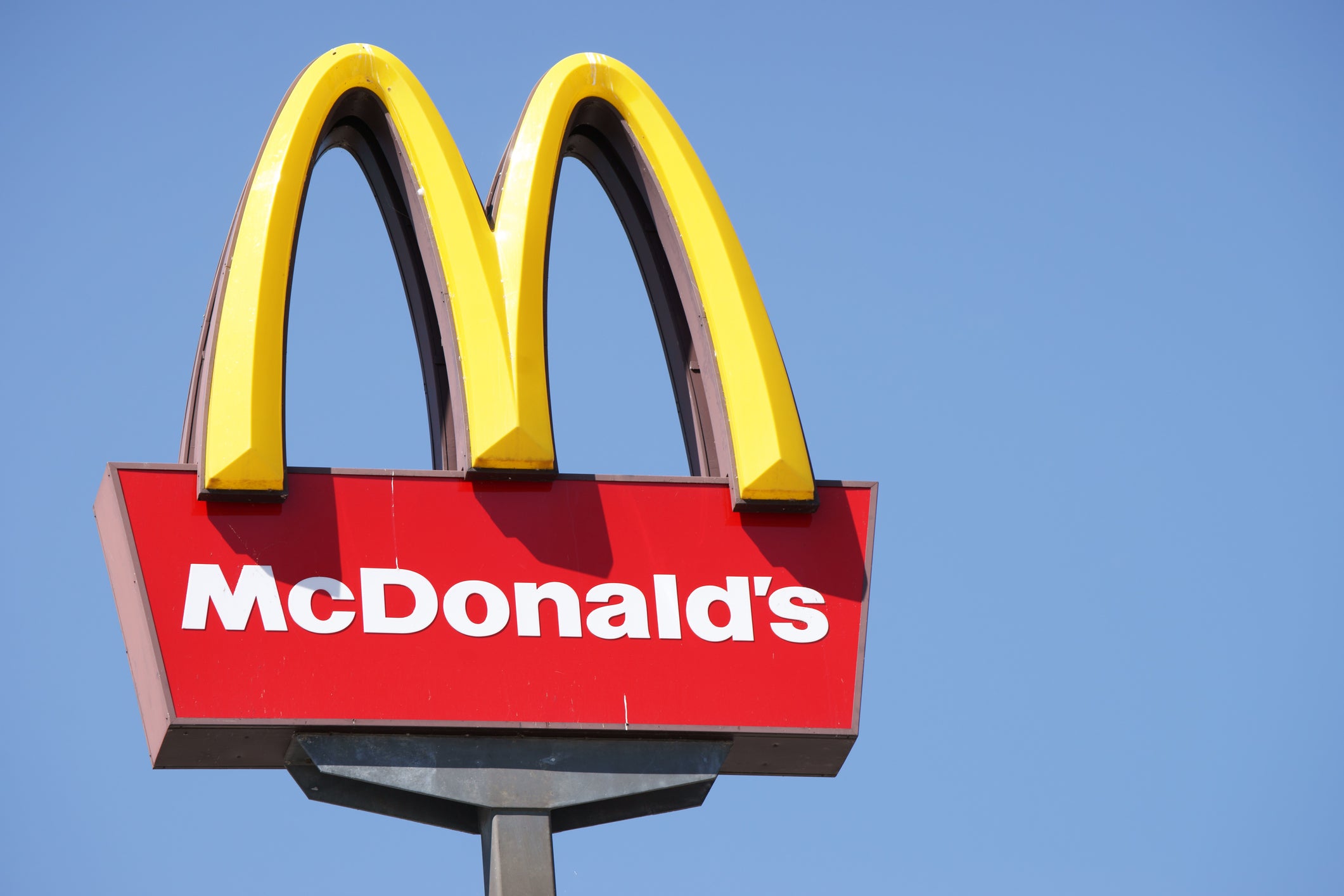 McDonald's workers in the UK are being subjected to a "toxic culture" of sexual harassment which has seen at least 1,000 women abused and predatory employees moved to different stores rather than sacked, campaigners have told The Independent.
Allegations range from managers making repeated sexual comments, brushing up against staff and discussing sexual desires, to abusing their access to workers' contact details in order to send texts and explicit photos, and even offering better hours and promotion in return for sex.
Workers at branches across the UK have detailed a catalogue of abuse and harassment to the Bakers, Food and Allied Workers Union (BFAWU), the country's largest independent trade union in the food sector.
Ian Hodson, president of the union, alleged complaints were "swept under the carpet", workers were "victimised" for complaining, and added that some had been paid compensation on the condition they sign non-disclosure agreements.
A spokesperson for UK McDonald's responded by urging anyone with any concerns around sexual harassment to speak to their manager or contact their confidential employee helpline to allow them to "investigate immediately".
A spokesperson for the BFAWU said: "Sexual harassment is very prevalent. There is a toxic culture. Predatory employees operate with impunity. I would not say sexual harassment and sexual assault is happening in every store, but where a predatory manager or culture arises then McDonald's is doing far too little to address it.
"Workers are dependent on their hours to survive so it creates a power imbalance when a staff or senior staff or manager is a predator. There are very little checks and balances on them because of that power structure. When people make a complaint, managers do not deal with the procedure as they should. They often brush it off rather than say, 'That should not be happening, we need to start an investigation into this'. We have heard of several situations where managers accused of sexual harassment have been moved."
The union spokesperson estimated that over 1,000 female workers had experienced sexual harassment at McDonald's in the UK – explaining this figure is based on conversations the union has had with workers across the country.
"It is rare for McDonald's workers to file grievances about sexual harassment," he added. "This might be because they do not recognise the behaviour of sexual harassment or they might not know the process for filing a grievance. They might also feel shame or are often concerned that they will not be believed."
The spokesperson noted victims of sexual harassment might also be put off reporting abuse due to fear of retaliation or being bullied, worries about being isolated or further isolated in the workplace and concerns around the perpetrator being a friend of the manager. They will often try and manage the situation themselves by avoiding the perpetrator or asking colleagues to keep an eye out for them, he added.
He noted that a very small proportion of McDonald's workers are union members – explaining that McDonald's does not recognise the union.
The union organised the first McDonald's strikes in British history back in September 2017. It is calling for a £10-per-hour minimum wage and guaranteed work hours, as well as for McDonald's to recognise their union.
A female McDonald's employee from London said she had endured sexual harassment from a more senior colleague at a store where she has worked at for a number of years.
She said: "I got approached by a manager to me who would make sly comments like asking if I was up for any fun while his wife was going to be away. He would say that in the workplace. He eventually got hold of my phone number from the system or from another employee. He text me to say he was at home alone with just the kids. I just blocked his number. That resulted in him pulling his pants down in the stockroom where there were no cameras. He held his penis and said, 'Is this worth waiting for?'
"After I complained, a manager said I better have proof of what I'm saying he did because if I was saying this about her, she would use her life savings on getting me done for slander."
The employee added that she walked out in the middle of a shift after learning that her harasser had been sending inappropriate texts to another female member of staff.
The union said her attempts to seek help over many months were not taken seriously – explaining that she had asked colleagues for help and approached senior colleagues, but was largely left to manage the situation herself.
This culminated in her writing a formal letter about what was happening to human resources – with it leading to what the union described as an inadequate "investigation" meeting being carried out months later. Following the initial "investigation" she was expected to continue working alongside her harasser.
She subsequently had a panic attack at work for which she was taken to hospital, the BFAWU said, adding that she has been unable to return to work since.
The employee said there was one manager there who had been moved to another store after being accused of sexually harassing girls – adding that it "got to the point" where there were no more stores for him to go to and he got sacked.
"He would make inappropriate comments, make girls feel uncomfortable and try breaking relationships between crew members up," she added. "What I hope happens is McDonald's and my managers listen. We need a zero sexual harassment policy. McDonald's care if you give out one too many sauces or one too many napkins in the drive-through but they need to address harassment. There are a lot more women suffering sexual harassment than any of us can imagine."
She said she was in touch with people from a number of different McDonald's stores and came across many people in her own store who said they had been sexually harassed at other stores.
She added: "I know 20 or 30 specific incidents of sexual harassments across different stores in the UK that people have told me. After a while you see a pattern – people say, 'The manager pulled me in the freezer, in the toilets, stock room.' Basically, wherever there is no camera, and obviously a manager is going to know exactly where all the cameras are, rather than a crew member who has been working there for three days. It gets to the point when people get so upset and furious with it they end up walking out and losing their jobs or lashing out and getting fired. Imagine if it was your daughter or your son."
Another female McDonald's worker who worked at a store from 2011 to 2013 said the "banter" was "quite pervy and flirtatious".
"There was someone in the kitchen who smacked my bum," she said. "He was persistent with other girls. I was not aware of any protocol if sexual harassment were to happen. I would have been careful who I reported it to as they were keen to cut corners there. I would have queried who would have dealt with it correctly. I would not have gone to the managers and would have gone to head office."
The former worker, who worked there from the ages of 16 to 18, said one of her colleagues was sexually assaulted by a male colleague, who was in his early thirties, on a night out. Her friend, who was just 17, was "groped" by him.
"She did not tell management," she said. "She felt ashamed. She was so young she might not have even had the wherewithal to think she could report something like this."
A survey by Unite union from January of last year found sexual harassment was rampant in the hospitality industry – discovering nine out of 10 hospitality staff have experienced sexual harassment at work. Of those who reported they were sexually harassed at work, more than half said the perpetrators were members of the public and another 22 per cent said they were harassed at the hands of a manager. A further eight out of 10 surveyed said they witnessed others being sexually harassed at work.
When asked whether their work had an anti-sexual harassment policy in place, 77 per cent said no or they did not know. Some 60 per cent said they were unsure or lacked faith in their management to deal with a sexual harassment complaint.
Dr Hannah Bows, of the Centre for Research into Violence and Abuse at Durham University, said: "Lots of studies have shown sexual harassment is a huge problem. The majority of women will experience it at some point. If you are on a zero-hour contract or in temporary work, it is harder to report as you may face losing your job. Women are often blamed or a common response is getting rid of them.
"Also, sometimes women normalise sexual harassment because we know they experience it in every part of life – from on the way to work on the Tube to sexual harassment at work to at the gym after work. It can be difficult to pinpoint whether or not what you are experiencing is sexual harassment because it is part of everyday intrusions."
McDonald's employs more than 120,000 people, according to its website. Its gender pay gap report from 2018 states there are 1,290 restaurants across the country that are owned and operated by either McDonald's or their franchisees – as well as explaining women account for over half of the total workforce.
McDonald's response to the "Migration Advisory Committee – Call for Evidence" states over 80 per cent of their employees are UK nationals. Most of the remainder (around 12 per cent) are EU nationals.
More than two dozen current and former McDonald's workers filed sexual harassment complaints in the US last month to challenge what they claim is widespread misconduct at the fast food giant. The allegations include indecent exposure, groping, propositions for sex and lewd comments – behaviour that reportedly took place at both corporate and franchise stores in 20 cities.
A spokesperson for McDonald's in the UK said: "There is absolutely no place for harassment or discrimination of any kind in society or at McDonald's. We deeply regret that the employee's case was not treated with the sensitivity and gravity it warrants. This is not acceptable and our investigation into the case is ongoing.
"We have long-standing policies, procedures and training in place specifically designed to prevent sexual harassment – we regularly review and evolve these and we've recently rolled out a new training programme and guidance.
"We have an ongoing commitment to educating and raising awareness at all levels of our organisation – encouraging open conversations and communication – and we will continue to prioritise this. We take any allegations extremely seriously."
They said the company has always strived to create a positive experience in its restaurants and create an environment where everyone feels respected and valued – adding that McDonald's is committed to a culture that is respectful to all of its employees and customers.
Join our commenting forum
Join thought-provoking conversations, follow other Independent readers and see their replies