PRs use Prince Harry and Meghan Markle engagement to plug umbrellas, law firms and lap dances
Royal wedding industry goes into overdrive as publicists use engagement to promote everything from 'the iconic Birdcage umbrella' to 'London's premiere lap dancing club'
Adam Lusher
Monday 27 November 2017 19:20 Comments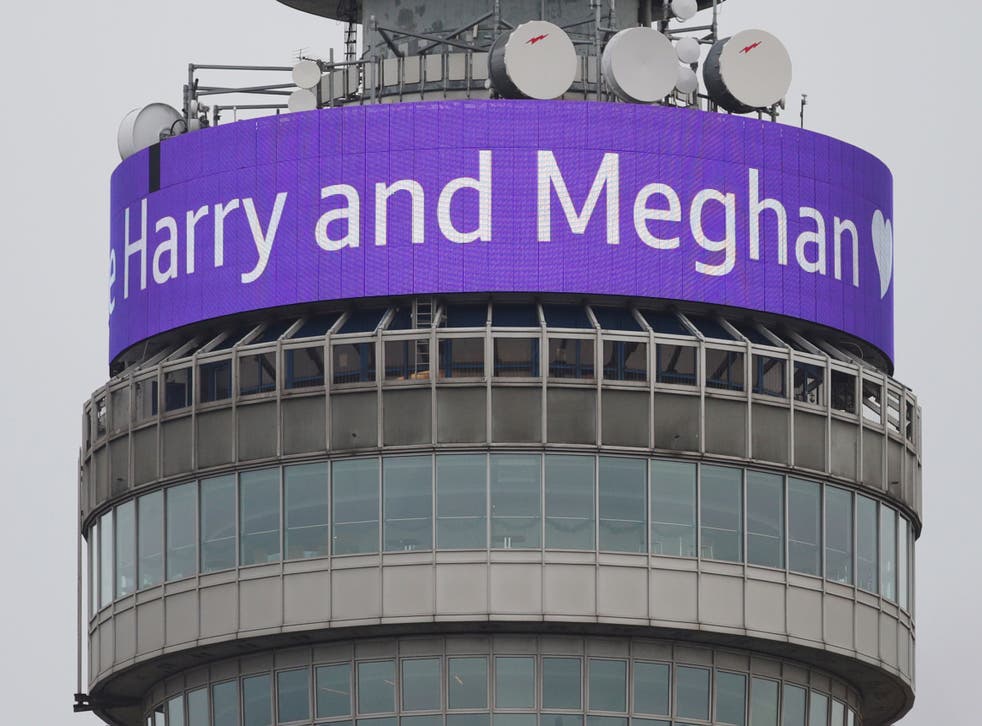 And so the anticipation of the greatest Royal wedding since the last Royal wedding begins.
With plugs for an umbrella maker and a law firm, and congratulations from Aldi supermarket's Kevin the Carrot.
Not to mention an attempt to promote "London's premiere lap dancing club" endorsed by "the best escort agency in Ibiza".
As journalists digested the news of Prince Harry and Meghan Markle's engagement, and braced themselves for editors' orders to be obsessed by every detail of Meghan's dress, Meghan's ring and Meghan's relatives, the Royal Wedding industry awoke to the commercial opportunities.
The emails from the PRs flooded in.
Some were so swift to promote their products they even dispensed with the normal Royal protocol of spelling the fiancée's name correctly.
"Prince Harry to marry Megan Merkle," wrote one hopelessly romantic PR just half an hour after the happy couple's announcement. "What would the pre-nup look like?
"Could I organise comment from my expert lawyer for you?"
By the time she emailed back with the law firm's (still unsolicited) expert comment, she was even getting the spellings right.
Yet more generous was the offer from a Bloomsbury PR firm: "We would like to share with you a press release on the Royal Warranted Fulton's 'Birdcage' Umbrella - a firm favourite of Queen and Royal family and the perfect way to commemorate Harry and Meghan's engagement!"
"As Harry and Meghan announce their engagement," read the full, downloaded press release, "Keep dry with the Royal-Warranted Fulton Umbrella.
"Proud to be the long standing provider of bespoke umbrellas to HM The Queen … Fulton's association with the Royal Family began when The Queen Mother saw the Birdcage umbrella and its unique transparent domed cover …. The iconic Birdcage comes in a variety of colours and designs…
"If you require high resolution images or further information, please do get in touch."
Less than two hours after the engagement was announced, inboxes were filling with what seemed like the results of some pretty frantic PR firm brainstorming meetings.
"Exciting re the engagement!" wrote Harriet. "Would you be interested in a date prediction story?"
A wedding planning website had data from over 100,000 brides on which to base a prediction of the date of The Big Day, and "We can also provide more comments on him asking for BOTH parents blessing, how their relationship compares to the average - time together, living together, length of engagement etc using our database of 100k brides to compare".
Oh all right then, the 100k-bride database says they're getting married on Saturday May 26, and "The average couple date for 4.9 years before getting married, whereas Harry and Meghan will have dated for less than 2 years before their big day."
Prince Harry and Meghan Markle – in pictures

Show all 55
"London is abuzz at the announcement," said one press release, (conveying the joy of an Irish pub chain and its offer of a free shot on the house).
So abuzz indeed that via the press release for a betting odds comparison website we learned: "Punters are already hoping for the pitter-patter of tiny royal feet on the corridors of Buckingham Palace."
"Meghan's odds to fall pregnant by 2019 slashed to EVENS," it said.
"Please use the link above when using our press release," it added.
The publicity people didn't just do publicity. They did love advice too.
"Good Morning, Hope you're well and enjoyed the weekend!" wrote another PR we had never met before. "I've attached a comment and a short guide on different ways to propose."
The guide turned out to be from a vintage jewellery seller, who funnily enough advised "picking the ring is the most important decision, you can convey so much in a ring …"
Although if you were a holiday resort chain, the top tip was: "Whisk them away for an engagement to remember".
And who better to do the whisking away than Ryanair?
"When you hear there's a party in London next spring and flights start at €16.99...simply reMARKLEable", tweeted the budget airline, perhaps proving it is every bit as good at puns as it is at customer service.
Elsewhere on Twitter it was possible to find really useful information.
"Her Majesty will likely appoint Prince Harry a Duke," wrote Daniel J Devane, ("Proud to be British, Conservative & Monarchist, 18th cousin of HM The Queen!"). "Meghan will likely become a Duchess. If HM doesn't intervene, Meghan will become HRH Princess Henry of Wales."
But amid such nuggets of generously-imparted wisdom, it wasn't just Ryanair who seemed to have spotted a social media marketing opportunity.
Simply everyone was braving the glare of free publicity to congratulate Harry and Meghan, from a Surrey "wellness hub" to a Cheshire curry house, via a clutch of online clothing retailers and "London's Premiere lap dancing club".
"Congratulations to #PrinceHarry on your engagement! You know where to go for your #StagDo," advised/advertised Platinum Lace.
The lap dancing club was congratulated on its "impressively quick thinking" by Ally's Angels, "the best escort agency in Ibiza".
And of course Kevin the Carrot was also enjoying the social media engagement party.
The Aldi supermarket chain's Christmas advert star and his lady carrot love Katie were among the first 'celebrities' to offer congratulations to Harry and Meghan.
"Another Christmas love story! We're so 'pea-sed' Prince Harry has found his Katie", said the caption to the tweeted photo of the lovestruck carrots.
Back in the marginally less surreal 'real world', Heidi from a "premium wedding speech writing service" was emailing to offer a "wedding speech expert … to give an angle …. Happy to create an 'advice' piece or just provide a critique on any speech insights after the event."
And another solicitous PR we had never met before was asking about our health.
"Hi there, I hope you're well?" said Sarah. "I was wondering whether you were putting together any engagement ring stories … My client is offering stunning designer jewellery with up to 70 per cent off RRP. I'd be happy to send over a selection of engagement rings, or story ideas…."
But in all the commercially driven PR, where was the love? Where was the romance?
Why, with Mills and Boon of course.
"To celebrate Prince Harry and Meghan Markle's engagement," announced the most heart-quiveringly romantic of romantic publishers, "We're giving you the chance to win a Royal Wedding bundle! RT and follow us for a chance to win."
Hurry while stocks of Marrying the Prince, Royals Wed to the Prince, and Here Comes the Groom last.
Register for free to continue reading
Registration is a free and easy way to support our truly independent journalism
By registering, you will also enjoy limited access to Premium articles, exclusive newsletters, commenting, and virtual events with our leading journalists
Already have an account? sign in
Join our new commenting forum
Join thought-provoking conversations, follow other Independent readers and see their replies