Mennonites to worship online as last British church is forced to close
With its congregation dwindling to around 12, the Christian denomination has had to rethink its strategy
Chris Green
Saturday 19 March 2016 00:21 Comments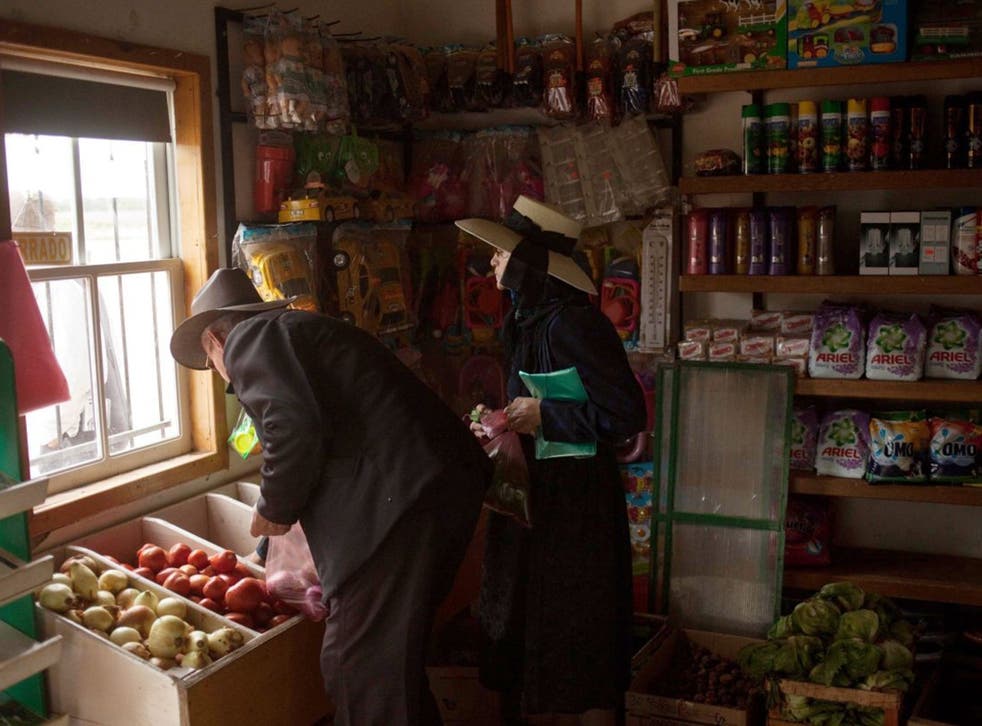 They have been quietly practising their Christian values of peace, justice, simplicity and mutual aid since emerging from the radical wing of the Protestant Reformation in the 16th century. But in an increasingly secular society, have the Mennonites finally had their day?
It is a pertinent question this weekend, when the Anabaptist group's last remaining British congregation is set to hold its final ever Sunday service. After weekly attendances dwindled to around 12 people, the church in Wood Green, north London, said it had decided that continuing collective worship was ultimately unsustainable.
Instead, the only surviving British branch of the Mennonites is to continue its mission through an online "virtual network" – a move unlikely to meet the approval of the denomination's most conservative members in rural US and Canada, who, much like the Amish, are known to reject technology and dress only in the plainest of clothes in their pursuit of simplicity.
While the closure of the church might seem like the end of the road for British Mennonites, the denomination will still be known for its contribution to peacekeeping around the world. The group's million or so remaining members spread their key message of pacifism by helping with disaster relief efforts and in war zones – with some paying for their dedication with their lives.
One of these was Glen Lapp, killed in Afghanistan alongside nine other aid workers in 2010. The 40-year-old had been working for the Mennonite Central Committee, distributing medical aid to the local population. A month before he was killed, he wrote that he saw his role as "treating people with respect and with love" in a part of the world where such things were badly needed.
The Mennonite Disaster Service, another volunteer network that began in 1950, also tries to turn the denomination's long-standing commitment to "mutual aid" into reality. Its members respond to hurricanes, storms and other natural disasters across North America, helping residents clean up and rebuild homes.
The Mennonites take their name from Menno Simons, a Dutch priest who converted to the Anabaptist faith and led it to prominence in the 16th century. Breaking away from the Catholic Church due to their belief that only adults could decide to follow Jesus and be baptised voluntarily, many early followers were persecuted, tortured and killed.
Tim Foley, a trustee of the UK Mennonite Trust, said some Mennonites had played a role during the Troubles in Northern Ireland, with missionaries joining other religious groups to help local residents organise community mediation services and help to sow the seeds of peace.
"Globally, it's a very small denomination, but it punches above its weight with peace and justice-making around the world, often in hidden ways," he said. "When they came to Northern Ireland, they trained local people in mediation and left them to make it their own. They didn't insist on building institutions here."
One of the last remaining British Mennonites is Veronica Zundel, 63, from Muswell Hill in north London, who joined the Wood Green congregation with her husband two decades ago after the couple became "frustrated" with the teachings of their Anglican church. She was drawn to the church's emphasis on justice, peace and social action – as well as the lack of an obvious hierarchy.
"I felt it was a church for grown-ups," she said. "The congregation were trusted to make up our own minds about things. The sermons were about helping us think, rather than telling us what to think. It was very open and honest."
However, she said maintaining regular Sunday services had become difficult. "We just don't have enough able-bodied and able-minded members to keep the show on the road. That's not to say we aren't going to continue – we're starting with a closed Facebook group, but we're hoping to set up a virtual network for people in the UK who identify as Mennonite. 'Mennonites in exile', if you like."
Ms Zundel stressed that only very conservative Mennonites still shunned technology. But members still prize simplicity, encouraging recycling and environmentalism and fighting excessive consumerism. Many are vegetarian.
According to Mr Foley, the general "modesty" and "humility" of Mennonites means that its members have never been very good at evangelism or aggressively creating new churches – which may partly explain its decline in the UK. Ms Zundel agreed: "It's ironic that our closure has attracted so much interest when our existence didn't," she said.
Register for free to continue reading
Registration is a free and easy way to support our truly independent journalism
By registering, you will also enjoy limited access to Premium articles, exclusive newsletters, commenting, and virtual events with our leading journalists
Already have an account? sign in
Join our new commenting forum
Join thought-provoking conversations, follow other Independent readers and see their replies