Mental health issues among UK Armed Forces rise 78 per cent in eight years
Women more than twice as likely than men to be diagnosed with illness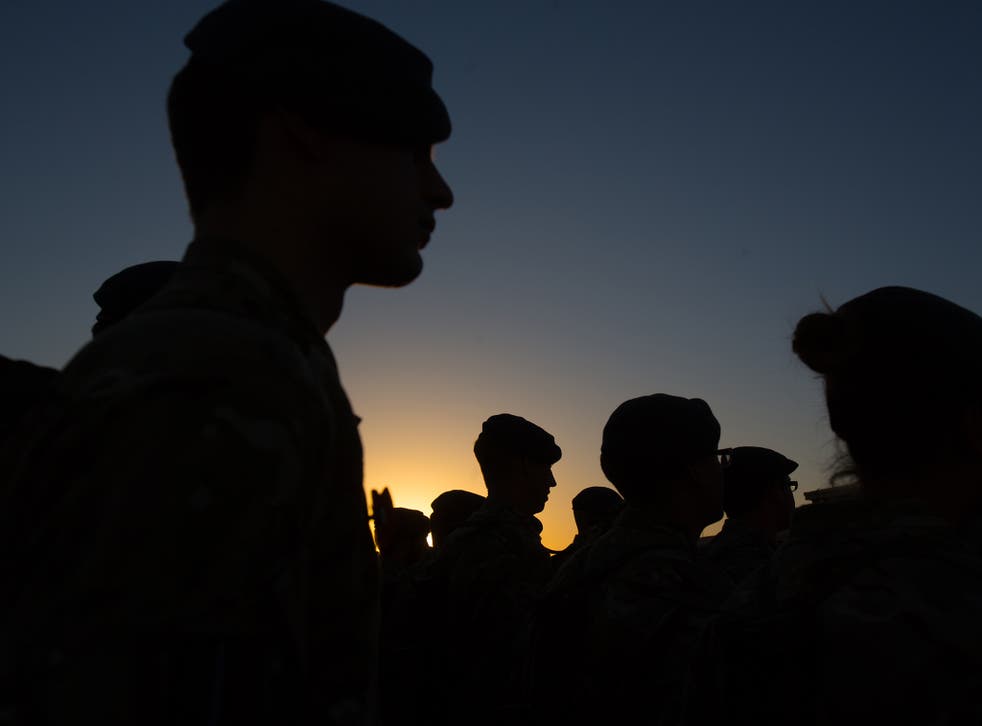 Mental health disorders among the UK Armed Forces have increased by 78 per cent in the last eight years.
The rate of conditions diagnosed by the Ministry of Defence's specialist mental health services has risen from 1.8 per cent of all personnel in 2007/08 to 3.2 per cent in 2015/16, according to new government figures.
Women are more than twice as likely than men to be assessed as having a disorder, with 6.3 per cent of female forces diagnosed compared to 2.8 per cent of male forces.
The rate is highest among the group aged 35 - 39, with 37.7 per thousand assessed as having a mental disorder in 2015/16, representing a 140 per cent jump.
Neurotic disorders are the most prevalent among members of the armed forces, with 3,357 people (a rate of 20.6 per thousand) diagnosed in 2015/16, followed by adjustment (11 per thousand) and mood disorders (10.1 per thousands).
The rate of those with post-traumatic stress disorder (PTSD) is two per thousand, or 326 people, while psychoactive substance use disorders make up 1.6 per thousand.
The Army has the highest rate of mental disorders at 10.8 per thousand, followed by the RAF (10.4), the Royal Navy (9.0) and the Royal Marines (4.9).
The Ministry of Defence say the lower rates seen among the Royal Marines "may be the due to the recruitment selection process, support received as a result of tight unit cohesion and high levels of preparedness for combat".
The MoD report admits it is unable to explain the rise, noting: "It is unclear what proportion of this rise is due to the success of anti-stigma campaigns, changes in detection rates and referral behaviour and what is a true rise in mental health disorders."
Sue Freeth, Chief Executive at Combat Stress, told The Independent the figures demonstrate that Armed Forces personnel were continuing to seek help for mental health issues "as awareness and understanding increases".
"The demand for our services has grown by nearly a third in the last year due to a significant increase in the number of veterans of recent conflicts seeking our help," she said.
"We expect referrals to continue to rise over the next ten years as we deal with the legacy of Iraq and Afghanistan, and are therefore developing our services to ensure we can support all who need us."
Last year The Independent revealed nearly 1,000 British servicemen and women have required psychiatric treatment after taking the hugely controversial anti-malarial drug, Lariam.
A long-awaited parliamentary report is due to recommend that it is banned except in very restricted cases.
Two out of three ex-soldiers imprisoned in the UK have committed some sort of sexual, violent or drug-related crimes, according to the MoD.
War artists in Afghanistan

Show all 6
A King's Centre for Military Health Research study of 4,928 UK armed forces personnel deployed in Iraq in 2003 found that 12 per cent admitted to being violent on their return home.
The violence was often triggered by flashbacks of combat and trauma.
Register for free to continue reading
Registration is a free and easy way to support our truly independent journalism
By registering, you will also enjoy limited access to Premium articles, exclusive newsletters, commenting, and virtual events with our leading journalists
Already have an account? sign in
Register for free to continue reading
Registration is a free and easy way to support our truly independent journalism
By registering, you will also enjoy limited access to Premium articles, exclusive newsletters, commenting, and virtual events with our leading journalists
Already have an account? sign in
Join our new commenting forum
Join thought-provoking conversations, follow other Independent readers and see their replies