Police officers cleared over death of black mental health patient they restrained with 'excessive force'
'After a seven-year wait, this is a bitter outcome for Seni's family. We are a lesser society for a system that fails to hold to account police action leading to these preventable deaths'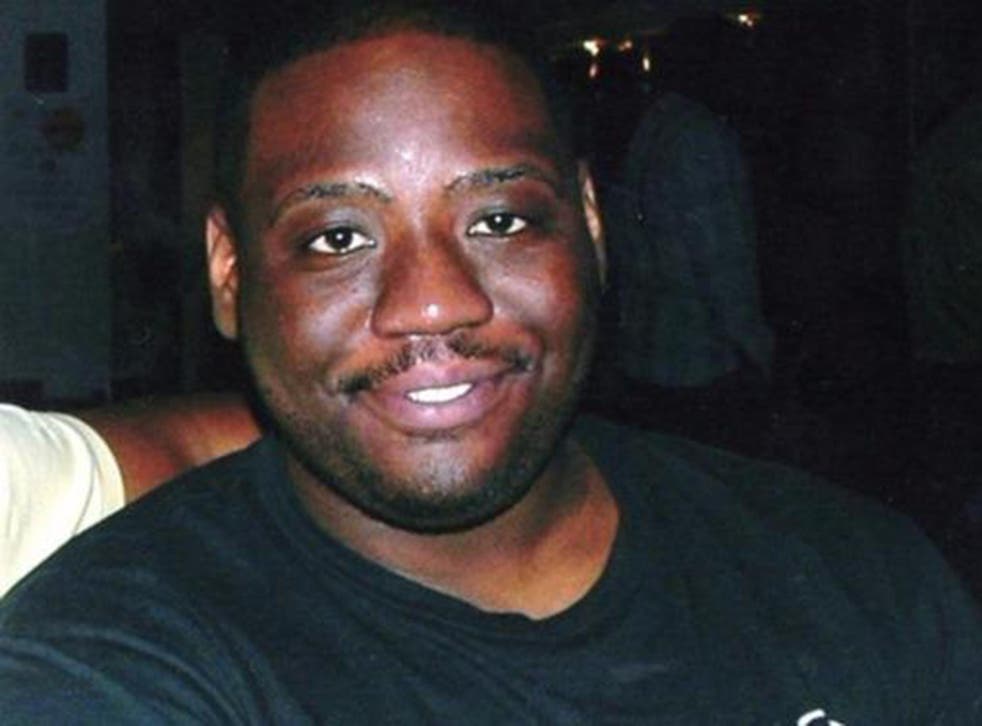 Six police officers who restrained a mental health patient for more than 30 minutes using "excessive" force have been cleared of any wrongdoing in an internal hearing.
Olaseni Lewis, 23, died three days after he was restrained by the officers at Bethlem Royal Hospital in East London in September 2010.
A gross misconduct hearing held behind closed doors by the Metropolitan Police concluded that none of the six officers breached standards of professional behaviour in relation to the death.
PC Simon Smith, PC Michael Aldridge, PC Stephen Boyle, DC Laura Curran, PC Ian Simpson and PC James Smith had denied all allegations of misconduct and gross misconduct.
Two hearings were conducted by the Independent Police Complaints Commission (IPCC). The second found that six of the 11 officers involved should face a misconduct hearing for the death of Mr Lewis, known as Seni.
A coroner's inquest into the death held earlier this year raised a number of questions in relation to the use of restraint on people in mental health crises by police officers.
Mr Lewis, an IT graduate from south London, had no history of violence or mental illness but had been taken to the hospital by his mother Ajibola after a period of mental illness.
Although the coroner ruled out a verdict of unlawful killing, the jury at the inquest identified a catalogue of failings by the officers as well as medical staff which they said contributed to the death.
"The excessive force, pain compliance techniques and multiple mechanical restraints were disproportionate and unreasonable. On the balance of probability, this contributed to the cause of death," the narrative conclusion found.
The six officers were working for the London borough of Bromley in East London at the time of the death.
Police failed to act in accordance with their training and recognise Mr Lewis's behavioural disorder as a medical emergency, the jury found.
There were also medical failings when a doctor failed to respond appropriately when his heart stopped after a second period of restraint.
Following the misconduct hearing which they were allowed to attend, the Lewis family issued a statement calling on Scotland Yard to recognise that what happened to Seni was "simply unacceptable".
They called for Met Commissioner Cressida Dick "to meet with us so we may help her... understand the lessons that need to be learnt so that other families need not go through what we have had to endure."
UK news in pictures

Show all 50
Deborah Coles, director of the charity Inquest, said: "Seni was brutalised, neglected and failed and yet no one person at an individual or senior management level has been held to account. After a seven-year wait, this is a bitter outcome for Seni's family. We are a lesser society for a system that fails to hold to account police action leading to these preventable deaths from our community."
Deputy Assistant Commissioner Richard Martin said after the police hearing that lessons had been learned from the death.
"Our sympathies remain with the family and friends of Mr Lewis," she said. "The actions of the officers have now been subject to two independent investigations, an inquest and a misconduct hearing.
"I have no doubt that each of those officers set out that day to do their very best and to do all they could to help."
He admitted: "The outcome of the Coroner's inquest raised a number of important issues for the MPS, and policing nationally, to consider in relation to restraint techniques and training."
But he said: "I would reassure Mr Lewis' family that over the seven years that have passed since Mr Lewis died, the way in which the Met would respond to someone in mental health crisis in a medical institute has fundamentally changed."
Mr Lewis's death was subject to two separate investigations by the IPCC as well as the inquest.
Following their second investigation, the IPCC found the conduct of the officers amounted to a breach of the Met's standards of professional behaviour in respect of "orders and instructions", "duties and responsibilities" and "use of force".
Theresa May, as Home Secretary, met the Lewis family in 2015 to discuss the case after the family kept up pressure for the case to be reviewed.
Ms May wrote in a letter to the Lewis family: It is clearly unsatisfactory that families should have to go to court to quash an IPCC report in order to secure a second investigation into the death of a loved one."
Labour MP Steve Reed is introducing a private members' bill to the Commons, known Seni's Law after Mr Lewis, to end the use of excessive force against mental health patients.
The bill will require hospitals to publish date on why and how physical force is used, and require the improvement of training so staff are more aware of the risks of bias against minority groups.
According to Inquest, there have been over 1500 deaths in custody since 1990. Many suffered from mental ill health, with a disproportionate number of those who die in custody from black and minority ethnic communities.
Ahead of the latest misconduct hearing, Mr Reed said: "​Instead of receiving the care and understanding he needed, Seni was subject to severe physical restraint by 11 police officers until he stopped breathing.
"I want Parliament to pass Seni's Law to make sure the serious mistakes that led to Seni's death can never happen to anyone else."
Around 23,000 people have now signed the petition calling for Seni's Law, which is due to come before the Commons for debate in November.
Join our new commenting forum
Join thought-provoking conversations, follow other Independent readers and see their replies