Michelle O'Neill: Sinn Fein deputy leader called on to step down by DUP after breaking social distancing at IRA funeral
Controversy puts power-sharing between two parties at risk
Rory Sullivan
Thursday 02 July 2020 18:13 Comments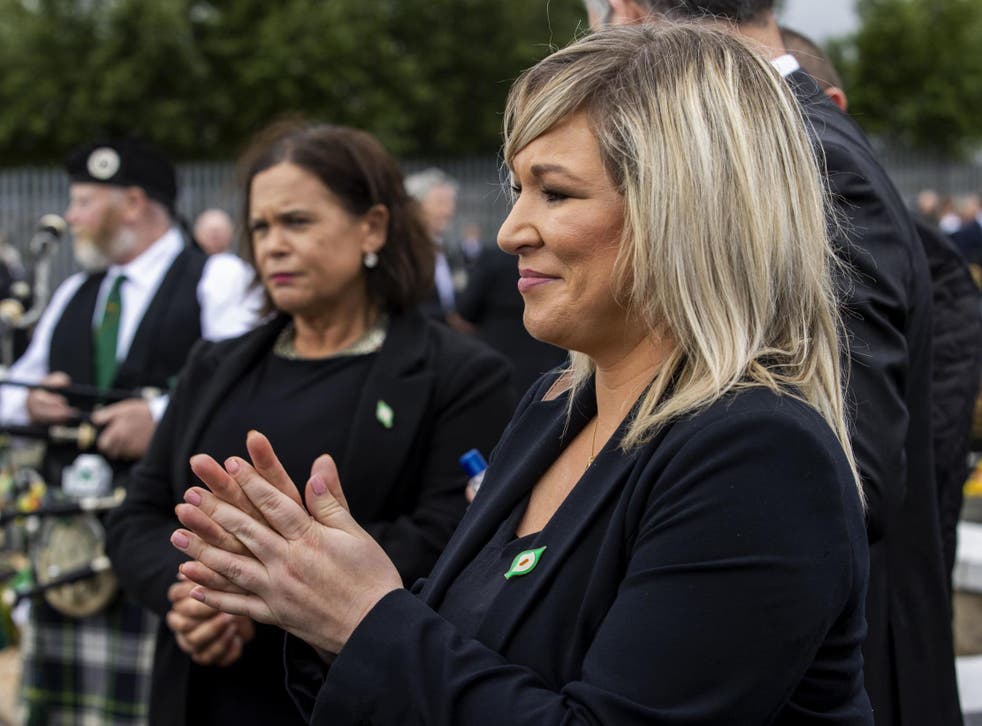 The DUP has called on the vice president of Sinn Fein to stand down from her role as deputy first minister of Northern Ireland, as police investigate allegations that she and other politicians broke social distancing guidance during the funeral of an IRA veteran earlier this week.
Michelle O'Neill and other senior Sinn Fein politicians attended the funeral of Bobby Storey in west Belfast on Tuesday, which appeared to breach a lockdown rule limiting outdoor public gatherings to a maximum of 30 people.
Jeffrey Donaldson, a DUP MP, said on Thursday that Ms O'Neill should step aside pending an investigation by the Police Service of Northern Ireland (PSNI) into her actions.
Mr Donaldson added that Arlene Foster, the DUP leader who is first minister of Northern Ireland, had written a letter to Ms O'Neill laying out the party's position.
He said: "The law on these matters is clear and what happened at that funeral has sent out a very, very bad message to people in Northern Ireland."
"In light of the failure of Sinn Fein yesterday to grasp the opportunity to apologise, it is our view that the deputy first minister must now step back from her role while these matters are investigated by the PSNI," Mr Donaldson added.
As well as the police investigation, the DUP will be asking the standards authorities at Stormont to look into whether the politicians who attended the funeral breached the Northern Ireland Assembly's code of conduct.
Colum Eastwood, the leader of the Social Democratic and Labour Party (SDLP), has also called on the deputy first minister to quit, saying his party would not have allowed him to remain in charge if he had broken the coronavirus regulations.
Mr Eastwood told the BBC: "The point isn't that she accidentally broke some obscure piece of guidance - she broke the guidance that she set out, that she argued for, that she stood over and made the case for, rightly and sensibly, but then decided to set that all aside because, I think, for Sinn Fein, they believe that there is one rule for them and one rule for everyone else."
During a committee evidence session on Wednesday, Ms O'Neill defended most of her actions.
The deputy first minister said: "I can stand over my actions. I have led through this pandemic from the front, I will continue to lead from the front and I continue to work within the regulations and encourage everybody to stick within the regulations and the guidance as we have set out."
"I do think it's unfortunate that a lot of the charges that are being levelled towards me are political points scoring, as opposed to actually being about the rules," she added.
However, Ms O'Neill did admit that a photo of her posing near two men, one with his arm on her shoulder, happened in a "blink of an eye" and "should not have happened".
Making it clear she would not be quitting her role because of the controversy, she added that the funeral's cortege was limited to 30 people and that social distancing was "exemplary" inside the church.
Other prominent Sinn Fein members who were at the funeral include its president Mary Lou McDonald and former leader Gerry Adams.
Speaking about the mass gathering, Brandon Lewis, the Northern Ireland secretary, told BBC Radio Ulster: "I can understand people's frustrations. It's not something I would have done."
Northern Ireland has so far recorded 5,761 infections and 551 deaths caused by the virus.
Additional reporting from PA
Register for free to continue reading
Registration is a free and easy way to support our truly independent journalism
By registering, you will also enjoy limited access to Premium articles, exclusive newsletters, commenting, and virtual events with our leading journalists
Already have an account? sign in
Join our new commenting forum
Join thought-provoking conversations, follow other Independent readers and see their replies