Black workers 'face widening pay gap the more qualifications they earn'
Shock new figures show how they miss out despite drive to curb discrimination
James Moore
Associate Business Editor
Monday 01 February 2016 01:18 Comments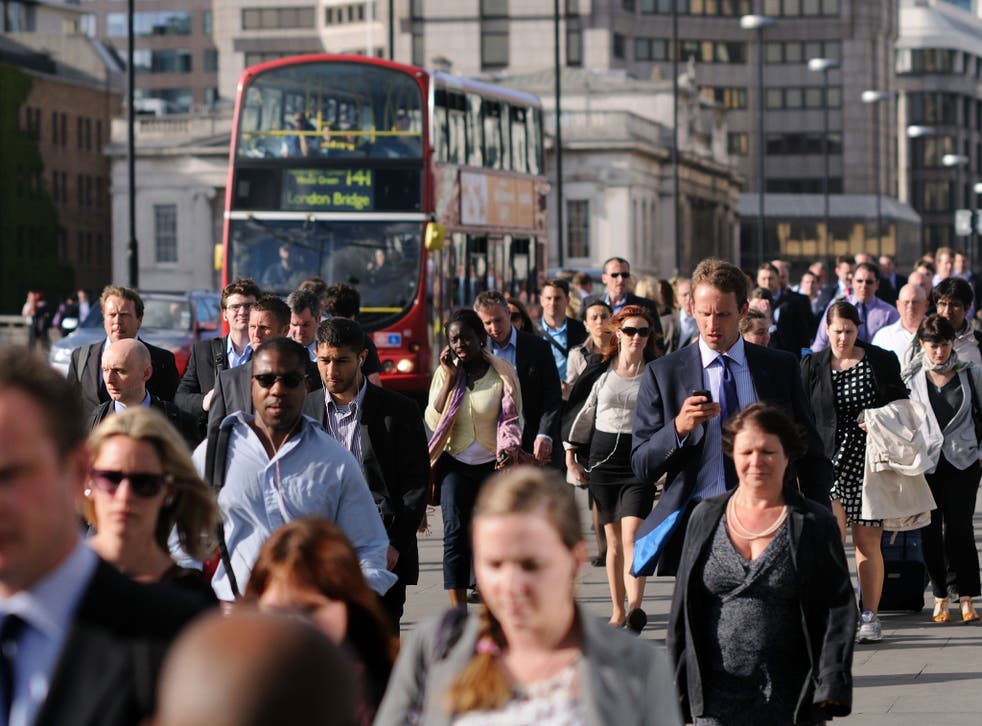 The pay gap faced by black workers widens the more qualifications they obtain, according to research revealing the challenges faced by ethnic minority Britons pursuing professional careers.
Black graduates leaving university earn an average of 23 per cent less than their white counterparts, the new analysis shows. Campaigners say the TUC research gives the lie to claims that working hard and getting educated in modern Britain leads to success regardless of ethnicity.
David Cameron has launched a new drive to combat discriminatory attitudes in UK institutions, saying that the under-representation of black people in universities, businesses and the military "should shame our country and jolt us to action".
"There are no black generals in our Armed Forces and just 4 per cent of chief executives in the FTSE 100 are from ethnic minorities," the Prime Minister said.
"Are these just the symptoms of class divisions or a lack of equal opportunity? Or is it something worse – something more ingrained, institutional and insidious?"
The 23 per cent chasm revealed between the earnings of black and white graduates represents a difference of £4.30 an hour. The pay gap is 14.3 per cent for those with A-levels – or £1.65 an hour – and 11.4 per cent for GCSE-qualified workers (£1.18 an hour).
For unqualified workers, who are more likely to be in jobs at or close to the minimum wage, the figures for black and white workers are virtually equal.
Malia Bouattia, black students' officer at the National Union of Students, said: "It starts the second a black child enters the education system where you see an attainment gap, a lack of diversity amongst teaching staff.
"You are entering a space that rejects you in many ways and then it sends you into a workspace where you hardly find anyone in positions of leadership who really looks like you." She is preparing for a day of action against racism on the workplace on 10 February.
"If you're white you hit the ground running, you have the skills and know how to do a job as it should be done. If you're black you are disadvantaged in every respect," she added.
When all ethnic minority workers (not just black) are included in the pay comparison there is still a gap of 10.3 per cent for graduates but it is wider (17 per cent) at A-level.
The figures chime with research last year by the recruitment consultancy Green Park Group, which found that the number of all-white boards in the FTSE 100 actually increased to 62 in 2015, from 61 the previous year.
The recruiter also found an "alarming" decline amongst its "pipeline" top-100 leaders, with the index losing the equivalent of nearly 40 non-white leaders in 12 months.
The TUC is calling on the Government "urgently to develop a race equality strategy as a matter of political priority, with clear targets and adequate resourcing".
The TUC's general secretary Frances O'Grady said: "These are very worrying findings. Black and Asian people face a massive pay gap, even if they have a degree. This is not about education, but about the systemic disadvantages ethnic minority workers face in the UK."
Omar Khan, director of the the Runnymede Trust, said: "This suggests that education alone will do little to address racial inequalities, and the need for interventions that directly challenge racial inequalities in the workplace."
Helen Barnard, head of analysis at the Joseph Rowntree Foundation, said that while 25 per cent of graduates are over-qualified for their jobs, the figure rises to 40 per cent for black graduates: "Government action to tackle the discrimination faced by people from ethnic minority backgrounds in education and in the workplace is vital. We also need to see action from educators and employers to provide high-quality career advice, in-work training and genuine opportunity for progression."
Amir Kabel, head of diversity for Green Park Group, criticised ingrained attitudes that act to discriminate against minority candidates. "They are often not seen as leaders. When someone is really fighting hard, working long hours, being competitive, this is often seen as a negative rather than as a positive. The same goes for women. There is a systemic bias which often leads to minority candidates dropping out and going to work for smaller organisations."
The TUC said it drew its figures from an analysis of the Office for National Statistics Labour Force Survey. In it, British, Asian and minority ethnic (Bame) workers include all who did not identify themselves as white. Black workers are a smaller subset of the Bame group, including those who identified themselves as Black, African, Caribbean, or Black British.
As part of Mr Cameron's new drive against discrimination, universities have been summoned to a meeting with the Business Secretary Sajid Javid to discuss the plan to force them to publish detailed breakdowns of application success rates by race as well as course, gender and socio-economic background.
Register for free to continue reading
Registration is a free and easy way to support our truly independent journalism
By registering, you will also enjoy limited access to Premium articles, exclusive newsletters, commenting, and virtual events with our leading journalists
Already have an account? sign in
Join our new commenting forum
Join thought-provoking conversations, follow other Independent readers and see their replies