English Channel: Two children among four migrants killed after boat sinks trying to reach UK
Charity says deaths must be a 'wake-up' call to British and French governments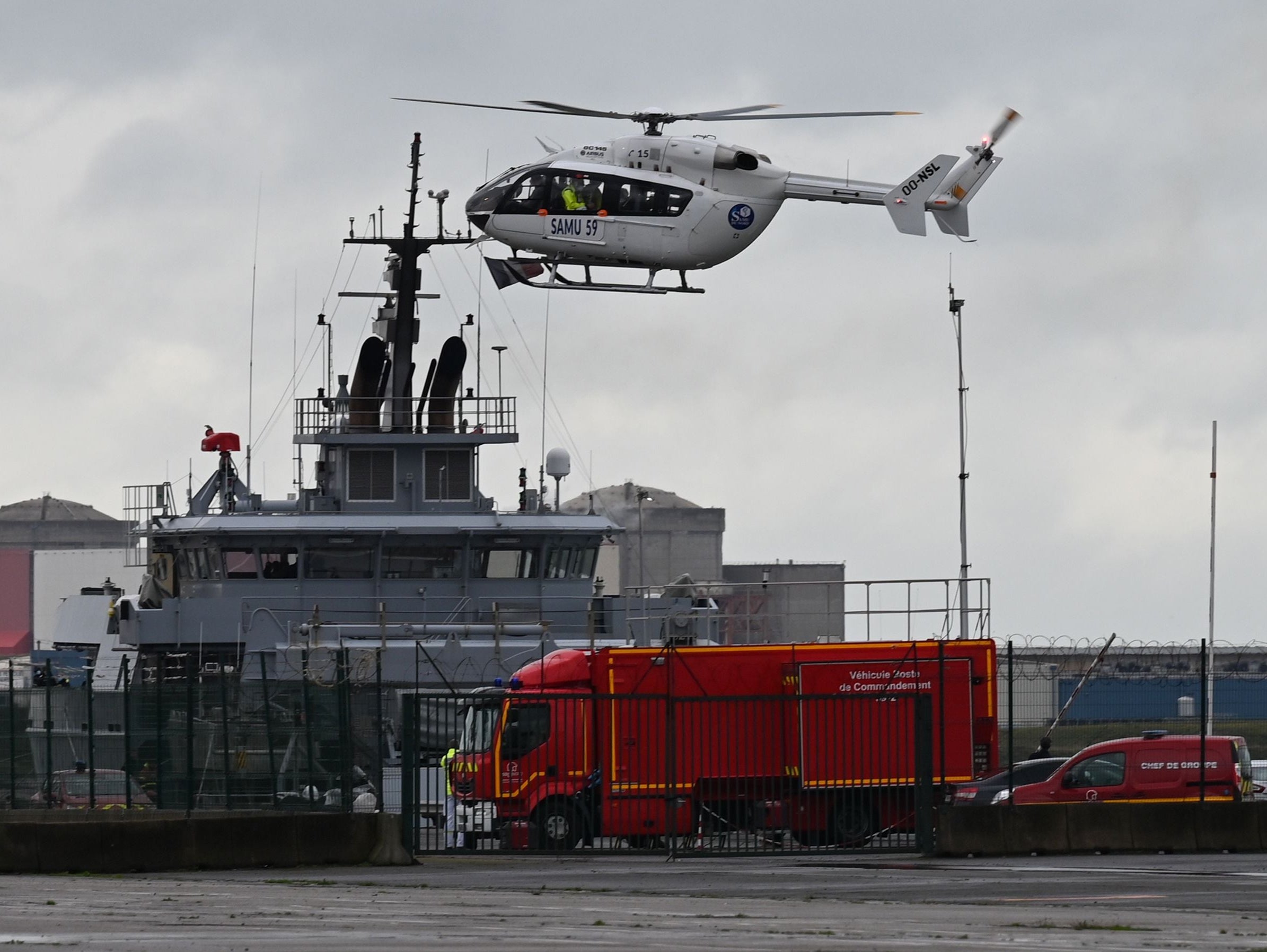 Two children are among four migrants who died after a boat sank as they tried to reach the UK.
French authorities said the children were aged five and eight, and the death toll could rise amid continued search operations.
It is believed to be the worst disaster in the English Channel in recent years, following the discovery of several drowned asylum seekers on beaches.
Charities said the deaths must be a "wake-up call for the government", following several warnings that its policies were pushing asylum seekers to risk their lives.
Boris Johnson said: "My thoughts are with the loved ones of those who tragically lost their lives in the Channel today."
The prime minister also said the government would continue to "crack down on the ruthless criminal gangs who prey on vulnerable people by facilitating these dangerous journeys".
Priti Patel, the home secretary, said she was "truly saddened to learn of the tragic loss of life", following severe criticism of her department's response to record numbers of crossings.
"We are in touch with our French counterparts who are leading the response and have offered whatever support they need as they investigate this incident," she added.
"This tragic news highlights the dangers that come with crossing the Channel."
French authorities mounted a search and rescue operation off the coast of Dunkirk and 18 people have so far been pulled from the water and taken to hospital.
The local Voix du Nord newspaper reported that a man had drowned, while a woman and a five-year-old child had been pulled from the water but went into cardiac arrest.
The eight-year-old child was initially in a critical condition and died in hospital. 
Survivors, who included Iraqis and Iranians, reported that a baby had also fallen in the water and not been recovered.
The Prefecture maritime de la Manche said the alert was raised by a yacht that saw their vessel capsize on Tuesday morning.
Nearby fishing vessels were sent to the scene alongside lifeboats, a helicopter, naval and customs ships.
The disaster came just over a week after a man was found dead on a beach near Calais after appearing to have drowned while trying to cross the Channel.
His body was found in Sangatte – the same area where another asylum seeker, Abdulfatah Hamdallah, was found dead in August. In May, a drowned migrant was found at the port of Calais.
The tragedies come after repeated warnings that British government policies on migrants attempting to reach the UK from France were increasing the risk of deaths.
The Care4Calais charity said the deaths should be a "wake up call for those in power in France and the UK".
"We have to provide a safe and legal process by which refugees can have their UK asylum claims heard, that's the way to put an end to terrifying, dangerous sea crossings and stop tragedy striking again," said founder Clare Moseley.
"No one should ever feel they have to get into a fragile craft and risk their lives crossing the Channel, least of all vulnerable children.
"Refugees feel pushed to take these risks because of the policies of the French and British governments."
Amnesty International UK said Britain and France must provide access to safe asylum procedures so people do not risk crossings.
Priti Patel in Dover as Government face criticism over migrant crossing crisis
Refugee rights director Steve Valdez-Symonds said: "Governments on both sides of the Channel urgently need to rethink their joint failure to provide people with a dignified and safe means to seek asylum, which is their right."
Beth Gardiner-Smith, chief executive of Safe Passage, said the disaster was a "direct consequence of a lack of safe alternatives for those seeking sanctuary".  
"Rather than speculating about ever more inhumane ways to push back and prevent refugees seeking from asylum, the government should act now to protect family reunion and expand safe and legal routes for refugees," she added.
The UN Refugee Agency has called for the British and French governments to make saving lives the "first priority".
But the Home Office has focused on increasing security along the French coastline and is attempting to increase prosecutors of people smugglers, and asylum seekers who steer dinghies.
Natalie Elphicke, the Conservative MP for Dover, said: "It is terrible that tragedy has struck in the Channel again. People traffickers have no regard for life, no matter how old or young.
"These perilous crossings must be stopped, once and for all, before there is more loss of life in these stormy winter seas."
Nick Thomas-Symonds, Labour's shadow home secretary, said the incident was an "absolute tragedy".  
"Our thoughts are with those who have lost loved ones and people who have been injured," he added. "It is a heart-breaking reminder of the human cost of this crisis."
Yvette Cooper, chair of parliament's Home Affairs Committee, said an inquiry was underway into the work needed to prevent further loss of life.
Refugee crisis - in pictures
Show all 27
"When people have already fled from persecution and conflict elsewhere in the world, it is awful that they are ending up in the arms of people traffickers and people smugglers, or in dangerous boats on the sea," she added.
The National Crime Agency said sea crossings in small boats had become a more common route to the UK after a fall in freight traffic during the coronavirus pandemic, and crackdowns to stop migrants using lorries.
The government drew up a new "joint action plan" with France earlier this year and put a former royal marine in the post of "clandestine Channel threat commander".
The RAF has sent surveillance aircraft to assist the Border Force in spotting migrant boats, after the UK gave France millions of pounds to increase security along its coastline.
A parliamentary report released last November said "dire" conditions in camps in northern France were among the driving factors behind increasing migrant sea crossings.
"Focusing on increasing border security without improving conditions in the region may have the counterproductive effect of forcing migrants to make desperate journeys across the Channel," the Foreign Affairs Committee said.
"The UK should work closely with French authorities to improve the conditions for migrants. It should ensure efficient processing of asylum claims by those with relatives in the UK."
Earlier on Tuesday, the maritime prefecture had released a weather warning for strong winds and rough seas.
An official notification called for sailors to postpone any departures and for people to avoid watersports and swimming.
Join our commenting forum
Join thought-provoking conversations, follow other Independent readers and see their replies