Anti-racism campaigners hold vigil in Kent welcoming migrants to UK
Activists heckled by anti-immigration group over recent boat crossings from France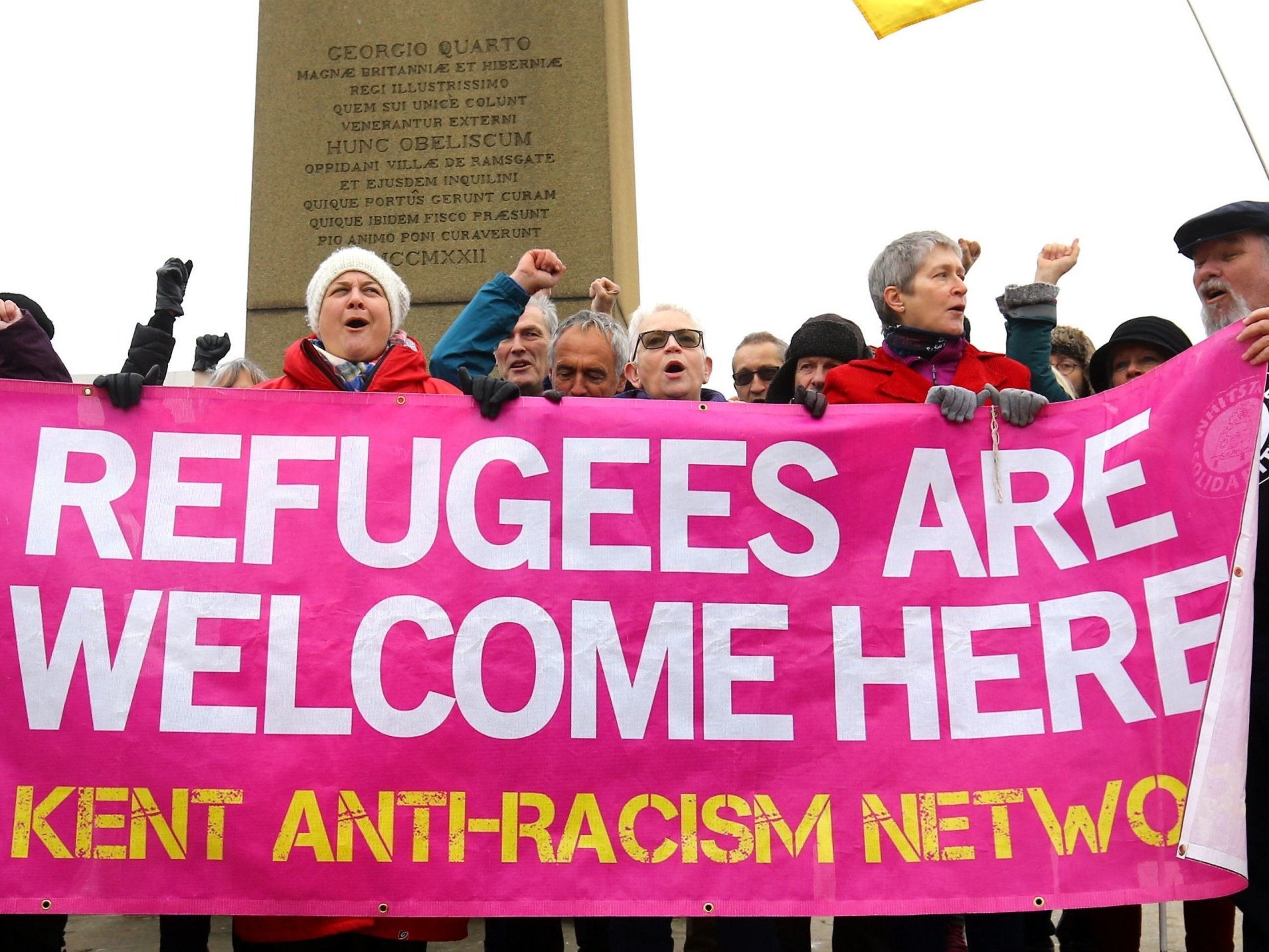 Anti-racism campaigners led chants welcoming refugees to the UK at a gathering in Ramsgate on Sunday, as divisions emerge in Kent over the so-called migrant crisis.
Kent Anti-Racism Network (KARN) organised the vigil at the obelisk monument in the seaside town's harbour on Sunday.
Overlooking a Border Force patrol boat, campaigners expressed their concern for the welfare of migrants attempting to cross the English Channel in small boats, brandishing banners and shouting: "Say it loud, say it clear, refugees are welcome here."
Activists were met by a handful of anti-immigration hecklers opposed to the sentiment, a group described by those gathered as "local EDL/BNP supporters". Their taunts included: "Why are you letting criminals into our country?"
Bernadette Fisher, a Labour councillor in the seaside town of Whitstable, told the crowd: "We are all a product of immigration."
She added: "We are our brother's keeper, I truly believe that in my heart. We need to care for these people, they are living in destitution, we just need to help."
Several of the speakers were critical of how the government had handled the discovery of migrant boats. Ms Fisher described Home Secretary Sajid Javid's decision to launch a "major incident" after increased crossings over Christmas as an "overreaction".
The Home Office has said it is stepping up patrols to monitor for illegal crossings in the English Channel.
Authorities will carry out around-the-clock surveillance on French beaches and across the Channel as Mr Javid pledged more money and technology.
Of the 504 migrants seeking to cross the English Channel in 2018, 276 managed to reach British waters or shores and 228 were intercepted by the French authorities. Most of the people were Iranian, according to the Home Office.
Joe Burman, spokesman for KARN, said there had been a surge in racist commentary online. The science lecturer at Canterbury Christ Church University said: "That narrative has been completely uncontested so far and that sort of hate speech is not reflective of people in the community."
Mr Burnman called on the government to overhaul its foreign policy as a long-term solution.
But he said "people all across the country" could do more straight away to help improve the situation for refugees by providing aid and places to live.
A Conservative councillor for the area, meanwhile, said Ramsgate Port will not be ready in time to welcome extra ferry services in the event of a no-deal Brexit.
Thanet district councillor Beverly Martin said the harbour "cannot be ready" for Brexit on 29 March.
Support free-thinking journalism and attend Independent events
As part of contingency plans for a no-deal Brexit, Seaborne Freight was awarded a contract to run a service between the Kent seaside town and Ostend.
Ms Martin told the BBC: "From local knowledge, there is terrific concern that we [Ramsgate Port] cannot possibly be ready. I don't see how, with the state of the harbour and the port and the number of repairs that are needed, that it could be ready."
Additional reporting by Press Association
Join our commenting forum
Join thought-provoking conversations, follow other Independent readers and see their replies