Government offers protection to hotels housing asylum seekers amid far-right raids
Exclusive: Barriers and fences put in after migrants filmed and harassed by groups including Britain First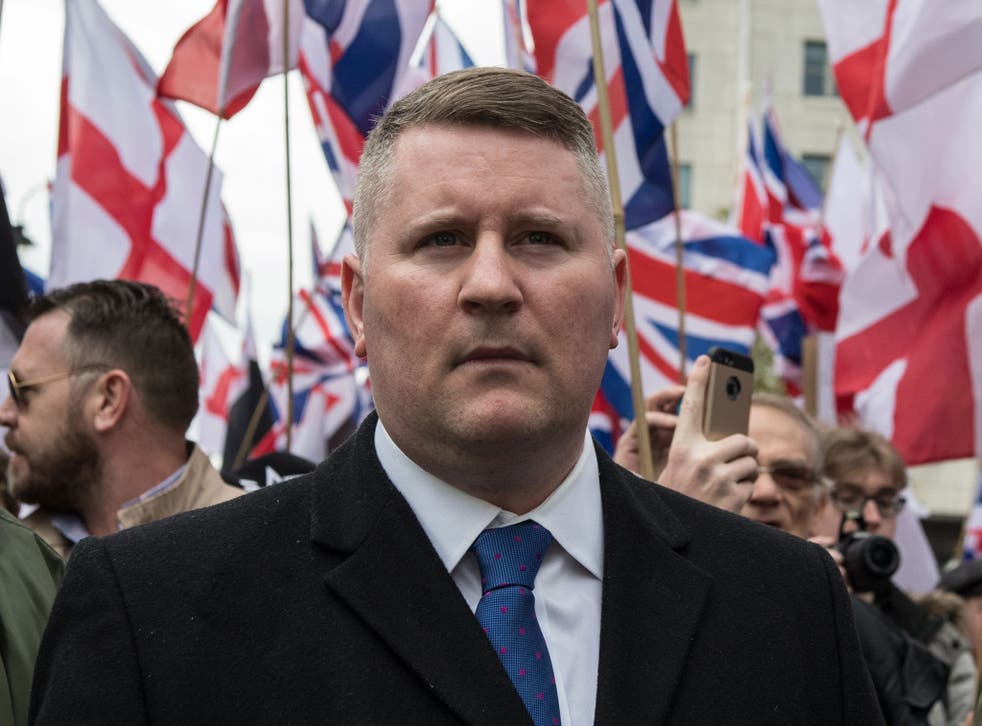 The government has been forced to put barriers, fences and other protective measures around hotels housing asylum seekers following a spate of raids by extremist groups.
Far-right activists have been filming and harassing migrants in hotels providing accommodation for the Home Office during the coronavirus pandemic.
Hotels being paid to provide shelter to homeless people under separate government contracts have also been warned that "precautions may need to be implemented" after one was mistakenly targeted by Britain First.
The Independent understands that the Home Office is offering premises housing asylum seekers assistance with physical security, such as barriers and hoardings, if they have concerns or have been visited by protesters.
Police have been called to several similar incidents, but no arrests have yet been made, and the government has not issued any blanket guidance.
A Home Office spokesperson said: "Any violence or abuse directed towards asylum seekers is completely unacceptable.
"We take the wellbeing of asylum seekers extremely seriously and we are taking all necessary and legal steps to protect the people in our care. All incidents at our accommodation providers are reported to the Home Office immediately, and we then work with the provider to put in additional measures if required."
Britain First, whose leader Paul Golding was convicted of a terror offence earlier this year, has not told its supporters of an incident where they mistakenly targeted a hotel housing homeless people in London last weekend.
An email sent out by the Greater London Authority's (GLA) rough sleeping team on Tuesday said members of the group had turned up at a "Covid Protect" hotel.
"They attempted to gain entry and demanded to know if the facility was housing asylum seekers," it added, saying that police were called.
"The GLA is working rapidly to determine if suitable precautions may need to be implemented in GLA-procured hotels."
Britain First members pelted with rocks after hassling migrants
A spokesperson for the mayor of London said work was under way to prevent homeless people being targeted "mistakenly or otherwise" by right-wing groups.
He added: "Harassing migrants or asylum seekers who are being legally accommodated in hotels is despicable, and goes against all the values we hold as an open, welcoming city."
It came after Golding and other activists filmed themselves shouting at asylum seekers about "homeless veterans on our streets" after managing to enter at least two hotels.
During the most recent incident, in Warrington, Britain First members marched through corridors banging on bedroom doors and demanding people's nationalities.
"We've managed to enter legally and we've already found several migrants," Golding told the camera, before filming vulnerable people including women and families with young children.
Security guards intervened shortly afterwards, urging asylum seekers to return to their rooms as staff called the police.
A spokesperson for Cheshire Police said officers were investigating reports of a "potential breach of the peace" shortly after 7pm on Tuesday.
"Officers attended the premises and on arrival the group had left the site," a statement added.
"No complaints were made by anyone present at the hotel and enquiries into the matter are ongoing."
Police have been called to several incidents involving Britain First in recent weeks, where activists have followed and harassed asylum seekers, but have made no arrests.
Following an incident in London last weekend, Britain First boasted that: "The police arrived again but did nothing as Britain First was acting completely within the law."
Far right and anti-fascists clash in Dover, January, 2016

Show all 6
Several other groups and activists are carrying out similar stunts, including the anti-Islam For Britain party founded by failed Ukip leadership candidate Anne Marie Waters.
English Defence League (EDL) founder Tommy Robinson has been promoting videos by a blogger who calls himself Active Patriot and has been filming both hotels and migrants arriving in Dover.
Extremists have been circulating lists of hotels to "investigate" on social media after Nigel Farage drew attention to the issue with a series of videos in July.
They have also been swamping websites with negative reviews of hotels that have taken up contracts with the Home Office, urging people not to stay there when they reopen.
Joe Mulhall, a senior researcher at counter-extremism group Hope Not Hate, said the trend was part of a "very long history of far-right groups and individuals across Europe attacking accommodation for migrants".
"There is a zeal to it this summer because of the increase in boats and hotels being used," he told The Independent.
"It's become a cause celebre. It unites a number of different strands who are active on the far right now."
Sweden, Germany and Greece are among the countries that have seen violent attacks on migrant accommodation, including numerous arson attacks, since the start of the Mediterranean refugee crisis in 2014.
No significant violence has been reported during recent incidents in Britain, although a man was arrested for allegedly attacking a migrant on a Kent beach on 16 August.
Lisa Doyle, director of advocacy at the Refugee Council, called for "steps to be taken to ensure asylum seekers are not subjected to intimidation and harassment".
"People seeking asylum have fled persecution and violence, and have come to the UK in search of safety and protection," she added.
"The UK should be a safe and welcoming place for them."
The Home Office said the government has a legal obligation to provide destitute asylum seekers with temporary accommodation and support while their applications are being considered.
"It has been necessary to temporarily house a proportion of asylum seekers in hotels to make sure they are able to follow social distancing guidelines," a statement added.
"As well as ensuring that people could comply with the health guidance in place at the time, this avoided placing pressure on local authorities, who were also procuring hotel accommodation for UK rough sleepers."
Register for free to continue reading
Registration is a free and easy way to support our truly independent journalism
By registering, you will also enjoy limited access to Premium articles, exclusive newsletters, commenting, and virtual events with our leading journalists
Already have an account? sign in
Register for free to continue reading
Registration is a free and easy way to support our truly independent journalism
By registering, you will also enjoy limited access to Premium articles, exclusive newsletters, commenting, and virtual events with our leading journalists
Already have an account? sign in
Join our new commenting forum
Join thought-provoking conversations, follow other Independent readers and see their replies