Abuse of migrants at detention centre could be repeated across UK because of 'failing' system, MPs warn
Home Affairs Committee chair demands assurance that abuse is being prevented elsewhere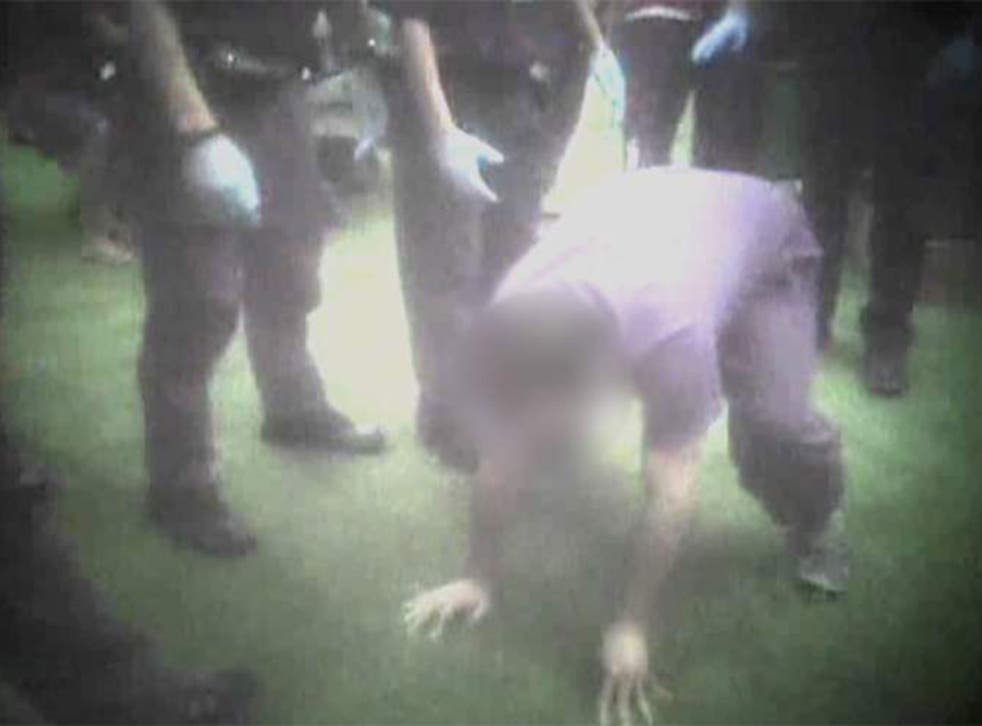 The Government's "failing" oversight system could be letting the horrific abuse of asylum seekers exposed at one detention centre be repeated at other facilities, it has been warned.
Undercover footage showing G4S guards "choking", restraining, insulting and mocking migrants at Brook House Immigration Removal Centre sparked dismissals and inquiries after being broadcast by the BBC's Panorama programme in September.
Home Office staff were visiting the centre every day as the abuse was carried out, while regular Government inspections and G4S' own whistleblowing policy are supposed to guard against violations.
Officials claim the documentary was the first they knew of "completely unacceptable" practices by staff and have pledged to prevent them being repeated.
"We were not aware of the issues raised in the Panorama programme before," immigration minister Brandon Lewis told the House of Commons Home Affairs Committee.
"The evidence is that there was a timeframe this was happening and before that there were reviews…that did not pick up on these kind of problems."
But campaigners and former detainees have described similar abuse both before and after the period covered by Panorama at Brook House, as well as at other detention centres.
Mr Lewis said the Home Office would consider the results of an independent inquiry commissioned by G4S "to make sure we do everything we can to make sure that abhorrent situation can't happen again either at Brook House or anywhere else".
Members of the Home Affairs Committee expressed concern that the Government's own checks had failed at Brook House and may continue to fail elsewhere.
Yvette Cooper, the committee's chair, pointed out that Home Office staff were visiting the centre near Gatwick Airport daily as the abuse took place.
"If you hadn't seen the Panorama programme you wouldn't have been aware of any of that abuse at all," the Labour MP told Home Office representatives during a hearing on Tuesday.
"The issue of us is making sure there is a review of the Home Office's practices and responsibility for these detention centres and what its oversight is because clearly it hasn't worked in this Brook House case.
"So we want assurances that it's going to work in other cases and it's not failing currently, as we speak, at other detention centres."
A senior civil servant said the Home Office was strengthening its "compliance monitoring function" at Brook House and other detention centres as a result of the scandal.
Following the hearing, Ms Cooper said the Government had not properly explained how it was unaware about the bullying and abuse happening at Brook House.
"Nor could they explain what was happening in other centres," she added.
"I do not believe this is isolated to Brook House - the Home Office must ensure vulnerable people in their care, who may have experienced huge trauma in their lives, are treated with decency and respect."
UK news in pictures

Show all 50
Six members of G4S staff have been sacked over the abuse at Brook House, alongside a Home Office employee who worked for G4S at the time the undercover footage was filmed.
The controversial security firm has commissioned an independent inquiry by barrister Kate Lampard, who conducted an earlier investigation into allegations of mistreatment at the Yarl's Wood detention centre.
In a letter to the Home Affairs Committee, G4S president Peter Neden said it will look into "the extent and root causes of the treatment of detainees" at Brook House.
The inquiry will examine "G4S's management, operational and staffing arrangements and the practices and behaviours of G4S's staff" in relation to issues including the care and welfare of detainees, mental health, self-harm, violence prevention, the use of force, reporting of incidents and the availability of drugs.
It will also cover "the attitudes and behaviour of staff towards detainees and the reasons why staff did not use the whistle-blowing procedures to report their colleagues' behaviour".
Brook House is one of two immigration centres run by G4S in the UK and has capacity for 508 adult men.
Undercover footage broadcast in September showed staff mocking detainees who were receiving medical treatment after self-harming or taking drugs, while one member of staff was filmed allegedly choking a detainee.
Samim Bigzad, an Afghan asylum seeker who was held at Brook House earlier this year, told The Independent he met suicidal people and saw drugs being smuggled into the centre.
Mr Bigzad claimed one G4S guard told him "f*** off, get out of my face" after he asked for toilet paper, and another ordered detainees back to their cells by saying: "Go to your rooms, dogs."
Brook House was branded "fundamentally unsafe" in 2010, a year after it opened, but inspectors later said they saw sustained improvement.
The most recent report from HM Chief Inspector of Prisons, released in March, warned that some detainees had been held for excessive periods due to "unreasonable delays in immigration decision making".
Campaigners have long been calling for sweeping reforms to immigration detention in the UK, which is the only country in Europe not to put a time limit on how long migrants can be locked up without charge.
"We don't have indefinite detention," Mr Lewis insisted. "We only detain people if we have a reasonable belief that we can remove them from the country in a reasonable timeframe."
But Preet Kaur Gill, a Labour MP, accused him of "playing with words" and questioned why the Home Office had no information on possible links between the length of imprisonment, self-harm and suicide.
She said five immigration detainees had killed themselves since the Home Office had attempted to improve the way vulnerable migrants are treated, questioning whether the changes were working.
More than half of those taken into immigration detention centres are later released.
"Doesn't that show that the policy is failing and we're detaining people for too long and need review of the whole system?" asked Scottish National Party MP Stuart McDonald.
Recent statistics showed that 2,944 people are currently being held in immigration detention, including young children, pregnant women and vulnerable detainees, for periods between days and over four years.
A cross-party Parliamentary inquiry into the use of immigration detention concluded that people were being imprisoned "completely unnecessarily" in many cases and recommended a 28-day limit for immigration detention, which should be a "last resort".
A separate report by Stephen Shaw also highlighted the impact of indefinite detention and called for exceptions for vulnerable people including rape victims, PTSD sufferers and pregnant women, and he is undertaking another review of progress on his recommendations.
The Equality and Human Rights Commission has urged ministers to set up a public inquiry into wider issues with immigration centres - including allowing private firms to run them - but it says it has so far received no response from the Home Office.
Join our new commenting forum
Join thought-provoking conversations, follow other Independent readers and see their replies