Mildly cold, drizzly days far deadlier than extreme temperatures for Brits, says study
The study found it is actually relatively cold temperatures that make the biggest contribution to national mortality rates
Charlie Cooper
Thursday 21 May 2015 00:16 Comments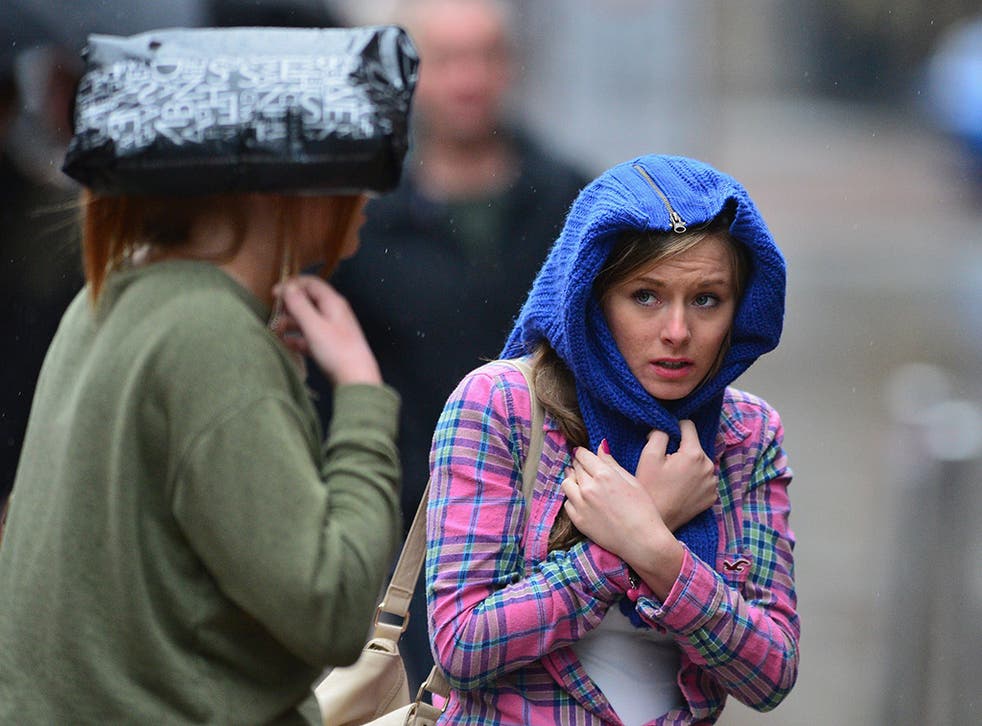 Seasoned watchers of the British weather will know that there is nothing worse than a middling sort of day: chilly, perhaps with a fine drizzle, neither extremely cold nor pleasantly warm.
It turns out they were right.
Medical statisticians can now confirm that it is precisely these kind of days – the moderately cold, as opposed to extremely cold or hot – that take the heaviest toll in terms of weather-related deaths.
In the biggest ever study of its kind, researchers from the London School of Hygiene and Tropical Medicine found that, across 13 countries with widely varying kinds of weather, cold temperatures lead to far more deaths than hot. And because of the rarity of extremely cold days, it is actually moderately cold temperatures that make the biggest contribution to national mortality rates.
Across the world, cold weather was a factor in 20 times as many deaths as hot. In the UK, 8.5 per cent of deaths could be attributed to the cold and only a tiny fraction to heat. Of the cold weather deaths, less than one per cent were caused by extremely cold days.
The point at which a cold day was categorised as extremely cold varied across the UK, from 0.4 degrees in Yorkshire to 1.7 degrees in London.
The researchers, led by Dr Antonio Gasparrini, said that the findings should refocus the attentions of public health planners and the media away from extreme weather events such as cold snaps and heat waves, and onto a longer-term appreciation of the impact of cold weather on health.
"It's often assumed that extreme weather causes the majority of deaths, with most previous research focusing on the effects of extreme heat waves," said Dr Gasparrini. "Our findings, from an analysis of the largest dataset of temperature-related deaths ever collected, show that the majority of these deaths actually happen on moderately hot and cold days, with most deaths caused by moderately cold temperatures."
The study, published in The Lancet, analysed more than 74 million deaths between 1985 and 2012 at 384 locations in countries with a mix of temperate and tropical climates, including the UK, the USA, Thailand, Italy, Sweden and China.
For each area they calculated a "temperature of minimum mortality" – the level at which fewest people died of a temperature-related cause. For the UK this was between 16 and 19 degrees.
Deaths considered to be attributable to weather, which occurred below this temperature, were considered cold weather deaths. However, there was predictably no significant increased risk of death a few degrees higher or lower than this range.
Across the world extreme temperatures were responsible for less than one per cent of deaths.
Dr Gasparrini added: "Current public health policies focus almost exclusively on minimising the health consequences of heat waves. Our findings suggest that these measures to be refocused and extended to take account of a whole range of effects associated with temperature."
In the UK, public health authorities have both cold and hot weather alert systems in plans in place.
Every winter, there are thousands of "excess" deaths in the UK, most of them among the elderly. In 2012/13, the last winter for which official figures have been calculated, 31,000 deaths were linked to cold weather. At times in the winter of 2014/15, the death rate was a third higher than normal.
Sir David Spiegelhalter, Winton Professor of the public understanding of risk at the University of Cambridge, said: "This is a fascinating study, which estimates that 8.5% of deaths in the UK are 'due to cold'. But it's important to note that by 'cold', they mean any temperature less than the safest in the UK, which they estimate to be 19 degrees Centigrade – the risk only really rises substantially at less than 1 degree. So perhaps they are really saying that the UK climate is killing people!"
Register for free to continue reading
Registration is a free and easy way to support our truly independent journalism
By registering, you will also enjoy limited access to Premium articles, exclusive newsletters, commenting, and virtual events with our leading journalists
Already have an account? sign in
Join our new commenting forum
Join thought-provoking conversations, follow other Independent readers and see their replies