Who has been 'milkshaked' and why is it being thrown over far-right campaigners?
Throwing dairy-based drinks at appears to have become a widespread protest tactic
Andrew Griffin Comments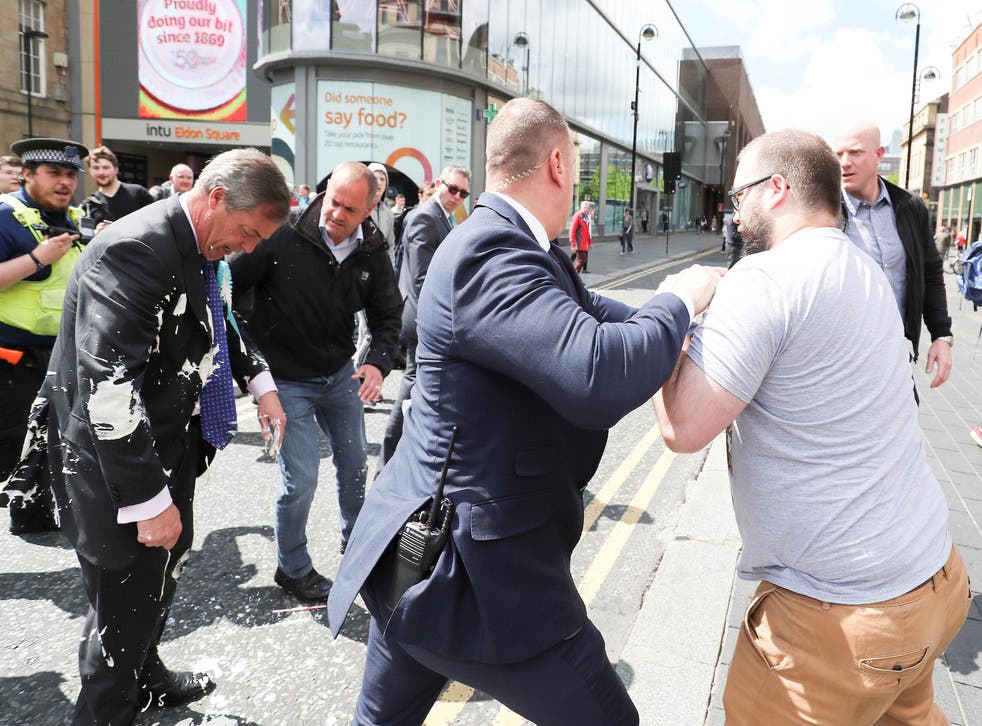 Nigel Farage has become the latest European Parliament candidate to have milkshake thrown at him, in what appears to be a growing protest tactic.
In an increasingly common occurrence politicians and activists are having the drinks thrown over their heads by people in the towns and cities where they are campaigning.
Some have been repeatedly targetted and it appears to be happening on an increasingly regular basis as election day approaches.
Here The Independent examines the phenomenon.
What is milkshaking?
It is in short, the act of throwing a milkshake over somebody.
But there is little more to it than that.
It tends to happen at campaign events, when people are out in town and city centres speaking with the public.
In practice, it is similar to the tactic of throwing other food such as eggs or custard pies at politicians.
Milkshaking: New tactic emerges in fight against far-right

Show all 6
It appears to have taken off after Tommy Robinson had milkshake thrown over him in Warrington, by local man Danyaal Mahmud.
He suggested that the decision to throw the milkshake had come to him spontaneously, in response to goading by Robinson, whose real name is Stephen Yaxley-Lennon, and his associates.
He later spoke of being afraid for his family's safety.
Why is it happening?
Throwing milkshake appears to have developed – apparently organically – as a protest by local people against the far-right candidates who are campaigning in their towns and cities.
Support free-thinking journalism and attend Independent events
While the milkshaking that first caught the public's attention was not planned, the spectacle very quickly flew around the world. That popularity led others to participate in what is very much a planned protest, with people apparently buying the drinks purely with the hope of throwing them over campaigners.
The appeal to those doing it appears to be largely visual: the milkshake means that people are forced to look embarrassed in front of the press's cameras, without causing any significant harm.
Who has been milkshaked?
Nigel Farage joins a growing group of far-right campaigners who have had milkshake thrown over them.
Carl Benjamin, the YouTube user and now Ukip candidate better known as "Sargon of Akkad", has had milkshake thrown at him four times over the last week.
Tommy Robinson has had milkshake thrown at him repeatedly, while campaigning to be an MEP in the north west.
It is possible, of course, that other people have had milkshake thrown at them without it being widely reported.
What has the reaction been?
While each of the incidents have drawn widespread support and been shared approvingly across the internet, those targeted have tried to suggest that it is causing them inappropriate distress.
"Sadly some remainers have become radicalised, to the extent that normal campaigning is becoming impossible," Nigel Farage tweeted after having milkshake thrown at him. "For a civilised democracy to work you need the losers consent, politicians not accepting the referendum result have led us to this."
Mr Robinson also committed that he would not stop campaigning, no matter how many people threw milkshakes at him.
"I was politically targeted," Mr Robinson said in a video. "I so want to win this. No amount of punches, milkshakes, attacks or anything is going to stop me."
Register for free to continue reading
Registration is a free and easy way to support our truly independent journalism
By registering, you will also enjoy limited access to Premium articles, exclusive newsletters, commenting, and virtual events with our leading journalists
Already have an account? sign in
Join our new commenting forum
Join thought-provoking conversations, follow other Independent readers and see their replies