Ministers warned rail fares rise of up to 9% rise will hit economic recovery
Unions and campaign groups stage protests at nearly 50 railway stations as fares increase by more than inflation for 11th year running
Nigel Morris
Tuesday 13 August 2013 19:04 Comments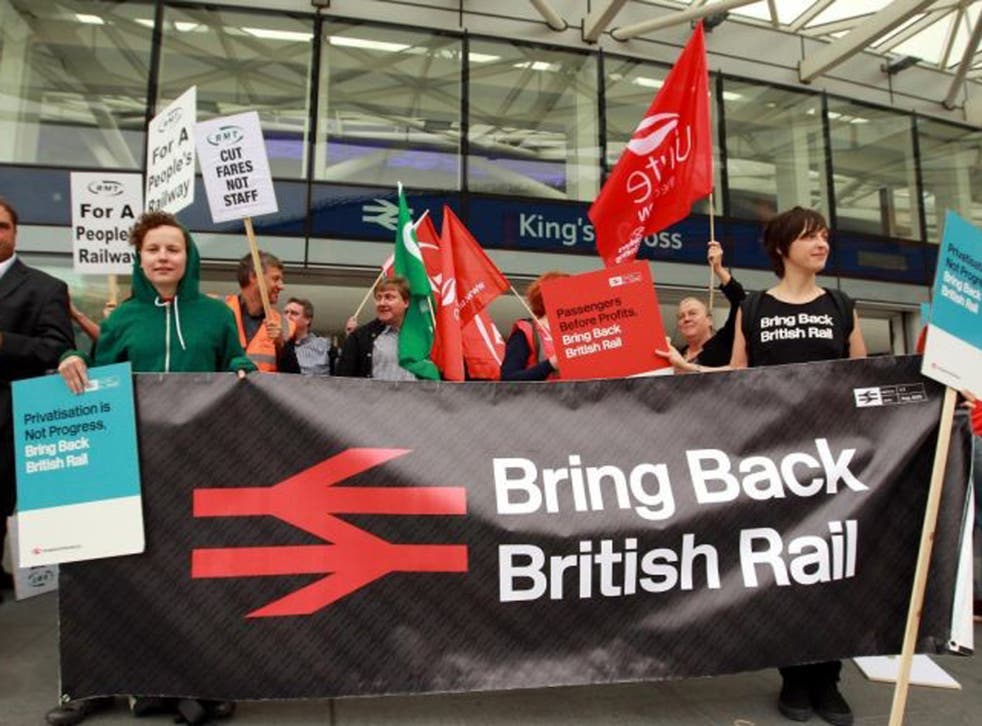 Ministers have been warned that the soaring cost of travel will threaten economic recovery as they faced demands to halt the relentless rises in rail fares.
Train passengers will be hit by an average rise in fares of more than four per cent next January – and possible increases of up to 9.1 per cent on some routes – because of the relatively high inflation rate.
The rises will result in thousands of commuters to London seeing the cost of season tickets exceed £5,000 in 2014. Unions and campaign groups staged protests at nearly 50 railway stations as the rise in ticket prices was confirmed today.
From January the cost of train travel will be 40 per cent higher than just six years earlier. It will be the 11th year running that fares have gone up by more than inflation.
Rail Maritime and Transport union leader Bob Crow said the increase was another blow for commuters: "This latest inflation-busting hike in fares is a kick in the teeth for the British people who are condemned for another year to pay the highest prices in Europe to travel on clapped-out, overcrowded and unreliable trains while the private operators are laughing all the way to the bank."
The Campaign for Better Transport's chief executive, Stephen Joseph, said many commuters now spent more on travel than food or accommodation.
"One of the surest ways of stamping on any green shoots of recovery is to price people off the trains and out of the jobs market," he said.
"For the sake of the economy, we should end above-inflation fare increases now and start planning for fare reductions."
Passengers face more pain because fares are linked to the Retail Price Index for July which stood at 3.1 per cent last month.
Under a Government formula, rail companies are allowed to raise average fares by one point more than inflation, resulting in an increase of 4.1 per cent. However, they are given flexibility to increase prices further on some routes, meaning some fares could leap by 9.1 per cent. These increases come after passengers faced an average rise of 4.2 per cent in fares this January.
The Government is committed to the system because of its determination to reduce subsidies to the rail companies at a time when traveller numbers are increasing.
Details of individual rises will be announced by rail companies in the autumn. However, if a 4.1 per cent increase is applied to some routes, it will mean the price of a 12-month season ticket from Deal, Canterbury and Ramsgate, in Kent, to London will rise above £5,000 in January. Commuters from Brighton would face a £158 annual rise, taking the price of their season tickets to more than £4,000.
The Transport Secretary Patrick McLoughlin said nobody liked paying more for fares but investment in the railways had to be paid for. He said: "Running the railways is a very expensive business. The taxpayer overall is contributing a lot and I am afraid the passenger has to make his contribution. He does it as a taxpayer and as a passenger as well."
He also refused to criticise the large bonuses received by directors at Network Rail.
"There is a bit more than just doing their job," he said. "We are talking about some very, very complicated engineering works that are going on."
Register for free to continue reading
Registration is a free and easy way to support our truly independent journalism
By registering, you will also enjoy limited access to Premium articles, exclusive newsletters, commenting, and virtual events with our leading journalists
Already have an account? sign in
Join our new commenting forum
Join thought-provoking conversations, follow other Independent readers and see their replies