Missing fishermen: Search off Sussex coast to resume
Two men remain missing after search was suspended overnight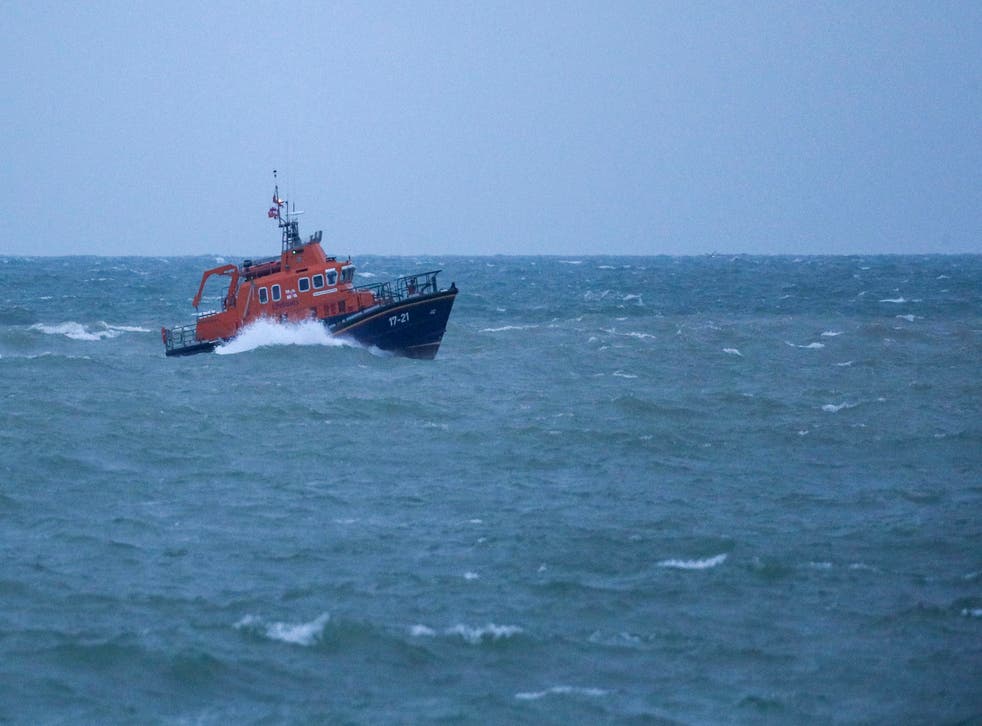 The search for two people who are missing after a fishing boat sank off the coast of East Sussex will resume on Sunday morning.
The operation had started early on Saturday after the coastguard received a distress signal from the fishing vessel Joanna C's emergency beacon at 6am about three nautical miles off the coast of Seaford. Three people were on board.
One man was still conscious when the Newhaven RNLI lifeboat found him clinging to a lifebuoy on Saturday morning. He was pulled him from the water and rushed to the hospital.
But two other crew members remained missing when the search was suspended for the night at around 11pm yesterday.
The Joanna C is a 45ft scalloping vessel registered in Brixham and its last known location was three nautical miles off the coast of Seaford, near Newhaven.
Debris was found near the location of the alert signal, but no life raft had been sighted yet, HM Coastguard Controller Piers Stansbury said yesterday.
Two RNLI lifeboats and two helicopters joined the air and sea search yesterday, while a coastguard rescue team checked for sightings from the shore.
Twelve other boats in the area, including many fishing vessels, responded the coastguard's appeals and have been helping with the search at sea, the coastguard said.
"HM Coastguard's National Maritime Operations Centre has coordinated a major rescue effort (on Saturday), with many units searching tirelessly since first light and finding one casualty who has been recovered safely to hospital," Chris Thomas, deputy director of HM Coastguard, said in a statement published on the coastguard's website.
"Sadly two other crewmen have not yet been found and all our thoughts are with their families and friends.
"It is testament to the local maritime community that HM Coastguard were so admirably supported throughout the day by nearby vessels and the local fishing communities who joined us in force and made strenuous efforts to locate their colleagues during the search.
"At one point, Coastguard coordinators described tracking 14 vessels covering the search plan area including the two RNLI all weather lifeboats at sea."
Additional reporting by PA
Register for free to continue reading
Registration is a free and easy way to support our truly independent journalism
By registering, you will also enjoy limited access to Premium articles, exclusive newsletters, commenting, and virtual events with our leading journalists
Already have an account? sign in
Register for free to continue reading
Registration is a free and easy way to support our truly independent journalism
By registering, you will also enjoy limited access to Premium articles, exclusive newsletters, commenting, and virtual events with our leading journalists
Already have an account? sign in
Join our new commenting forum
Join thought-provoking conversations, follow other Independent readers and see their replies