Number of drivers prosecuted for using a mobile phone at the wheel plummets amid 'decline in traffic officers'
Exclusive: RAC calls on police forces to place 'greater focus' on detecting and arresting those using handheld devices at the wheel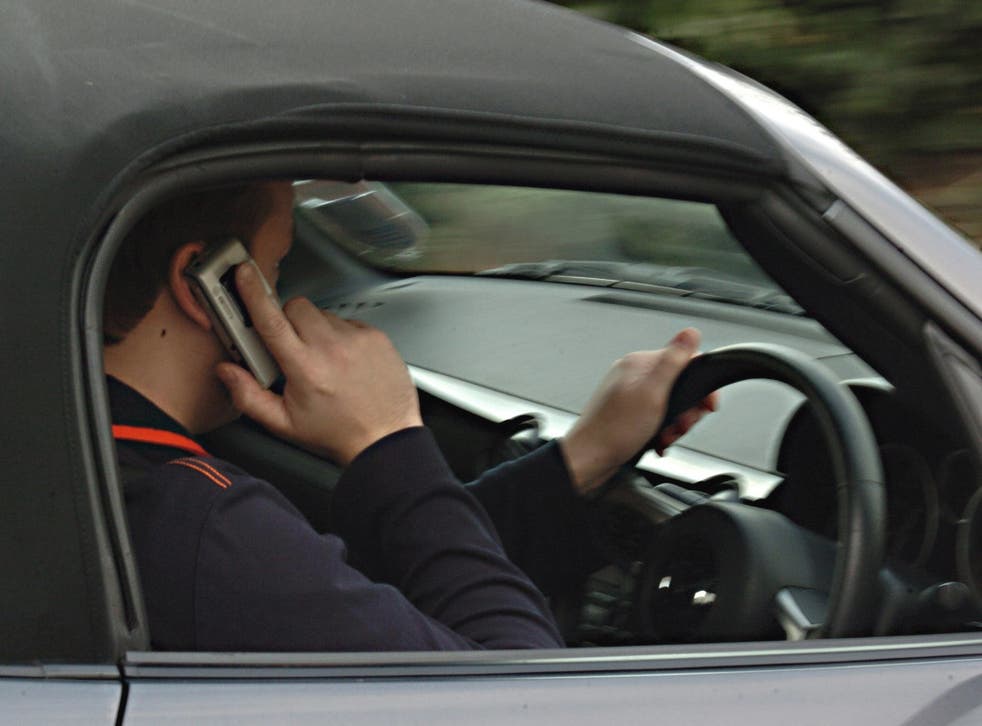 The number of people found guilty of using a mobile phone at the wheel has plummeted, prompting warnings from the RAC that a drop in traffic officers means fewer offenders are being caught.
Figures published by the Ministry of Justice show the number of offenders convicted of "using or causing others to use a handheld mobile phone while driving" fell by nearly half between 2012 and 2016 – from 22,135 to 11,961.
The RAC linked the drop in convictions in England and Wales with a fall in the number of traffic officers operating on the roads.
A Freedom of Information request last year found the number of traffic officers had fallen by a third in 10 years, from 3,766 in 2007 to 2,643 in 2017.
It comes after penalties for those flouting the law on using handheld devices while driving doubled in March last year to six points and a £200 fine, as part of a major crackdown on the practice. The changes mean new drivers now risk losing their licence for sending a single text.
Six months after the increased penalty came into force, a report by the RAC suggested more than nine million motorists in the UK had used a handheld phone to make or receive a call while driving, with 23 per cent of respondents admitting to using their phone at the wheel in the past year.
While the report also showed a 29 per cent year-on-year reduction in handheld phone use while driving, suggesting the Government's tougher stance has had some impact, the RAC said there remains a hard core of regular users who do not recognise the danger that their own handheld mobile use causes.
Pete Williams, RAC road safety spokesman, told The Independent the number of convictions revealed in the new figures shows the "tip of a very large iceberg" of drivers who are prepared to risk their own lives and those of other road users.
He said: "It is very telling that convictions for drivers caught using a handheld phone at the wheel have been on a downward trajectory for years, as the number of traffic officers has fallen by 30 per cent across the last 10 years and most drivers believe they are unlikely to be caught for any motoring offences other than speeding where it is an automatic camera which is detecting the crime.
"Our 2017 Report on Motoring identified a hard core of nine million persistent handheld phone drivers who continue to flout the law despite the doubling of the penalties in March 2017 to six points and a £200 fine.
"For this reason we believe the number of convictions is really just showing the tip of a very large iceberg of drivers who are prepared to risk their own lives and those of other road users by continuing to use a handheld phone when driving."
Among the regions that saw the largest fall in convictions was Kent, which saw an 87 per cent drop, from 519 in 2012 to 68 in 2016, and Cumbria, where the figure fell by 76 per cent from 207 to 49.
While the number of people found guilty of the offences fell overall, seven of the 42 police forces in England and Wales recorded a rise in convictions.
The largest increases were recorded in Nottinghamshire, which saw an 87 per cent increase – from 236 to 442 – and Dyfed-Powys, which saw the figure rise from 179 to 327, marking an 83 per cent increase.
Mr Williams argued for a greater focus on detecting and arresting offenders and for investment to be made on a high profile campaign to raise awareness of the dangers and penalties.
"We note that the figures may not accurately reflect the number of motorists convicted for the specific offence as where there are multiple offences the courts only record the offence which carries the greatest penalty," he added.
UK news in pictures

Show all 50
"This means it is very possible that some drivers were convicted for other more serious offences, possibly resulting from being distracted by using a handheld phone such as causing death or serious injury by dangerous driving."
A Home Office spokesperson said: "How road traffic offences are enforced is an operational matter for the police. Chief Constables and democratically accountable Police and Crime Commissioners make decisions about frontline policing and the deployment of resources.
"We are satisfied that the police have the resources they need to do their important work and we have set out a comprehensive settlement to strengthen local and national policing, which will mean police funding will increase by up to £450 million next year."
Join our new commenting forum
Join thought-provoking conversations, follow other Independent readers and see their replies