Model 'punches' Femen protesters who storm catwalk during Paris fashion week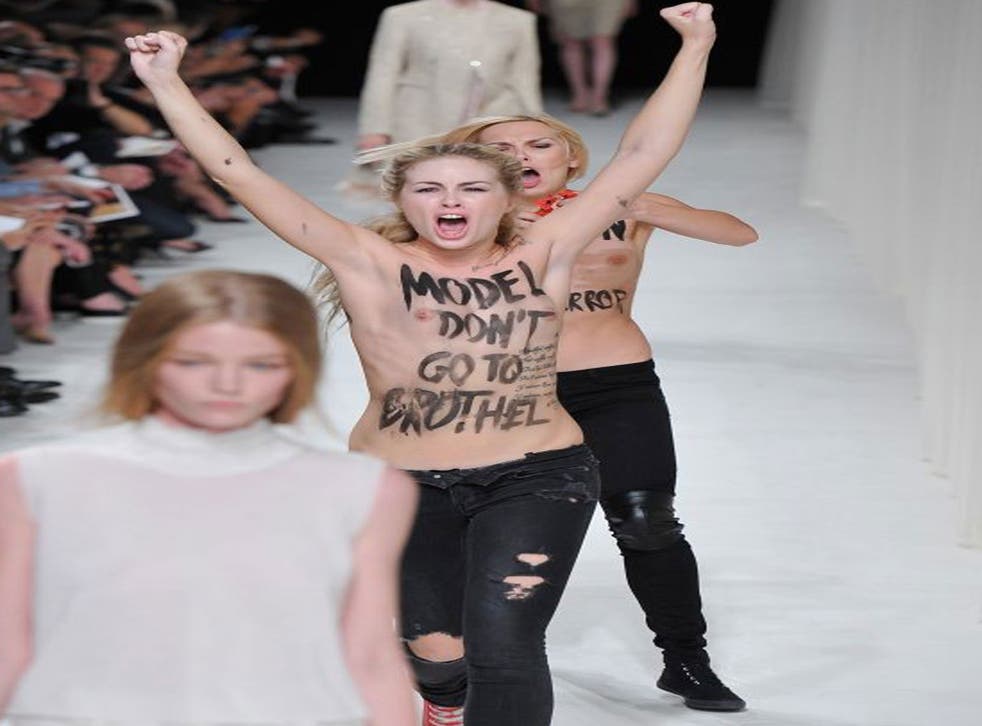 A Liverpool model said she "punched" two Femen protesters who broke onto the catwalk at Paris fashion week and grabbed her arm.
Hollie-May Saker was modelling for designer Nina Ricci in the French capital when protesters from the radical feminist group ran on stage, with the words "model, don't go to brothel" painted across their torsos.
When one of the two women grabbed Ms Saker's hand, she can be seen pulling her hand away in response, before both members of the Ukrainian group were dragged away by a security guard who quickly rushed onto the stage.
Anfield resident Ms Saker continued to walk around the catwalk even as the protesters were being pulled off stage.
Speaking to the Liverpool Echo, Ms Saker said: "I punched her – I didn't mean to but she grabbed my arm and I just wanted to get her off me.
"I was the 19th girl out of the catwalk and I could hear screaming behind me.
"As she grabbed by arm she lifted by skirt exposing me – I pulled my arm back with such force that I landed a punch square on her nose."
Ms Saker added that despite feeling angry because the protesters had "ruined her favourite show" she continued to model for the rest of the event.
The 18-year-old said she "knew the Scouser in me was bound to come out eventually during fashion week" in a tweet after the incident.
Femen recently came under controversy after 28-year-old male Victor Svyatskiy was 'ousted' as the mastermind behind the group by Australian film maker Kitty Green. Ms Green alleges Mr Svyatskiy hand-picked the most attractive women "because the prettiest girls sell papers."
"The prettiest girls get on the front page... that became their image, that became the way they sold the brand," she said.
Join our new commenting forum
Join thought-provoking conversations, follow other Independent readers and see their replies