Mohamed Nasheed: Imprisoned Maldives ex-president flies to UK for treatment
Mr Nasheed was allowed to leave the capital Malé after ministers relaxed the terms of his temporary release
Simon Usborne
Tuesday 19 January 2016 00:30 Comments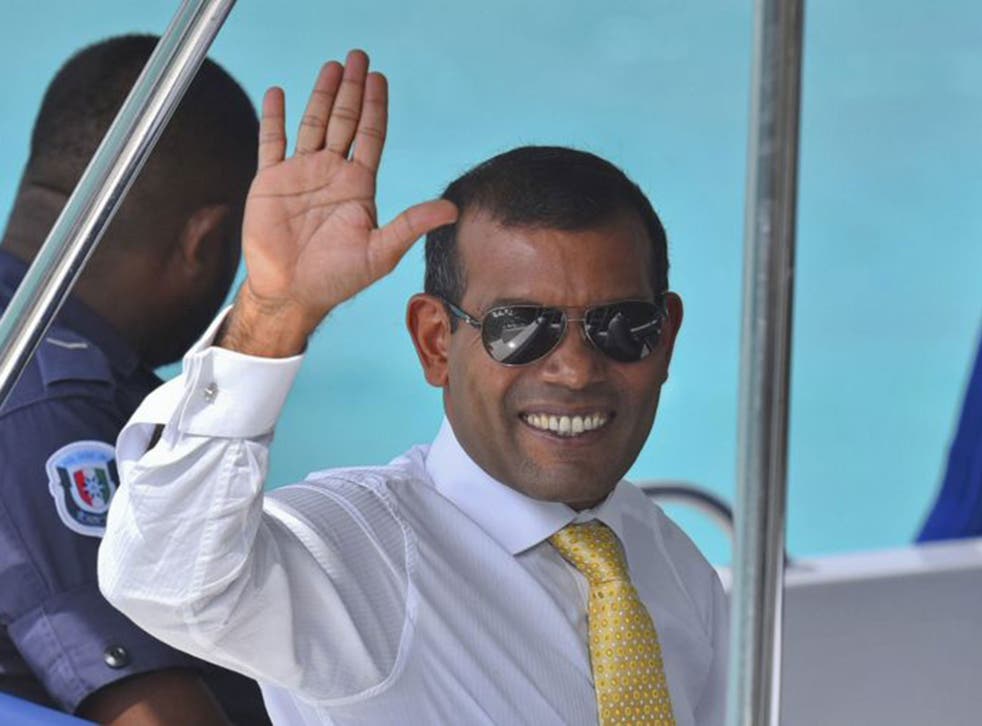 The imprisoned former president of the Maldives flew out of the island nation last night for medical treatment in Britain after days of tense negotiation between his family and the government.
Mohamed Nasheed, who is serving a 13-year sentence for terror offences after a trial described by the UN as "politically motivated", was allowed to leave the capital Male after ministers relaxed the terms of his temporary release.
On Saturday, the government had agreed to allow Mr Nasheed to fly to Britain, via Sri Lanka, for back surgery. He believes the condition was triggered when he was tortured as a young activist by the regime he later defeated in the Maldives' first democratic elections in 2008.
But the feted former president, who resigned in disputed circumstances in 2012, then refused to agree to the deal when the government demanded that his brother Ibrahim remain in Male as a "hostage" to guarantee his return within 30 days.
Under pressure from the West and its neighbour Sri Lanka over the treatment of Mr Nasheed, ministers relented and Mr Nasheed's family is no longer legally liable if the former president does not return within a month.
"He told his family that he was not prepared to jeopardise their freedom in order secure his own," an aide for Mr Nasheed told The Independent last night as his plane made the short journey to Colombo.
The aide said Mr Nasheed needed keyhole surgery and that his back problem had been aggravated when he was dragged into court by police after his arrest in February last year, and by his subsequent imprisonment.
According to one of his lawyers, Jared Genser, Mr Nasheed had spoken by phone to the US Secretary of State John Kerry while he waited to board the flight. Last week, the British barrister Amal Clooney, who is also a member of the team, took Mr Nasheed's fight for freedom to Washington D.C.
Hugo Swire, the UK Minister of State at the Foreign and Commonwealth Office, visited President Abdulla Yameen on Sunday as part of an official visit to the Maldives. David Cameron, who once counted Mr Nasheed as a friend, has joined international calls for his release.
Mr Swire also met the Maldives Foreign Minister Dunya Maumoon, who is daughter of Maumoon Abdul Gayoom, the dictator who ruled the Maldives for 30 years and whose regime imprisoned Mr Nasheed when he was a democracy activist and journalist. Mr Yameen is Mr Gayoom's half-brother.
Ms Maumoon said in a statement last night: "We ask that Mr Nasheed and his representatives abide by the agreement signed and agreed today. These are standard requirements in line with international norms."
Register for free to continue reading
Registration is a free and easy way to support our truly independent journalism
By registering, you will also enjoy limited access to Premium articles, exclusive newsletters, commenting, and virtual events with our leading journalists
Already have an account? sign in
Join our new commenting forum
Join thought-provoking conversations, follow other Independent readers and see their replies