Mohamed Nasheed: Jailed ex-Maldives president pledges to return to islands and continue fight for democracy
Mr Nasheed was sentenced to 13 years in prison after a terror trial later deemed by the UN to be politically motivated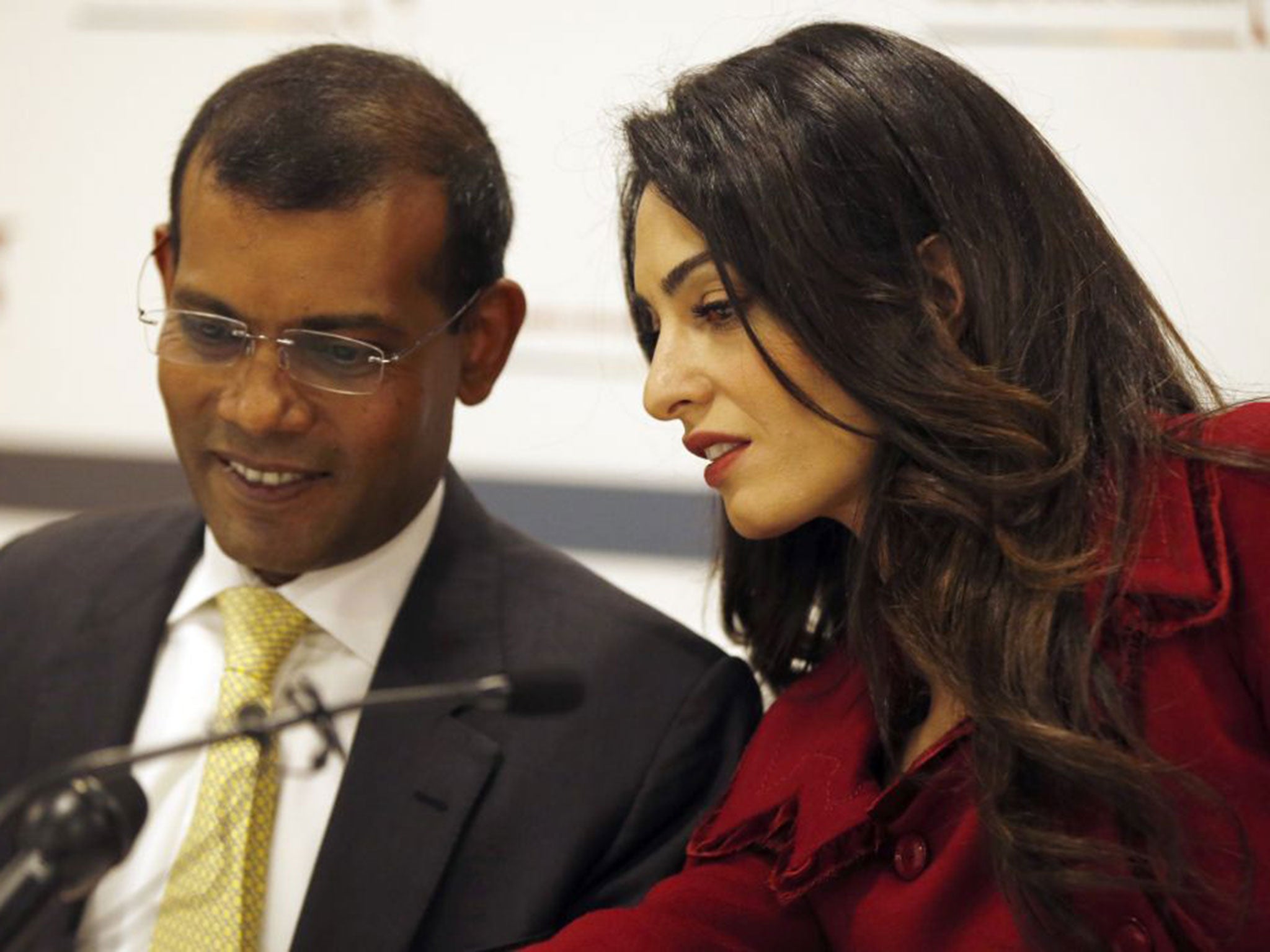 The jailed former President of the Maldives promised to return to the troubled islands to continue his fight for democracy in his first public comments since his temporary release and flight to London for medical treatment.
Mohamed Nasheed sat beside his lawyers, including Amal Clooney, who renewed their calls for targeted sanctions against the Maldives government, while also criticising Cherie Blair for her support of the regime.
The former president, who ended 30 years of dictatorship when he won the Maldives' first democratic elections in 2008, was sentenced last year to 13 years in prison after a terror trial later deemed by the UN to be politically motivated.
"Let me be clear, I will go back to the Maldives… there's no doubt about that," Mr Nasheed told a press conference at Mrs Clooney's legal chambers. "The only question is how and when. For now, I just want to spend some time with my wife and family."
He said that he hoped that the political climate would change so that he might return without walking back into jail, and later run for office again. "I think I'll have to do it," he said.
Mrs Clooney is part of a legal team working pro bono to secure the permanent release of Mr Nasheed and that of 1,700 other political prisoners they say still languish in Maldives jails.
The luxury tourism destination is led by President Abdullah Yameen, the step-brother of former dictator Maumoon Gayoom. Mr Yameen's government employed Mrs Blair's legal and communications firm Omnia Strategy to do draft its response to the UN's conclusion about Mr Nasheed's trial.
"It is very sad that a Labour former Prime Minister's wife has decided to work against the people of the Maldives," Mr Nasheed said, recalling his good relations, while he was president, with Prime Minister Gordon Brown.
After stating that the case for sanctions remained urgent, Mrs Clooney accused the Maldives government of "flouting its international legal commitments and instead hiring a series of expensive PR agencies to paper over its human rights abuses".
As international pressure and the potential for sanctions mount against them, Maldives ministers last week agreed to allow Mr Nasheed to travel to Britain for 30 days for surgery to treat a chronic back condition. He blames the pain on the torture and solitary confinement he suffered as an activist under the old regime.
But in a statement timed before the press conference in London, the Maldives foreign minister Dunya Maumoon accused Mr Nasheed, who met David Cameron at Downing Street on Saturday, of misleading the government about his health.
"It is now clear his primary goal was to court publicity in the United Kingdom. This is not medical leave, but media leave," said Ms Maumoon, who is the daughter of the former dictator. She has employed the London PR firm BTP Advisers in addition to Omnia Strategy.
Mr Nasheed also expressed concern for failing democracy in The Maldives, as well as the rise of religious extremism and the reversal of the internationally praised steps he made as president to tackle climate change on the sinking islands.
"It's easy to topple a dictator, but not so easy to uproot a dictatorship," said Mr Nasheed, who has been nicknamed the "Mandela of the Maldives". "As in so many Islamic countries since the Arab Spring, the flame of democracy in the Maldives burned only for a short time. But we must keep the hope alive. With so many people having sacrificed so much, we cannot give up, and we will not give up."
Join our commenting forum
Join thought-provoking conversations, follow other Independent readers and see their replies