Momentum 'plotting to seize control of Labour Party', secret recording reveals
Momentum founder raises prospect of affiliation with powerful Unite union and calls on supporters to work way to all levels of Labour in order to control leadership succession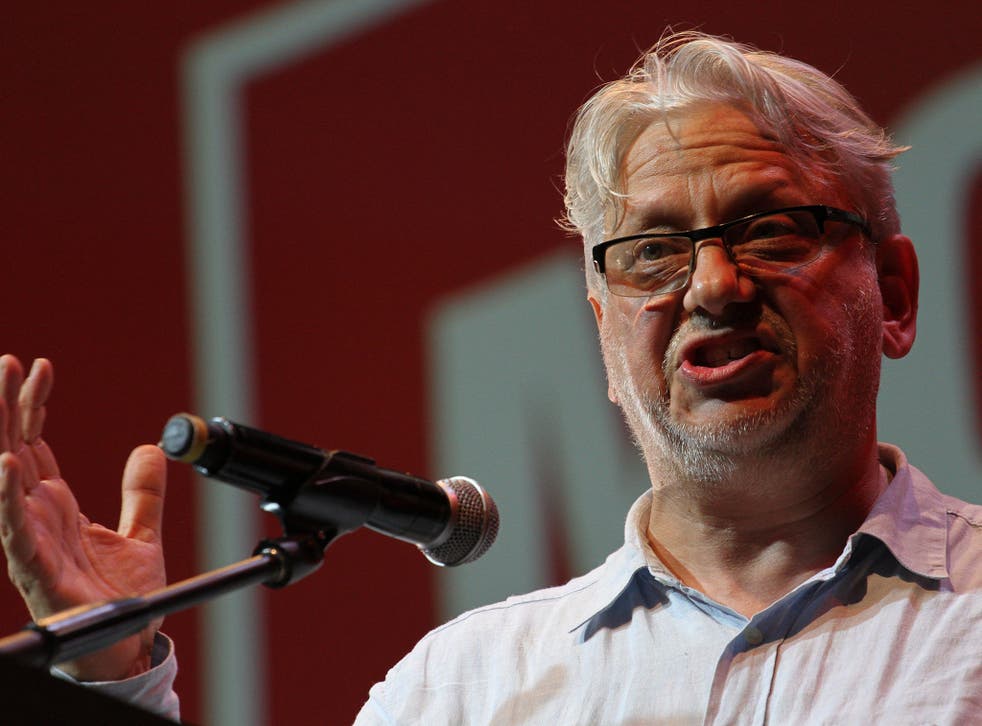 Hard-left supporters of Jeremy Corbyn are reportedly plotting to seize long-lasting control of the Labour Party, a secretly recorded tape has revealed.
Momentum founder Jon Lansman is planning to consolidate the grassroots organisation's power within the Labour Party by formally joining forces with union Unite.
The plan was revealed in a recording of Mr Lansman addressing supporters at a meeting of a new branch of the organisation in Richmond, London, on 1 March.
The revelations from the tape, obtained by the Observer, were described by Labour's deputy leader Tom Watson as a covert strategy to take over the party.
The recording reveals Mr Lansman called on Momentum supporters to work their way to all levels of the Labour Party in order to ensure they control Jeremy Corbyn's succession.
"Ensuring that when Jeremy does cease to be leader, and he will at some point cease to be leader, I hope by his own choice, we have a fair election in which candidates that have enormous support among the membership can get on the ballot paper and we will be able to vote for them," he is heard saying.
He added it was "absolutely crucial" pressure was exerted to change party rules in order to make it easier for a Momentum member to run in a leadership contest.
Currently, in the event of a vacuum, candidates need to secure backing from at least 15 per cent of MPs and MEPs, a threshold likely to be too high for any hard-left candidates.
Mr Lansman urged supporters to get "as many delegates as you can send" from constituency parties to the Labour conference to "force a debate" on lowering the 15 per cent threshold.
The tape also reveals Mr Lansman is confident Unite will become affiliated to Momentum if Len McCluskey secures re-election as Unite general secretary.
He says: "Assuming the fact that Len McCluskey wins the general secretaryship, which I think he will, Unite will affiliate with Momentum and will fully participate in Momentum as will the Communication Workers Union."
Mr McCluskey is an ally of Mr Lansman and he previously threatened to cut his ties with Labour and launch a rival party if Ed Miliband lost the 2015 General Election.
Under Mr McCluskey's leadership, Unite, which is Labour's biggest donor, provided crucial support to Jeremy Corbyn.
Unite's affiliation to Momentum could see a significant shift of financial resources and political influence to the pro-Corbyn left, a move which will no doubt upset the party's moderates.
Despite Mr Lansman telling his audience "it was never the intention to purge people", the plan is likely to lead Mr Corbyn's critics to fear they may be pushed out before the next election.
UK news in pictures

Show all 50
A spokesperson for Momentum told the Observer: "Jon Lansman was speaking in an aspirational manner about the possibility of Unite and the CWU affiliating to Momentum and stating that if they did choose to do so they would, like other affiliated unions, be able to take part in Momentum's affairs by having a seat on its national co-ordinating group. Momentum's constitution allows for up to six places for trade union affiliates, which have been taken up by some unions already."
Momentum sources said Unite had not given the organisation any funds up to now and that there were no current plans for Unite to affiliate to Momentum.
A Unite spokesman said affiliation decisions could not be made by the general secretary alone: "Affiliation to Momentum is a matter for our executive council alone and no discussion on the matter is scheduled."
Register for free to continue reading
Registration is a free and easy way to support our truly independent journalism
By registering, you will also enjoy limited access to Premium articles, exclusive newsletters, commenting, and virtual events with our leading journalists
Already have an account? sign in
Register for free to continue reading
Registration is a free and easy way to support our truly independent journalism
By registering, you will also enjoy limited access to Premium articles, exclusive newsletters, commenting, and virtual events with our leading journalists
Already have an account? sign in
Join our new commenting forum
Join thought-provoking conversations, follow other Independent readers and see their replies