Social media users abusing monkeys in sickening videos for money and hits
Exclusive: Baby animals tortured, killed and have limbs amputated in horrific clips of physical and psychological torment, research finds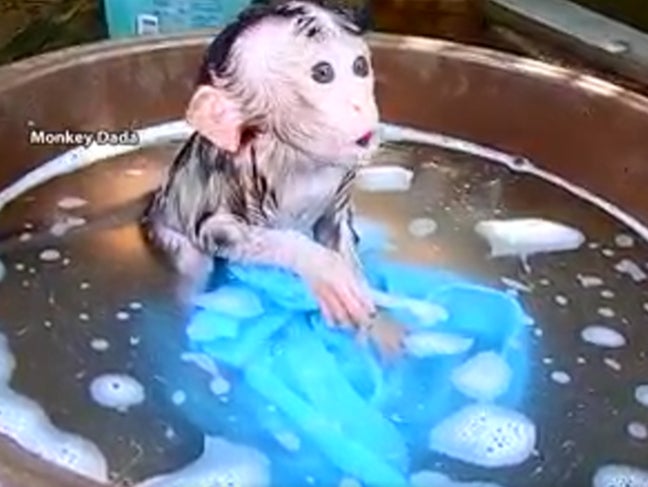 Ruthless owners of monkeys are torturing their animals on social media for money and "likes", a study has found.
The content creators physically and mentally abuse macaques getting tens of thousands of hits on platforms including Facebook, Instagram, TikTok and YouTube.
Together, the video clips in the study had more than 12 billion views, Asia for Animals' Social Media Animal Cruelty Coalition (SMACC) says.
Researchers who examined 1,226 posts over 18 months say:
12 per cent of videos showed macaques being physically tortured, including being beaten, burnt alive or having limbs amputated. Many were tortured to death
13 per cent showed deliberate psychological torture: animals were terrified and distressed by being scared, teased or denied food
Compiled by a coalition of 20 animal-protection organisations, the report documents evidence ranging from seemingly innocent treatment such as giving them bottles of milk to violent and graphic torture.
Macaques - used because of perceived close similarities to human babies – are forced to suffer sexual abuse, dismembering and immersion in freezing cold or boiling hot water, the report says. Bathing videos are said to be popular, even though animals often scream out or try to escape as water and soap pour down their faces.
Many abusers profit from adverts on their channels or accounts and some also make money by directly asking viewers for funds.
They may pretend to be rescuing the animals and ask for donations to help or for "veterinary costs", sharing links to donation pages, the researchers found.
Fake rescue videos often show monkeys in "apparently dire but manufactured situations", such as stuck inside jars. Some macaque species being abused are taken from the wild where they are endangered.
When sickening videos of cruelty have been highlighted in media reports, social-media giants point to their policies that state such clips are not allowed.
However, The Cruelty you Don't See: The Suffering of Pet Macaques for Social Media Content report suggests the problem is getting worse.
"As engagement with online animal cruelty content increases, its creators are encouraged to continue producing new content, increasing the suffering of existing pet macaques and incentivising the procurement of more animals," the report authors note.
In 2021, a US-based private "monkey haters" online group, where members paid to have baby monkeys tortured and killed on camera in Indonesia was closed down, but other extreme videos have proliferated on social media. Some of the uploaders offer to make private torture videos and provide links to private groups.
The researchers, who accuse social media platforms of fuelling the abuse, also highlight links between animal abuse, child sexual abuse and violence, citing research that found in families that experience child abuse, animal cruelty is reported 80 per cent of the time.
To crack down on animal abuse, the UK government last week announced cruelty would be included in the Online Safety Bill going through parliament. Social media platforms will have to remove content or face fines of up to £18m or 10 per cent of their revenue.
"By allowing these people to operate for months or even years posting monkey torture content, social media platforms such as YouTube, Facebook and others, have and continue to enable animal cruelty enthusiasts to connect and escalate their cruel activities to extreme and grotesque levels," the report says.
It does not identify countries where the abuse is worst because it says the content is accessible and consumed worldwide. The coalition called for users to keep reporting horrific clips to the platforms.
A Meta spokesperson said: "We don't allow the promotion of animal abuse on our platforms and we remove this content when we become aware of it. We will investigate any violating links shared with us and encourage users to report this content to us using the tools on our platforms, so our teams can investigate and take action."
A YouTube spokesperson said: "Content depicting violence or abuse toward animals has no place on YouTube. While we've always had strict policies prohibiting animal abuse content, we recently expanded our violent and graphic policy to more clearly prohibit content featuring deliberate physical suffering or harm to animals, including staged animal rescues.
"Our teams are working hard to quickly remove violative content, and just this year alone, we've removed hundreds of thousands of videos and terminated thousands of channels for violating our violent and graphic policies."
TikTok was also contacted for comment.
Join our commenting forum
Join thought-provoking conversations, follow other Independent readers and see their replies