Monkeypox: 11 new cases confirmed in UK as outbreak spreads
A total of 20 people in UK now infected as Australia and seven other countries record outbreaks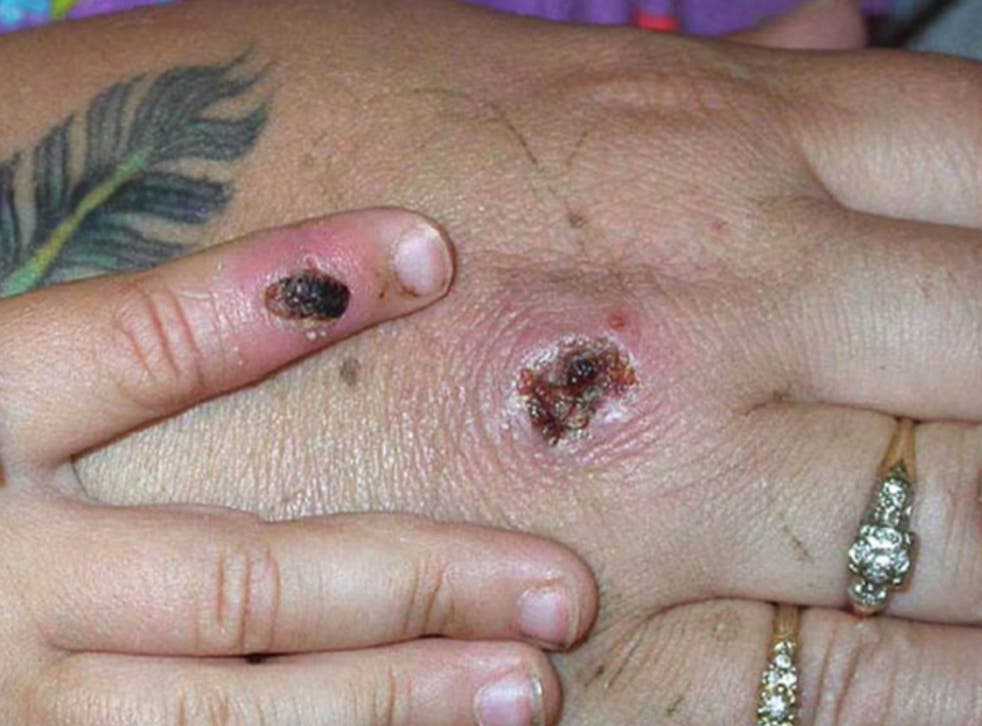 Eleven more cases of monkeypox have been found in the UK, health chiefs say, bringing the total to 20.
The World Health Organisation is holding meetings with experts in all countries with outbreaks, including several other European nations that have at least 100 cases altogether.
The UK's tally more than doubled on Friday, from the nine previously identified.
The initial recent case was diagnosed in someone who had returned to Britain from Nigeria, but the cases are not all in one cluster.
UK health chiefs say they expect cases to rise in the coming days, with more diagnosed in the community.
Dr Sue Hopkins, chief medical adviser for the UK Health Security Agency, said: "We continue to rapidly investigate the source of these infections and raise awareness among healthcare professionals.
"We are contacting any identified close contacts of the cases to provide health information and advice."
About one in 10 cases of monkeypox is fatal, according to the World Health Organisation.
Patients at first suffer fever, headaches, swellings, back pain, aching and a general listlessness. After the fever breaks, sufferers experience skin eruptions, with a rash that spreads across the face, followed by the rest of the body, particularly the palms and soles.
The rash may look like chickenpox or syphilis, and scabs form, which fall off after about three weeks. The infectious lesions may be itchy or painful.
Incubation is usually from six to 13 days, but can range up to 21 days.
The disease is not normally sexually transmitted, but it can be passed on by direct contact during sex. Several UK cases have been confirmed in gay, bisexual and other men who have had sex with men who have attended sexual health services.
It can also be spread through touching clothing, bedding or towels used by someone with the rash, and through coughs and sneezes.
The UK Health Security Agency (UKHSA) confirmed the new infections.
Most people infected had mild symptoms, health secretary Sajid Javid said. He updated G7 health ministers on what was known so far.
"Most cases are mild, and I can confirm we have procured further doses of vaccines that are effective against monkeypox," he said.
It's believed the World Health Organisation will discuss how the virus is being spread, the unusually high prevalence in gay and bisexual men, and the vaccination situation.
Some UK healthcare workers have been offered the smallpox vaccine as monkeypox cases spread further across the globe.
Australia has reported its first monkeypox case, in a traveller who recently returned from Britain. The US, Canada, Belgium, Portugal, France, Italy, Spain and Sweden have all also reported their first cases in recent days.
Michael Skinner, a reader in virology at Imperial College London, said: "Virologists recognise two strains of monkeypox virus. The Congo strain is more severe (up to 10 per cent mortality) and probably more transmissible in humans than the West African strain, the source of these latest cases, for which mortality is estimated at about 1 per cent.
"Most UK cases of monkeypox are likely to be the West African strain due to the UK receiving more travellers from this region than the Congo."
Register for free to continue reading
Registration is a free and easy way to support our truly independent journalism
By registering, you will also enjoy limited access to Premium articles, exclusive newsletters, commenting, and virtual events with our leading journalists
Already have an account? sign in
Register for free to continue reading
Registration is a free and easy way to support our truly independent journalism
By registering, you will also enjoy limited access to Premium articles, exclusive newsletters, commenting, and virtual events with our leading journalists
Already have an account? sign in
Join our new commenting forum
Join thought-provoking conversations, follow other Independent readers and see their replies