Why Muhammad may be the most common baby boys' name in England and Wales
Experts say different spellings are variations on the same name transliterated from Arabic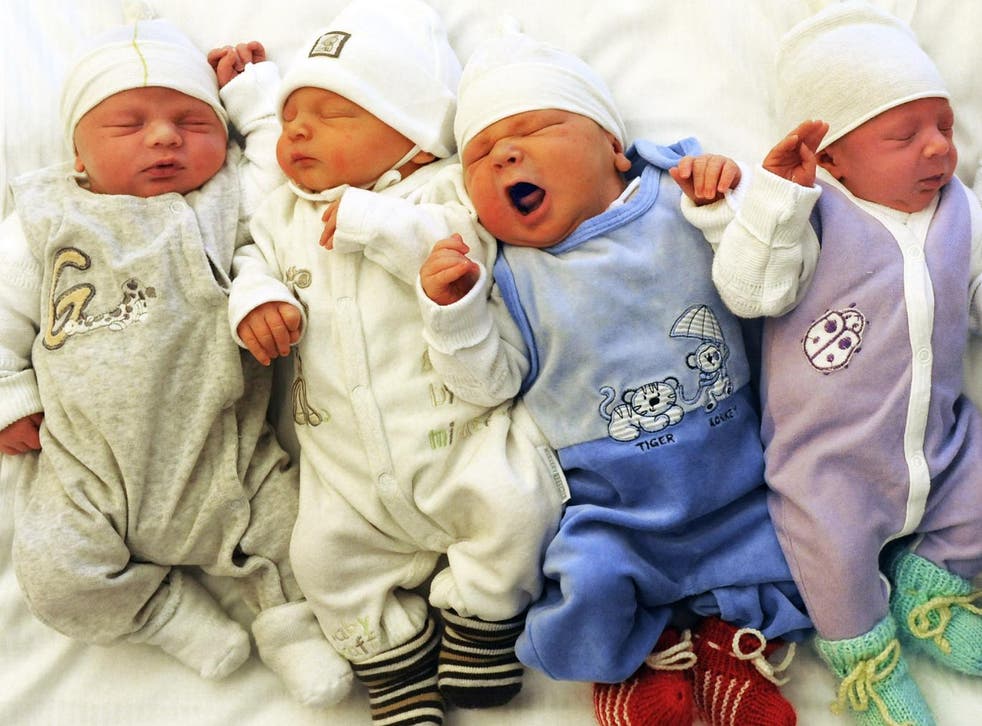 An official list of the most popular baby names in England and Wales has sparked fresh debate over whether Mohamed – with all its spelling variations - is the most common boys' name.
It appears with several spelling variations on the Office for National Statistics' ranking for 2015, which puts Oliver, Jack and Harry at the top, with Amelia, Olivia and Emily for girls.
Muhammad appears at number 12, followed by Mohammed at 29, Mohammad in 68th place and Muhammed coming in at 121.
When the spellings are combined, it was used 7,570 times – outstripping the 6,941 babies named Oliver on their birth certificates.
The ONS treats the versions as separate names because it publishes them as they are spelled on official documents, applying the same policy to other variations like Sophia and Sofia, for example.
"To make a fair comparison either all names should be treated separately or all names on the list should be combined with names that have a similar spelling," a spokesperson said.
"If the latter approach was taken it would make the lists look very different. But it would also require subjective decision-making about whether certain names are distinctive or not – for example it would raise issues such as whether or not we should combine Sara with Sarah and Anna with Ana – some people pronounce these names the same way, but other people do not."
The ONS, the British Government's statistics agency, said Mohamed first entered the top 100 boys' names in 1924 but has since increased in popularity.
The top 10 most popular names for boys and girls

Show all 20
Possible reasons included the increasing size of the Muslim community in England and Wales, which currently stands at around 5 per cent, Islamic traditions and the popularity of sporting figures like the late Muhammad Ali and Olympian Mohamed (Mo) Farah.
Arabic experts say the variations on the name arise only from the transliteration from Arabic (محمد) into Roman characters.
Ibrahim Othman, an Arabic teacher at the Arab British Centre, said the difference would be comparable to the British spellings of Jon and John, but not Oliver and Ollie, as the second name is shortened.
"They [Mohamed spellings] are the same name but it's up to people how they want to spell it," he told The Independent.
"There's no difference, it's just because some people would say an 'o' or a 'u' more accurately represents the Arabic."
There are numerous systems for writing Arabic into Roman script, all trying to best translate Arabic phonemes that do not exist in English or other European languages and capture differing pronunciations of the definite article and short vowels.
The name means of the Muslim Prophet means "praised" or "praiser of God" and is thought to be one of the most popular names worldwide, leading some men to shorten it or use their middle names.
"It's religious – it comes down to a praise of Mohamed that can be followed by other names that combine to construct a praise of the Prophet," Mr Othman said.
Richard Coates, a professor in linguistics at the University of the West of England is an expert in onomastics – the study of names.
He told The Independent that although all spellings of Mohamed express the same name, they can be used to express different origins.
"A Muxamed from Somalia and a Mohammed from Egypt might agree that one is a Somali name and one isn't, so in that sense they're not the same," he added.
"There are also important differences in transliteration that could carry their own meanings, like an 'English' Amin and a 'French' Amine."
Professor Coates said that many common British names such as Catherine, Katie and Kate also share the same root.
"I don't think you can escape the dilemma that historically these names share an origin but whether they are the same name in light of the usage we have today has more to do with the viewpoint of the person involved, because a name is an expression of oneself," he explained.
"Pet-names might originate from the same name but become independent from it, like Kate and Katie from Catherine or Betty and Eliza from Elizabeth."
Register for free to continue reading
Registration is a free and easy way to support our truly independent journalism
By registering, you will also enjoy limited access to Premium articles, exclusive newsletters, commenting, and virtual events with our leading journalists
Already have an account? sign in
Register for free to continue reading
Registration is a free and easy way to support our truly independent journalism
By registering, you will also enjoy limited access to Premium articles, exclusive newsletters, commenting, and virtual events with our leading journalists
Already have an account? sign in