Mother writes letter to David Cameron demanding to know why her young daughter has been failed by mental health services
The Government makes a priority of children's mental health, but that is not what one distressed family finds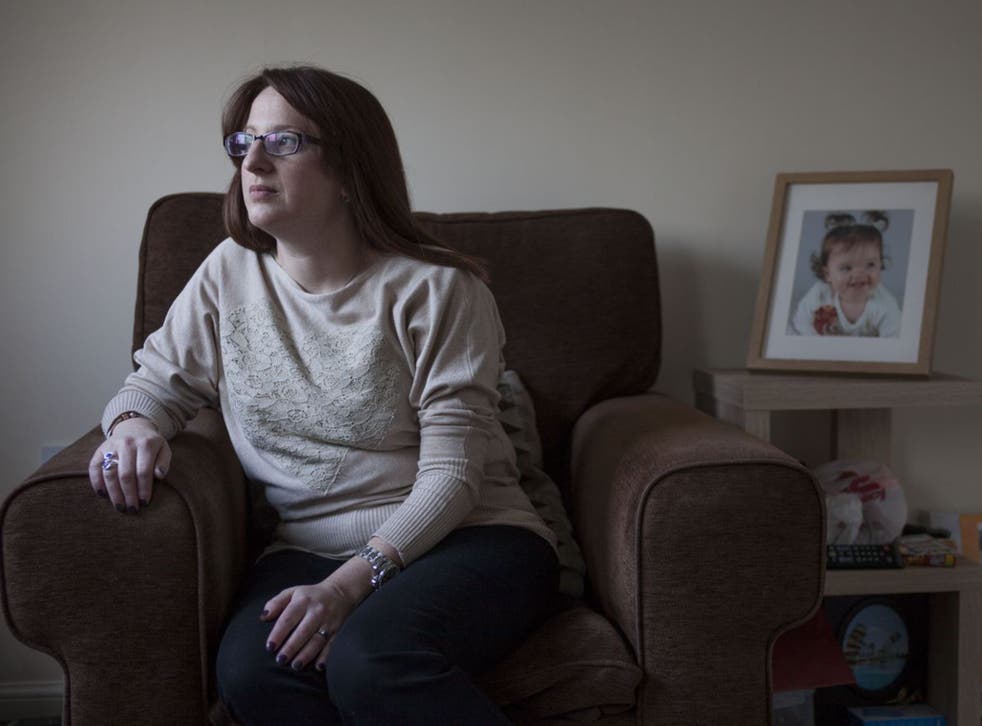 A distraught mother of a mentally ill child has written an open letter to David Cameron demanding to know why her 10-year-old daughter and many others like her have been failed by children's mental health services across the country.
Samantha Lethbridge, 38, and husband Jonathon, 42, from Borehamwood, Hertfordshire, had to sell their home and move into rented accommodation as the financial and emotional strain of coping with their seriously ill daughter became too much.
They first noticed something wrong when, at the age of five, she struggled with basic reading and writing skills. She saw a succession of GPs and was finally referred a year later to a paediatrician, who identified borderline attention deficit hyperactivity (ADHD) with a sleep disorder.
"Her mental state was deteriorating," Mrs Lethbridge told The Independent on Sunday. "She just wasn't happy, so in 2013 we were referred to CAMHS [the Child and Adolescent Mental Health Service provided locally, in this case by Hertfordshire Partnership University Foundation Trust then from July 2015 by Hertfordshire Community NHS Trust]."
Following three sessions and "a tiny improvement", Mrs Lethbridge said the nurse discharged her daughter with the recommendation to "read a book". Her behaviour soon deteriorated again so they were re-referred to CAMHS and had to wait another 18 weeks, forcing the family to fund a private psychiatrist to get help sooner.
"Each time we've been seen by CAMHS it has been a review of what has happened," Mrs Lethbridge said. "It hasn't been any of the psychological intervention that they are supposed to provide but a pharmaceutical approach."
Her daughter was proscribed the anti-ADHD drug methylphenidate, whose side effects can include reduced appetite, anger and anxiety. "The drugs turned her into a zombie, she stopped eating for four days and my husband and I just stopped that – but not before it had unnerved us with the CAMHS experience."
Further appointments at another Trust clinic followed while Mrs Lethbridge discovered the school her daughter then attended was trying to solve the behavioural problems by keeping her isolated in a locked room, with a teacher outside, while taking away her tights and socks "in case she strangled herself".
Mrs Lethbridge said: "We sent her to another school, which was much better. By December 2014 she had a massive crisis and crashed out of school. Urgent help was needed. We got a phone call from a doctor at CAMHS who said he was told to call us but didn't know why."
By this stage the Lethbridges' daughter had been making suicidal comments and exhibiting further distressing behaviour.
Because of the severity of her deterioration, she was referred to an "incredible" residential children's mental hospital where she spent seven months until July last year – a situation Mrs Lethbridge said was the result of complete failure of early intervention.
In her letter to the Prime Minister, Mrs Lethbridge wrote: "When she was discharged it was clearly stated by the hospital that she must have ongoing support from CAMHS. Guess what – it's now seven months since she was discharged and not one person from CAMHS has been in touch. There was a plan in place [for our daughter] but now because of the lack of support from CAMHS she is unravelling in front of us and the plan is falling apart."
Responding to the letter online, Dr Jon Goldin, consultant child and adolescent psychiatrist and training programme director at Great Ormond Street Hospital in London said: "This is a very powerful and sad letter. I agree CAMHS services do need to improve nationally."
At Prime Minister's Questions last week, Mr Cameron said "children and young people's mental health is a priority for the Government" and that "something like 740,000 more people" were getting therapeutic help compared to when he came into office in 2010.
He stated: "We recognise that there is more to be done and that is why we are investing £1.4bn in system-wide transformation across child and adolescent mental health services."
Health news in pictures

Show all 40
However, recent analysis by Young Minds, the children and young people's mental health charity, showed that CAMHS budgets suffered a £35m cut in 2014/15 and that over one in five local authorities have either frozen or cut their CAMHS budgets every year since 2010.
Launching Young Minds Matter earlier this month, a new global initiative to raise awareness around children's mental health, the Duchess of Cambridge highlighted the need for early intervention in child mental health. Mrs Lethbridge said failure to do so in her daughter's case, combined with a lack of resources and badly managed services, has had a devastating effect on the couple and their younger son.
The family wrote to their local MP, Oliver Dowden, who intervened on their behalf and was told an investigation was being carried out.
A spokesperson for Hertfordshire Community NHS Trust said: "We are very sorry the services the family have accessed have not supported them in the way they would have liked. "We have investigated this complaint and responded to the issues relating to our service in a letter to Oliver Dowden. We understand that other local health and social care providers have also responded to concerns raised."
A spokesperson for HPFT said he was sorry if the services accessed have not supported the family in the way they would have liked and that the Foundation trust would want to learn from this.
Mrs Lethbridge has set up a support group, It's Not Just You, for other parents in similar situations, which now has 900 members. Since posting her letter online she has also had more parents coming forward describing similar problems with local CAMHS services around the country.
Pointing to one of the several pictures of her children on the wall of her home, Mrs Lethbridge said: "Looking at my daughter there you wouldn't think that girl could be violent or aggressive, but she has been, and we've been through hell and back for years now. She knows something is wrong and hates being that way and I'm determined that no one should go through what we have done. Something has to change."
CAMHS explained
The term child and adolescent mental health services (CAMHS) refers to all services that work with children and young people who "have difficulties with their emotional or behavioural wellbeing", according to an NHS website. The way those services are delivered varies from region to region and involves organisations ranging from NHS trusts and local authorities to schools and charities.
CAMHS has four tiers covering early intervention to inpatient services. "The tiers are supposed to work together to provide a service that intervenes early and treats when there's a crisis," said Lucie Russell, director of campaigns for the charity YoungMinds. "Unfortunately, there have been lots of cuts to tier one and tier two because of council cuts.
"And if you don't prevent problems from arising in the first place then you store up problems down the line and put more pressure on the more intensive treatment services."
Last year, the Government published Future in Mind – a strategy designed to revolutionise young people's mental health services. Funded by £1.4bn over four years, in it every local authority has produced a "transformation plan". These plans have been agreed by NHS England and are starting to be put in place.
Richard Jinman
Register for free to continue reading
Registration is a free and easy way to support our truly independent journalism
By registering, you will also enjoy limited access to Premium articles, exclusive newsletters, commenting, and virtual events with our leading journalists
Already have an account? sign in
Register for free to continue reading
Registration is a free and easy way to support our truly independent journalism
By registering, you will also enjoy limited access to Premium articles, exclusive newsletters, commenting, and virtual events with our leading journalists
Already have an account? sign in
Join our new commenting forum
Join thought-provoking conversations, follow other Independent readers and see their replies