Motor neurone disease charity's poster criticised for its 'threatening tone'
The MND Association said it had been 'surprised' by the response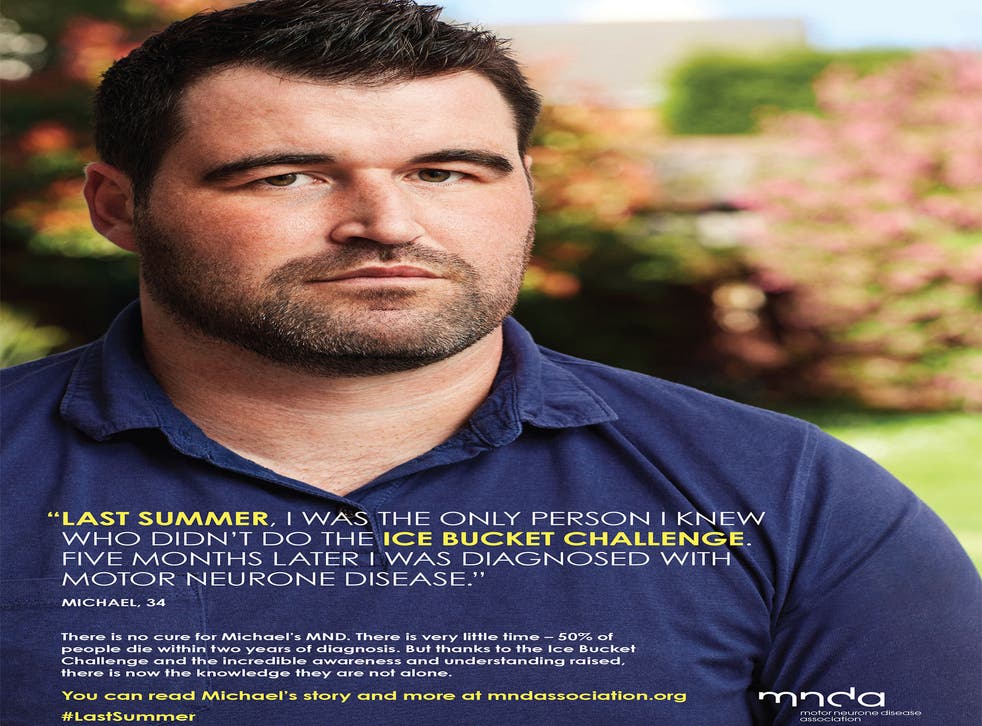 An advertising campaign intended to raise awareness of motor neurone disease appeared to have backfired after drawing a series of angry complaints that it was effectively blaming sufferers for their illness.
The Motor Neurone Disease (MND) Association defended the tone of the new poster, which featured a 33-year-old sufferer, Michael Smith, who was diagnosed with the disease five months ago. The advert read: "Last summer, I was the only person I knew that didn't do the Ice Bucket Challenge. Five months later I was diagnosed with Motor Neurone Disease."
Last summer's ice bucket challenge craze, which saw thousands of people upload videos of themselves being doused in cold water, raised global awareness of the debilitating disease, in which muscles waste away because the nerve cells controlling movement stop working.
Before its launch, the MND Association would receive on average £200,000 a week in donations. From 22 to 29 August, it received £2.7m. But the campaign, whose participants included Victoria Beckham, Vogue editor Anna Wintour, and former US President George W Bush, also had its share of critics who refused to participate.
The juxtaposition of Mr Smith's condition to his lack of participation was described online yesterday as "threatening in tone and deeply inappropriate". Another person wrote: "So, wait, what's the message here? Karma?"
The MND Association said it had been "surprised" by the response and that Mr Smith had given his consent. "It [the poster] is poignant and ironic but there was certainly no implication of 'bad karma' and we've been somewhat surprised by that response," said Chris James, the charity's Director of External Affairs.
A statement from Mr Smith and his wife Tracy said: "We are very proud to be part of the campaign to raise awareness of MND and have been involved throughout the process. We are shocked that anyone can think that an advert, let alone one that supports and helps people with MND, would suggest you deserve a terminal illness for not doing a viral fad and it says more about them."
Register for free to continue reading
Registration is a free and easy way to support our truly independent journalism
By registering, you will also enjoy limited access to Premium articles, exclusive newsletters, commenting, and virtual events with our leading journalists
Already have an account? sign in
Register for free to continue reading
Registration is a free and easy way to support our truly independent journalism
By registering, you will also enjoy limited access to Premium articles, exclusive newsletters, commenting, and virtual events with our leading journalists
Already have an account? sign in
Join our new commenting forum
Join thought-provoking conversations, follow other Independent readers and see their replies