Muslim graduate and Ahmadiyya Muslim Youth Association member, Ahmed Fowad, highlights Poppy Appeal efforts with letter from David Cameron
More than 5,000 Muslims remember the Paris attacks victims today at the UK's largest mosque in London in the first Friday prayers since last week's atrocities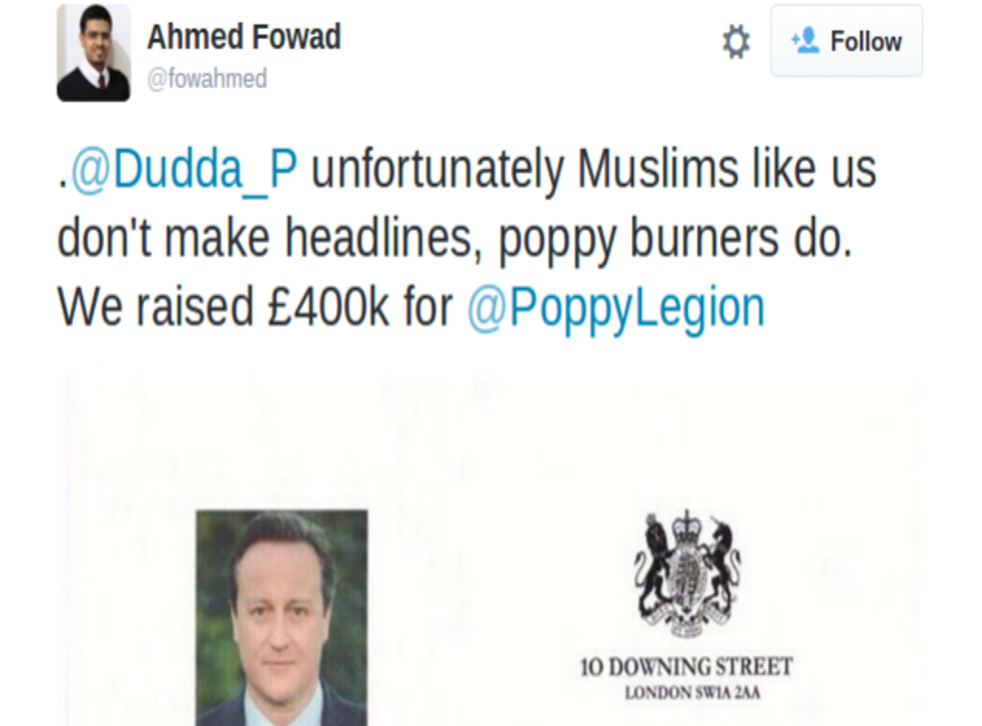 A Muslim graduate has been gathering support online for instantly shutting down Islamophobic Twitter users with one simple and politely-worded tweet - accompanied by an image no-one could quite believe.
Ahmed Fowad, a recent chemistry graduate from Kingston University London, was responding to another tweet from a user which was discussing today's treatment of Muslims and Islam which said: "#MuslimsAreNotTerorist [sic]."
Fowad, who is a member of the Ahmadiyya Muslim Youth Association (AMYA) - a nationwide youth group that works with young Muslim men and boys around the country - stunned his followers by highlighting how "Muslims like us don't make headlines, poppy burners do."
He went on to add how AMYA raised an impressive £400,000 for the Poppy Legion and attached a letter the group received from Prime Minister David Cameron, congratulating the group for its fundraising efforts.
In the letter, Mr Cameron said: "Your participation in this important fundraising campaign is a display of your clear commitment to community work, tolerance and peace. I welcome such positive action by young British Muslims, and I am sure that it will inspire others to make similarly positive and constructive contributions."
Acknowledging the fire that damaged Britain's largest mosque in South London this September, Mr Cameron added: "It was with great sadness that I read of the fire that damaged your Baitul Futuh Mosque. I am pleased to see that the incident has not halted the impressive social work of the Ahmaidyya [sic] community."
Head of news at the Ahmadiyya Muslim Community (AMC), Adam Walker, described how AMYA has been supporting the Poppy Appeal for many years, and told The Independent: "Today, young Ahmadi Muslims will join 5,000 people at the UK's largest mosque in London to remember the victims of extremism and to reaffirm their commitment to countering extremism in all its evil guises."
He added how members, as young as five years of age, have regularly stood with World War Two veterans - and other volunteers - to carry out collections, and said: "Over the past seven years, the AMYA has been more actively involved in the collections and raised roughly £100,000 over that period - £20,000 this year alone."
In addition to the collections, AMYA members raised money for the Poppy Appeal by trekking across the Bavarian Alps earlier this year. AMC also added how, this week, it launched a London bus campaign in solidarity with victims of the Paris attacks - and of other extremist attacks across the world.
Register for free to continue reading
Registration is a free and easy way to support our truly independent journalism
By registering, you will also enjoy limited access to Premium articles, exclusive newsletters, commenting, and virtual events with our leading journalists
Already have an account? sign in
Join our new commenting forum
Join thought-provoking conversations, follow other Independent readers and see their replies