Muslim Scouts show they're prepared as record numbers join UK troops
While other UK organisations pay lip-service to the idea of inclusively and diversity, it seems this supposedly most archetypal of white, middle-class institutions is dib dob doing it for real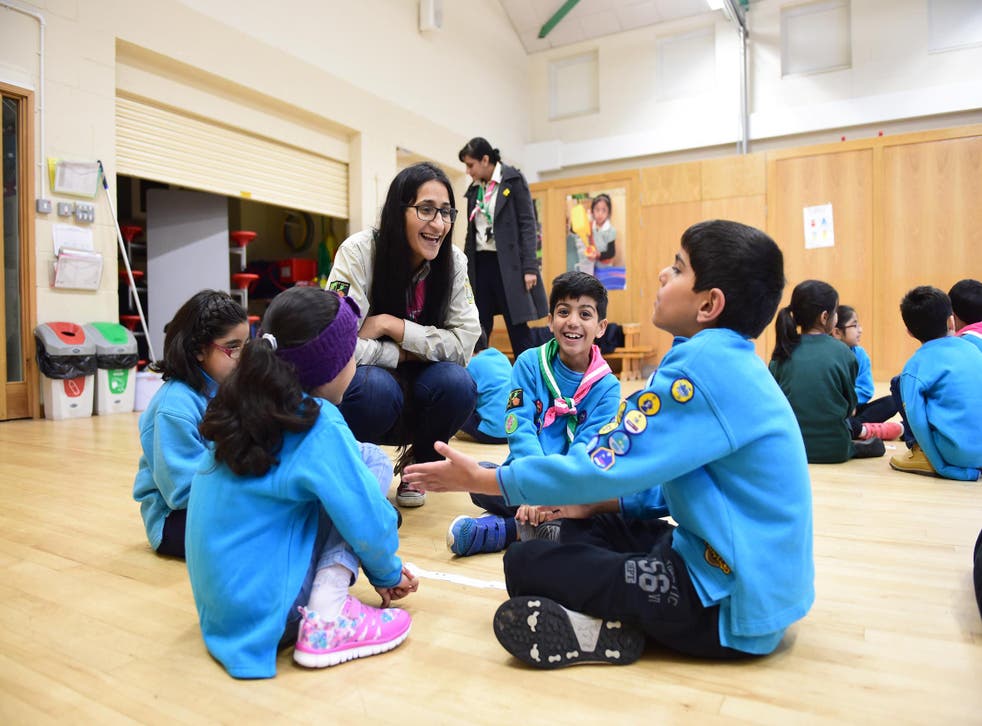 At her home in Blackburn, Lancashire, scout leader Nisbah Hussain is standing in the garage, surrounded by her troop's equipment.
Tents, ground mats, cooking utensils, firelighters, a couple of stoves, several coils of rope and a box of neckerchiefs have replaced the family car (relegated to the drive) and the kids' bikes (ditto, a garden shed).
"We need a scout hut for it all, really," the she says. "But we never dreamed we'd get so popular and need so much stuff."
She ponders this a moment. "Ironically, I suppose we weren't prepared."
The mother-of-three and leader of the 1 Voice Blackburn troop is part of the fastest-growing movement in British scouting: record numbers of Muslim children and teenagers are signing up.
While other UK organisations pay lip-service to the idea of inclusively and diversity, it seems this supposedly most archetypal of white, middle-class institutions is dib dob doing it for real.
UK news in pictures

Show all 50
As of September, there will be more than 6,500 youngsters here who make their Scout promise to Allah – four times the number from 2009 – while more than 70 groups are supported by the Muslim Scout Fellowship umbrella body. Just four years ago, a mosque was opened at Gilwell Park – the UK's biggest scout camp – adding to the Buddhist sala, Jewish synagogue and two Christian chapels already on site.
And, here in Blackburn, Nisbah's own troop has exploded from just 16 Beavers when she first set it up in a local primary school in 2014 to exactly 100 youngsters – including Hedgehogs, Beavers, Cubs, Scouts and Explorers – five years on. And there's a waiting list with another 110 more names on it.
All but a handful of the group are practising Muslims. "We have halal meet when there are camp fires and we meet on Saturdays because a lot of the youngsters go to the mosque in the week," says Nisbah, a solicitor by training. "But that's about the only differences to any other troop."
She founded the group after becoming concerned her own three children – Maya, 10, Raihan, 8, and six-year-old Zayn – weren't getting out of the house enough.
She wanted them learning to camp and hike and cook beans on a stove ("to have adventures, basically") after she herself had fallen in love with the great outdoors while living for a brief period in Warwickshire.
Seeing a possible fit, she got in touch with the Scout Association, asked to form a group in the Whalley New Road area of Blackburn, and held her first meeting at the town's Brookhouse Primary School within a few weeks.
"In terms of getting the community involved, it was just pushing at an open door," she says. "I think families here were crying out for something like this without even realising it, so when we launched, there was interest pretty much straight away.
"Our first year we had six leaders for 16 kids because all the parents wanted to get involved and see what it was all about too."
Since then, as the group as expanded, the adventures have come thick and fast. They've been to parliament, had a sleepover at Blackpool Tower and, just last year, visited a fellow Scout troop in Malaysia.
"One night we were ended up dancing the Macarena in the middle of Kuala Lumpur with all these new friends we'd made," she laughs. "How else would we ever have got the chance to do that?"
The movement, she adds, may have had its origins in colonialism and Christianity, but it is today entirely pluralistic.
"There's this misconception that Scouts is very white and exclusive but its ethos and the activities it offers to young people, there is a huge compatibility with Islam," she says. "It's a very natural fit: things like spending time in the great outdoors, finding happiness through helping others, doing your duty – these are key aspects of our faith."
She points out how, in fact, a third of Scouts across the world are Muslim – with vast membership numbers in places like Indonesia and the Middle East. "So, there's no reason we shouldn't see even greater numbers grow in the UK too."
Certainly, that's the hope of the Scout Association itself.
Five years ago, it took a key strategic decision to focus on trying to widen the movement's appeal across the broad spectrum of communities in the UK. Crucially, it set aside a chunk of its budget, employed a number of development officers and instructed them to go into deprived neighbourhood and extol the virtues of scouting.
"What we are seeing now is the rewards of that," says Simon Carter, spokesperson with the association and himself a leader of the 1st Bishop's Stortford group. "What Scouts has always done, ever since it was founded by Robert Baden-Powell in 1908 is remain relevant – it's a mass-participation movement so it can't survive if it doesn't – and to remain relevant in the 21st century, we realised we had to reflect the changing face of the UK."
More work still needs to be done, he admits.
In an organisation that has a total of 638,794 youngsters signed up, the numbers of Muslim Scouts as a proportion of overall membership remains significantly less than the population as a whole.
"But we are not resting on our laurels on this," says Carter, who has himself been involved with the movement for almost 40 years. "We've had success in attracting members from ethnic minorities. Now we want more. We have something to offer, and we want to make that available to everyone."
Dozens of troops held iftars during Ramadan this year as part of an initiative to invite the local community in, while a jamboree organised by the MSF is set to attract almost 3,500 Scouts in 2021.
For now, though, there seems little doubt that those already involved are glad to be so.
Support free-thinking journalism and attend Independent events
"I love it," says Tahseen Patel, an 18-year-old student who has been a member of Nisbah's troop since day one. "My Saturdays wouldn't be the same without it. It's such good fun but you always leave feeling you've achieved something or learnt something."
Favourite memories include meeting the Duchess of Cambridge at Gilwell Park ("very sophisticated") and that sleepover at Blackpool Tower. "We have breakfast in the ballroom," she beams. "What an experience."
Back in her garage, meanwhile, Nisbah is contemplating all that equipment.
"We want to make the group sustainable and ongoing," she says. "And, as much as we love the primary school, the best way to do that is have our own home, so that's the aspiration now. It would be lovely, a little hut to call our own."
Register for free to continue reading
Registration is a free and easy way to support our truly independent journalism
By registering, you will also enjoy limited access to Premium articles, exclusive newsletters, commenting, and virtual events with our leading journalists
Already have an account? sign in
Register for free to continue reading
Registration is a free and easy way to support our truly independent journalism
By registering, you will also enjoy limited access to Premium articles, exclusive newsletters, commenting, and virtual events with our leading journalists
Already have an account? sign in
Join our new commenting forum
Join thought-provoking conversations, follow other Independent readers and see their replies