Man jumps from roof to roof on Brighton pier before leaping into sea for six hours
'New highlight from my trip,' eyewitness says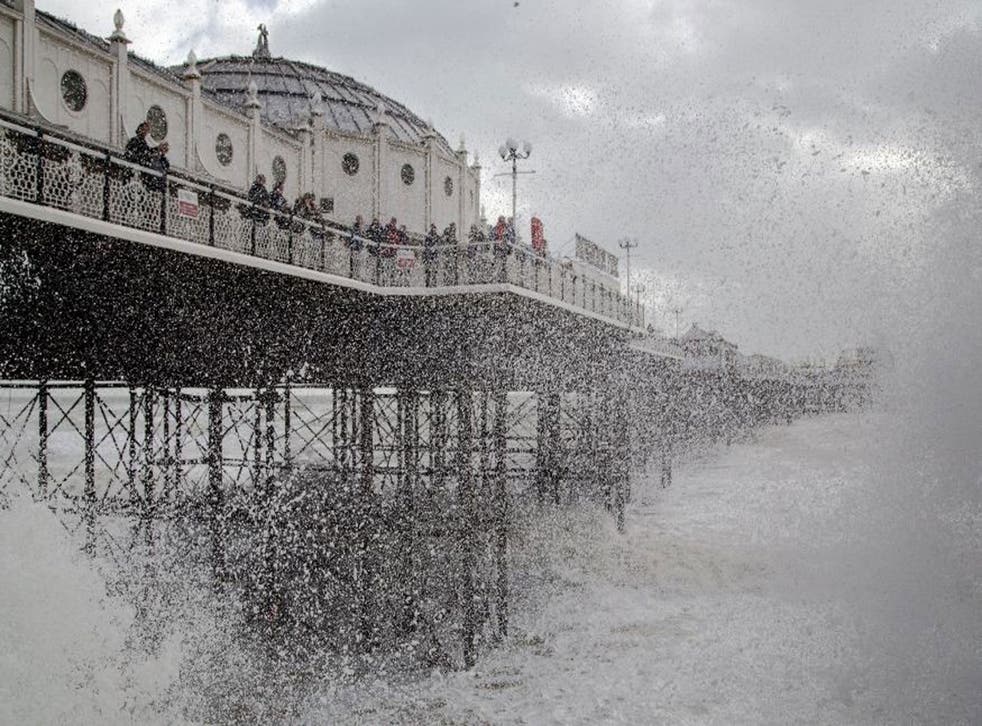 A naked man jumped from roof to roof on Brighton Palace Pier before he leapt into the sea and stayed there for six hours.
As he bobbed in the water underneath the structure, police, fire crews and coastguard crews attempted to get him to safety. But he appeared to rebuff their efforts until the early hours of Wednesday morning.
Eyewitness Ben Johnson took pictures as the man ran away from pier security.
"New highlight from my trip to Brighton, naked man jumping from roof to roof away from security at Brighton Pier," he wrote on Twitter, next to the images.
Other footage shared on social media showed crew in a lifeboat next to the base of the pier, where the man hid after jumping into the sea.
Police, fire and coastguard crews attempted to pull him to safety and the man eventually came out of the water in the early hours of the morning.
Sussex Police said the man was taken to hospital for medical checks.
"We were at the scene until after 1am, but had an officer committed to the hospital with him until after 2.30am," a spokerperson said.
The man had not been charged, they added.
Register for free to continue reading
Registration is a free and easy way to support our truly independent journalism
By registering, you will also enjoy limited access to Premium articles, exclusive newsletters, commenting, and virtual events with our leading journalists
Already have an account? sign in
Register for free to continue reading
Registration is a free and easy way to support our truly independent journalism
By registering, you will also enjoy limited access to Premium articles, exclusive newsletters, commenting, and virtual events with our leading journalists
Already have an account? sign in
Join our new commenting forum
Join thought-provoking conversations, follow other Independent readers and see their replies