'It's like a fridge': Asylum seekers at barracks in Kent tell of power cuts and hot water outages after fire
'I did not sleep last night,' says migrant after blaze at controversial barracks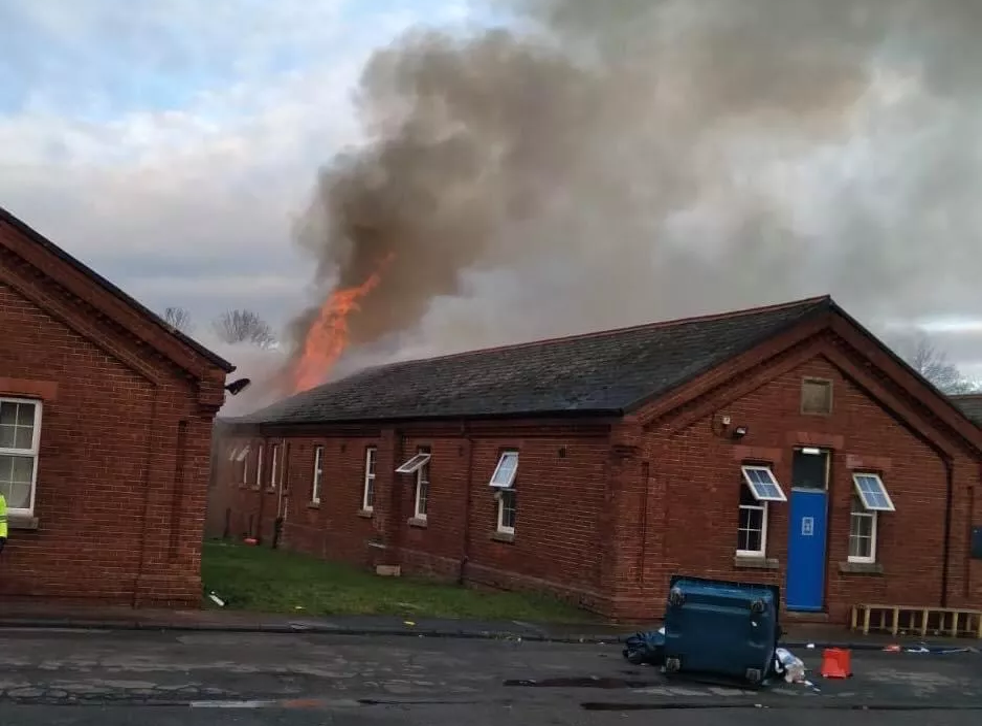 Asylum seekers housed at an army barracks in Kent that erupted into flames on Friday say they have suffered electricity and hot water outages since the fire.
The inferno broke out at Napier Barracks — a site criticised for poor living conditions — in Folkestone .
However, the Home Office played down the complaints and told The Independent late on Saturday that an electrician was working to reinstate power.
Kent Fire and Rescue Service said eight fire engines had gone to the barracks to battle the fire as heavy smoke could be seen coming from one of the blocks on site. It is not yet clear what caused the blaze.
A Syrian man in the camp, who didn't wish to be named, told The Independent: "There's no water, no electricity. I did not sleep last night. My nerves cannot bear this anymore.
"This is like being back in the prisons of Syria. We do not know our fate. Am I really in the UK? Or in another world."
Another man housed at the barracks, who also did not want his name revealed, said: "There is no hot water, no electricity or heating system. It's like a fridge inside the building."
The barracks, which have been used as accommodation for asylum seekers since September, can house roughly 400 people but a coronavirus outbreak has meant some people have been recently relocated to hotels. In the last fortnight, over 100 people have caught Covid-19 there.
Care4Calais said many people living in the barracks had "spent the night without electricity, heating or support" in a post on a fundraising page as the campaign group warned the barracks' inhabitants were "terrified and abandoned".
But a spokesperson for the Home Office claimed that their statement is inaccurate - adding: "The Home Office is meeting all its statutory duties to accommodate asylum seekers. The Napier Barracks site is safe and secure and we are working with our provider to repair the damage that has been done.
"This was a deliberate attack that put lives at risk. There are formal investigations taking place and the police have made arrests."
Kent Police said five men have been arrested after a disturbance at the barracks, which campaigners have warned must be closed due to substandard living conditions.
Join our new commenting forum
Join thought-provoking conversations, follow other Independent readers and see their replies