British neo-Nazi group National Action 'to be classed as terror organisation and banned' in unprecedented move
Fascist group tweeted picture in support of terrorist who killed pro-Europe MP Jo Cox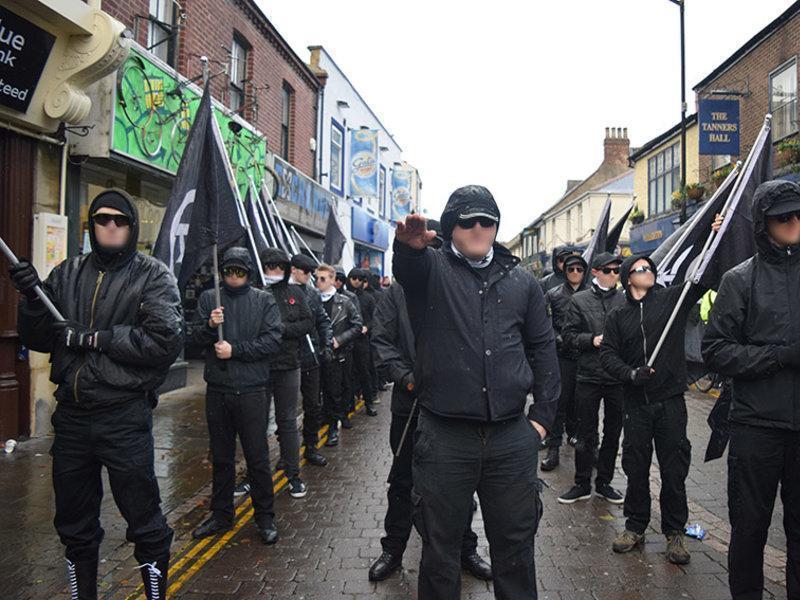 A British neo-Nazi group is expected to be labelled a terror organisation and banned in a landmark first for the UK.
An order proscribing fascist group National Action is due to be laid before Parliament on Monday. It will be the first time membership of a far-right group has been outlawed in the UK.
The self-styled "nationalist youth movement" has praised and glorified Thomas Mair, the white supremacist who murdered Labour MP Jo Cox in what a court described as a terrorism offence, and employs anti-Semitic language lifted direct from Adolf Hitler's Nazi party.
The group's Yorkshire branch, which is believed to consist of about 100 fascists, also encourages 'lone wolf activism' on its website, a phrase which usually refers to acts of terrorism committed by individuals.
Proscribing organisations is difficult because groups "often skirt around the law", a senior government source told The Sunday Times. National Action, however, has been deemed to have "crossed the line and glorified terrorism".
One tweet by the group reportedly showed a picture of Mair with the message: "VoteLeave, don't let this man's sacrifice go in vain. Jo Cox would have filled Yorkshire with more subhumans!"
Another read: "only 649 MPs to go."
The group has also altered its listing on Google to read: "Death to traitors, freedom for Britain!", a slogan which echoes the phrase Mair said in court when asked to give his name soon after being charged with Ms Cox's murder.
'Hail Trump, hail our people, hail victory!'
Mair received a life sentence for the killing when he was convicted last month. The 53-year-old was revealed to have a Third Reich eagle monument, embellished with a swastika, and other Nazi paraphernalia in his bedroom, along with information on white supremacist neo-Nazi movements in the UK and abroad.
The Yorkshire branch of National Action has been accused of seeking to incite the murder of Jewish people, tweeting a derogatory term used by the Nazis to describe Jews during the holocaust: "Tykes gassin K#kes is our motto, #Yorkshire needs you #AntiCommunism #ProNationalSocialism #DefendBritain."
The groups Twitter account has now been suspended.
National Action is not unique in the UK. The North West Infidels said on social media the group believes Ms Cox "got what she deserved" because of her liberal views and pro-EU stance and urged supporters to "fight extremism with extremism".
The British government appears to be taking the threat posed by the far-right more seriously than in the past, leading to speculation other groups could be banned in the near future.
Speaking after Mair's conviction, Home Secretary Amber Rudd said: "I am determined that we challenge extremism in all its forms, including the evil of far right extremism."
People at risk from far-right indoctrination now account for 25 per cent of all cases receiving help from Channel, the official scheme for those deemed likely to engage in violent extremism, The Times reported.
National Action's monthly update for November, posted on the group's website, dismissed reports it could be proscribed as "below discussion on grounds of extreme ignorance".
"We neither sanction or endorse terrorism," it said.
Far right and anti-fascists clash in Dover, January, 2016
Show all 6
MPs and Peers, however, are reportedly expected to have approved the order banning the group by the end of the week.
Anyone joining or drumming up support for proscribed organisations faces criminal prosecution. Groups can also have their assets frozen.
The Home Office said: "As a matter of routine, we do not comment on whether an organisation is or is not under consideration for proscription."
Join our commenting forum
Join thought-provoking conversations, follow other Independent readers and see their replies