National Gallery strike: Jeremy Corbyn backs anti-privatisation walkout as hundreds of workers go on indefinite strike
There has been a long-running dispute over privatising around 400 job roles at the gallery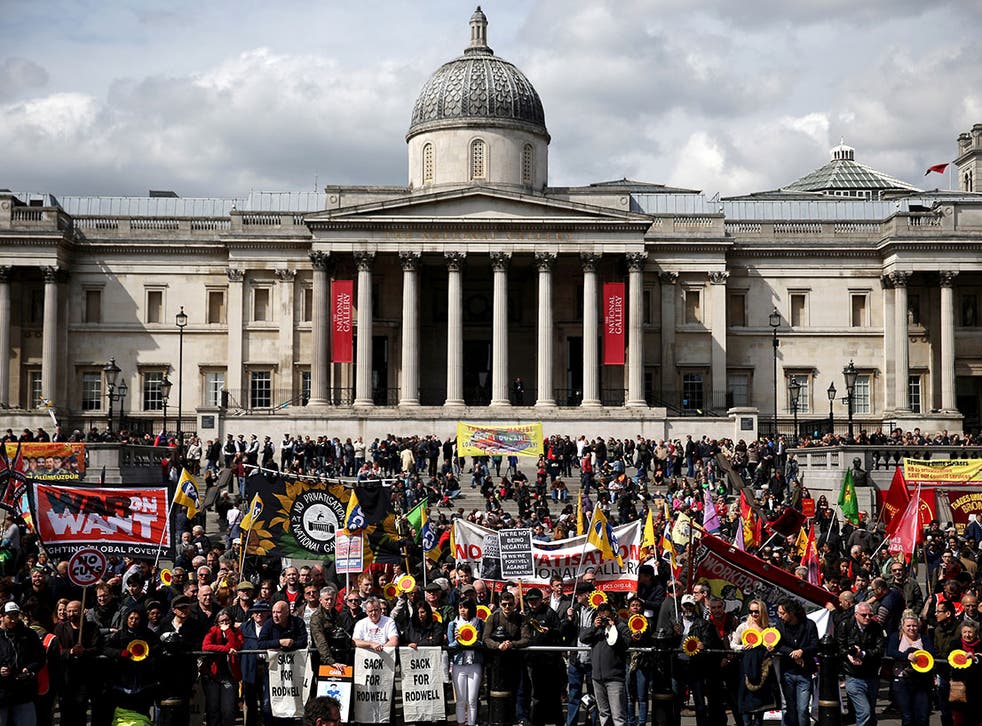 Hundreds of workers at the National Gallery have gone on strike, shutting down most of the attractions.
It follows a long-running dispute over privatising visitor and security services.
Today marked the 57th day of strike action staged by members of the Public and Commercial Services (PCS) union since February. Of the 604 workers at the gallery, 204 are members of PCS union.
Parts of the gallery were shut off but its four exhibitions remained open.
Picket lines were set up outside and protesters held up signs to oppose privatisation plans.
Jeremy Corbyn, a candidate vying for the Labour leadership position, said that Udwin should be reinstated and "plans to privatise the staff who look after our cultural assets" should be called off.
"National Gallery workers have been forced to take this action because of the intransigence of management. These low-paid workers are proud public servants and don't want their jobs sold off."
"I urge incoming director Gabriele Finaldi to meet with the union and resolve this dispute," said Corbyn.
Mark Serwotka, the PCS union's general secretary, called for the new director of the National Gallery, Gabriele Finaldi, to engage in "genuine negotiations" to "resolve this dispute that threatens the reputation of one of our country's greatest cultural assets".
In a new statement released today, Serwotka said: "We do not believe this privatisation is necessary and have submitted detailed alternative proposals as a basis for discussion."
According to the PCS union, the roles of 400 staff members, including those who guard rooms, would be privatised.
The National Gallery said the "new working practices" for some visitor and security services would allow them to better operate for their six million annual visitors.
A statement said: "The National Gallery is a public asset and has a duty to ensure the collection and the Gallery itself is accessible as much as possible, to as many people as possible."
The gallery said it spent a year negotiating the move with the PCS union. It promised that no staff redundancies would be made and that all staff affected by the move staff would still be paid the London Living Wage.
In May, PCS said a fresh wave of strikes would be staged after their rep Candy Udwin was fired for sharing information about the use of a private security firm. The union said it was a "clear case of victimisation".
Join our new commenting forum
Join thought-provoking conversations, follow other Independent readers and see their replies