National Trust prompts fury after telling members to oppose hunting ban
Charity says first priority should be 'to protect conservation and access on our land'
Caroline Mortimer
Monday 04 September 2017 14:46 Comments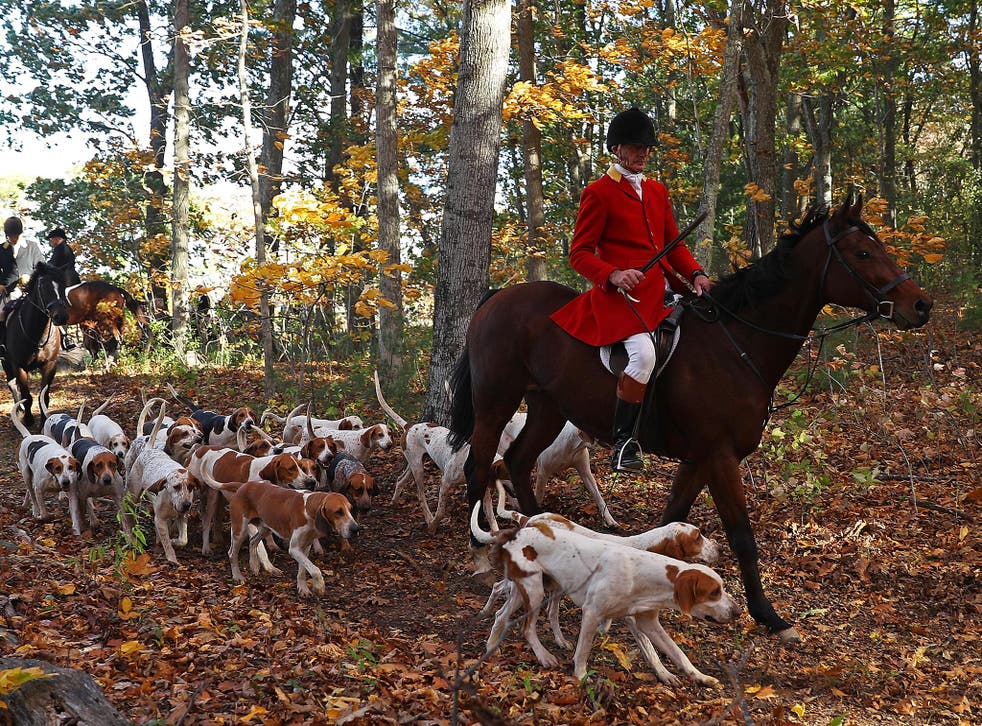 The National Trust has urged its members to oppose a proposal to ban a form of "trail" fox hunting on its grounds.
Supported by the League Against Cruel Sports and adventurer Sir Ranulph Fiennes, the members' resolution would stop anyone using the organisation's land to facilitate trail fox hunting – even if it was only used to exercise the hounds.
The charity has suggested that its four million members reject the proposal at its October annual general meeting, because its first priority should be "to protect conservation and access on our land".
The Trust has already come under fire from pro-hunt and countryside campaigners in recent months, after it began publishing details about when and where hunts would be taking place on their land.
It was accused of making it easier for animal rights campaigners to stop them.
Although fox hunting was banned in 2004, there are still almost 200 packs participating in "trail hunting", which sees the scent of a fox artificially laid for hounds to chase.
It is thought around a third of these take place on National Trust land, although it recently announced that scent-based hunting would also be banned.
Mr Fiennes branded them a "sham".
"These hunts are still killing foxes, hares and stags, and they are being allowed to do so on National Trust land," he said. "Hunting is despicable, cruel and has no justification in modern Britain.
UK news in pictures

Show all 50
"If the National Trust wants to truly preserve and protect our environment they need to stop condoning hunting, in any guise immediately."
Philippa King, from the League Against Cruel Sports, said: "The changes haven't gone far enough to be effective.
"Without effective monitoring, and without enforcement if the conditions are broken, the hunts will be able to carry on as they always have done, which is to hunt and kill foxes and stags, despite it being illegal."
A spokesperson for the National Trust told The Independent: "We introduced a number of changes last week in how we license trail 'hunts' to further safeguard conservation and access on our land.
"Our clear, robust, and transparent set of conditions – which follow a six month review – are designed to allow participants to enjoy this activity in compatibility with our conservation aims.
"We have been carefully listening to both sides of a highly polarised and passionate debate for years. During our review, we carefully weighed up those arguments, but our first priority is always to protect conservation and access on our land.
"Members will have the opportunity to discuss trail hunting and vote on the matter at the charity's annual general meeting in October."
Register for free to continue reading
Registration is a free and easy way to support our truly independent journalism
By registering, you will also enjoy limited access to Premium articles, exclusive newsletters, commenting, and virtual events with our leading journalists
Already have an account? sign in
Join our new commenting forum
Join thought-provoking conversations, follow other Independent readers and see their replies