UK 'beginning to look weak' over Nazanin Zaghari-Ratcliffe's detention in Iran, Jeremy Hunt warns
Nazanin Zaghari-Ratcliffe has been detained in Iran since 2016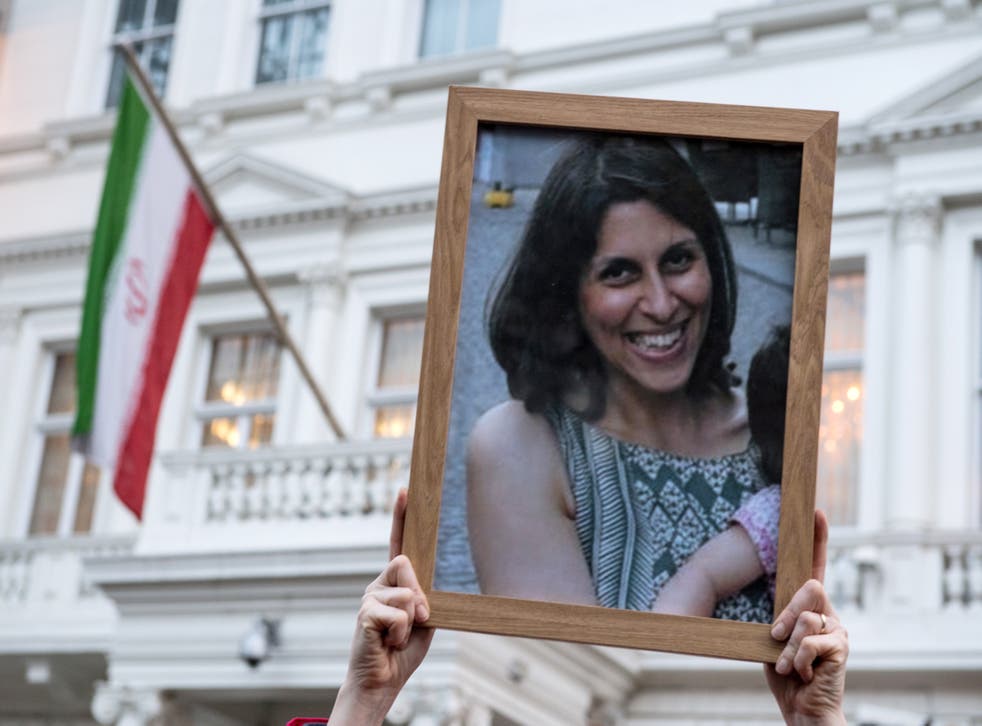 The UK is "beginning to look weak" over its failure to protect British citizens detained in Iran, including Nazanin Zaghari-Ratcliffe, former foreign secretary Jeremy Hunt has said. 
In an op-ed published in The Times, Mr Hunt says the government "must stand up for the rights of British citizens, starting with Mrs Zaghari-Ratcliffe.
The 42-year-old British-Iranian dual national has been detained in Iran since 2016.
She was sentenced to five years in prison over allegations of plotting to overthrow the Iranian government, which she and her family have vehemently denied.
During his time as foreign secretary, Mr Hunt issued Mrs Zaghari-Ratcliffe formal diplomatic protection from the UK.
Read more: Iran's release of academic shows 'light at the end of the tunnel', Nazanin Zaghari-Ratcliffe's husband says
However, years later, he has said that protection means little given that Iran has yet to face any consequences for its continued detention of the 42-year-old, who is currently serving her sentence under home arrest amid the coronavirus outbreak. 
"For diplomatic protection to mean something, there have to be consequences for a state that continues to imprison an innocent citizen," Mr Hunt wrote. "It is not clear to me that there have been any; something that is beginning to make us look weak."
Particularly with Brexit underway, the former foreign secretary suggested that this was not the time for the UK to allow itself to be "pushed around". 
"We must show the world that if you imprison a British citizen on trumped-up charges you will pay a very heavy price because Britain is a major player on the world stage and intends to remain one," he said.
"Allowing ourselves to be pushed around like this at the moment of post-Brexit renewal sends the opposite signal."
Earlier this month, Mrs Zaghari-Ratcliffe's six-year-old daughter, Gabriella, appeared in a short video released by Amnesty International in which she could be seen writing a Christmas card to Prime Minister Boris Johnson imploring him to bring her mother home.
Titled Two Daughters, the video also featured 34-year-old Elika Ashoori, whose father, Anoosheh Ashoori, has also been held in Iran since August 2017.
Tehran has linked both cases of imprisonment to a 40-year-old £400 million debt the UK owes Iran.
The government has denied that claim, however, with foreign office minister James Cleverly asserting in November that the debt had nothing to do with Mrs Zaghari-Ratcliffe's imprisonment.
He also said that the government was "deeply concerned" about new charges being levied against the dual citizen.
While Mrs Zaghari-Ratcliffe's original sentence is set to end on 7 March of next year, she has faced new charges of spreading propaganda against the regime.
Her husband, Richard Ratcliffe, who has been fighting for her release since her detention, has branded the charges "spurious", saying they rely upon the same evidence used to convict her in 2016.
Addressing the charges, Mr Hunt said that "instead of getting the release for which she should now be eligible under Iranian law," Mrs Zaghari-Ratcliffe has "been summoned back to court on fictitious charges."
"Having elevated the matter, we must show that continuing to imprison Nazanin, Anoosheh Ashoori and other British dual nationals will mean Iran pays a price that it cannot afford," he said.
In a statement to The Independent, a spokesperson for the UK Foreign, Commonwealth & Development Office said the UK was doing everything it can to secure the release of Mrs Zaghari-Ratcliffe and other detained citizens.
"The UK Government works tirelessly to support British citizens around the world," the spokesperson said.
"We are doing all we can to help secure the permanent and immediate release of Nazanin and all British dual nationals arbitrarily detained in Iran, so that they can return home safely to their families."
This article has been updated with a statement from the UK Foreign, Commonwealth & Development Office.
Join our new commenting forum
Join thought-provoking conversations, follow other Independent readers and see their replies