Nazanin Zaghari-Ratcliffe: UK woman jailed in Iran on verge of nervous breakdown, says husband
However, Richard Ratcliffe says it is not in the interests of his wife that Foreign Secretary Boris Johnson resigns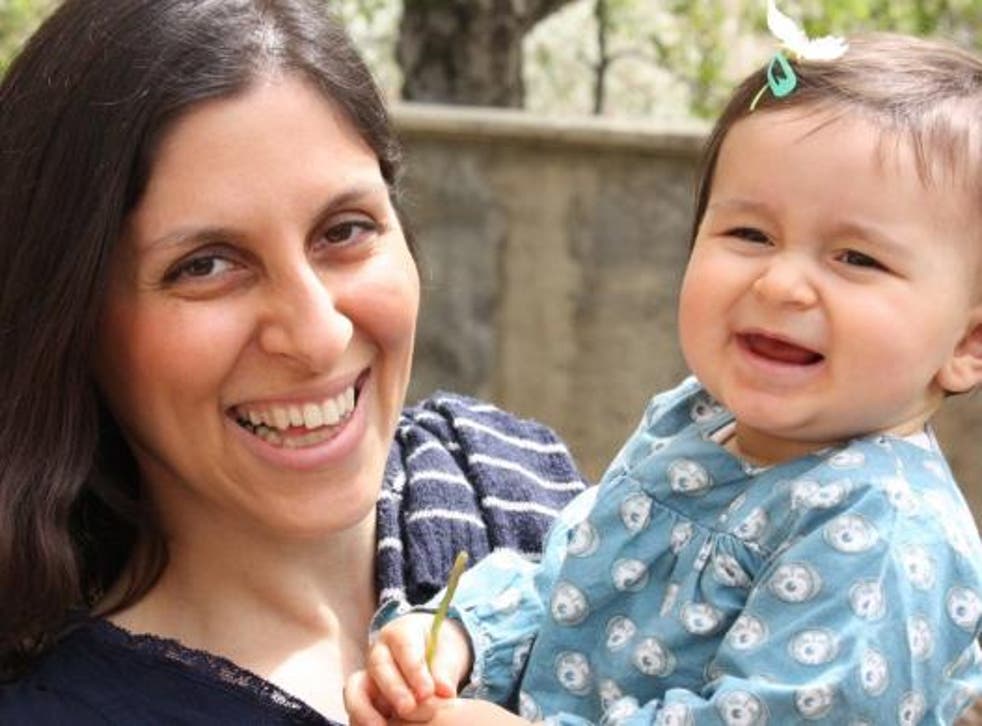 British woman Nazanin Zaghari-Ratcliffe, who has been jailed in Iran, has seen a medical specialist after finding lumps on her breasts and is "on the verge of a nervous breakdown", her husband Richard Ratcliffe has said.
The mother-of-one has "expressed anger" at Boris Johnson over the "shambles" her case has become but her family said they do not believe the Foreign Secretary should quit.
Mr Ratcliffe said he spoke to Mr Johnson for about 20 minutes on Sunday morning, during which the Cabinet minister said he was "deeply sorry for Nazanin's suffering".
Mr Ratcliffe insisted he did not believe his wife's interests were served "by more instability" and said Mr Johnson has a "crucial role in the weeks ahead to stand up for Nazanin".
He added: "So that this is clear - for the media, Government and particularly for authorities in Iran - as Nazanin's husband, I do not believe it is in Nazanin's interests for there to be any resignations."
She was accused of trying to overthrow the Iranian regime - charges she has always denied - and sentenced to five years' imprisonment. She says she was on holiday in Iran so relatives could meet her young daughter.
UK news in pictures

Show all 50
Mr Johnson told a Commons committee Mrs Zaghari-Ratcliffe was "training journalists" in Iran at the time of her arrest last year. The comments on the case left Ms Zaghari-Ratcliffe potentially facing an extra five years in an Iranian prison.
The Iranian authorities insist that the proceedings against Mrs Zaghari-Ratcliffe followed the country's judicial process. They also point out that Iran does not recognise dual nationality and thus she is regarded as an Iranian citizen. They point out that she sees her child every day and is in daily communication with her husband in the UK. British diplomatic sources say that efforts will continue to get her released.
Mr Ratcliffe said the Foreign Secretary "undertook to look seriously at the prospect" of allowing him to join his planned visit to Iran in the coming weeks.
Michael Gove says he doesn't know what Nazanin Zaghari-Ratcliffe was doing in Iran
On Saturday 38-year-old mother-of-one Mrs Zaghari-Ratcliffe was taken to Iranmehr hospital, Tehran, to see a specialist for an ultrasound on her breasts.
New lumps have been found and she has complained of sharp stabbing pains in her breasts for some months, Mr Ratcliffe said. It follows a previous inconclusive mammogram.
The consultant said the lumps were likely to be benign but her family history of breast cancer, along with the pain, meant she should be kept under "close surveillance".
Mr Ratcliffe said she again suggested she was on "the verge of a nervous breakdown" and had been "brought to tears" at the "lies" being shown on Iranian television about her case.
Environment Secretary Michael Gove came under fire after appearing to cast doubt over her actions.
Asked what she was doing in Iran, Mr Gove told BBC One's The Andrew Marr Show: "I don't know.
"One of the things I want to stress is, there is no reason why Nazanin Zaghari-Ratcliffe should be in prison in Iran, so far as any of us know."
Shadow Cabinet Office minister Jon Trickett said Theresa May must ensure Nazanin Zaghari-Ratcliffe "does not pay the price for her ministers' bungling".
"Boris Johnson's cavalier approach to international diplomacy is compounded this morning by Michael Gove claiming he has no idea what Nazanin Zaghari-Ratcliffe was doing in Iran. It has always been clear, she was on holiday visiting her family," he said.
Press Association
Register for free to continue reading
Registration is a free and easy way to support our truly independent journalism
By registering, you will also enjoy limited access to Premium articles, exclusive newsletters, commenting, and virtual events with our leading journalists
Already have an account? sign in
Register for free to continue reading
Registration is a free and easy way to support our truly independent journalism
By registering, you will also enjoy limited access to Premium articles, exclusive newsletters, commenting, and virtual events with our leading journalists
Already have an account? sign in
Join our new commenting forum
Join thought-provoking conversations, follow other Independent readers and see their replies