British-Iranian woman being held as 'bargaining chip' for unpaid UK-Iran arms deal, claims husband
Richard Ratcliffe accuses UK Government of 'not having my family's best interests at heart' after wife Nazanin Zaghari-Ratcliffe imprisoned in Iran since April
Lucy Pasha-Robinson
Wednesday 23 November 2016 12:35 Comments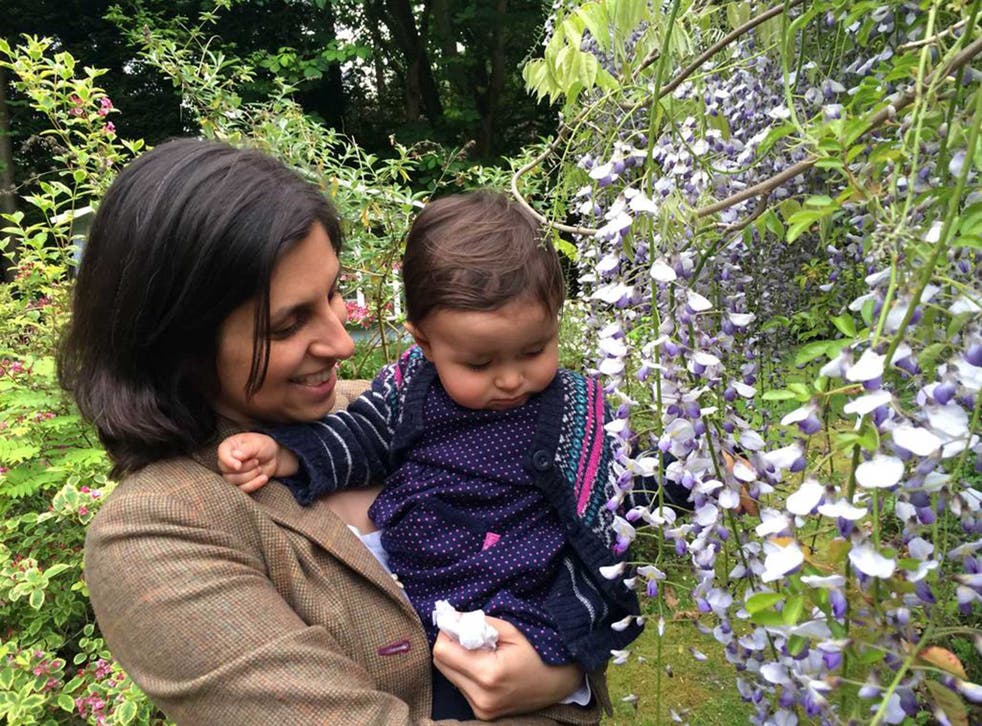 A British-Iranian charity worker imprisoned in Iran for allegedly plotting to overthrow the Government, is being held as a "bargaining chip" for an outstanding arms debt from almost 40 years ago that Britain is refusing to pay, according to her husband.
Nazanin Zaghari-Ratcliffe was seized by Iranian Revolutionary Guards on April 3 at Imam Khomeini airport as she was travelling back to Britain with her two-year-old daughter Gabriella after a trip to visit family.
Her husband, Richard Ratcliffe, has now accused the UK Government of "not having my family's best interests at heart" and has repeated calls for Foreign Office intervention to secure his wife's release.
"Until recently it had been mystifying why the government has behaved so strangely these past eight months. It has never once criticised Iran's treatment of Nazanin, and abuse of her human rights, nor the arbitrary nature of her detention and trial – unlike for instance the UN," he wrote on his petition on Change.org calling for her release, which has nearly 850,00 signatures.
"I have to pinch myself – to remind myself that Nazanin and Gabriella are British. So I have long wondered what else is going on? There is a link as to why Nazanin is still being held, and the UK government's reluctance to pay its debts. My family are caught as collateral."
The unpaid debt hinges on an arms deal signed by the Shah before the Iranian revolution for 1,500 Chieftain battle tanks and 250 repair vehicles costing £650m, according to the Sunday Times.
The Shah reportedly paid for the arms upfront, however, in 1979 he was deposed and the deal was not completed, with only 185 tanks being delivered.
A fierce legal battle has ensued between the two countries, with a European court ruling in 2010 that Britain should repay £400m.
However, despite EU sanctions that mean the money cannot be handed back to the Iranian defence ministry, Mr Ratcliffe believes the UK is not working hard enough to come to a settlement.
"Currently we claim [the money] is bound by EU sanctions – which is true only insofar as we want it to be. The debt is to the government of Iran, only parts of that government are under sanctions. To Iran, it looks like hiding behind sanctions casuistry, just the latest ruse. As Nazanin's husband, it looks that way to me," he wrote on Change.org.
"We have spent almost 40 years finding ways not to pay the Iranians back. Iran tried various diplomatic routes before in the end taking the UK to the International Court of Arbitration. After lots of appeals and counter appeals, Iran won back in 2010. But still it has not been paid. As the negotiations have gone on, they have become increasingly angry, and increasingly willing to signal it."
The Foreign Office has rejected the claim, saying it is doing all it can to help the charity worker and her family.
Mr Ratcliffe's calls for his wife's release are becoming more urgent as her health has reportedly taken a downward turn in recent weeks.
On Saturday, Amnesty International reported the 37-year-old, from Hampstead in north-west London, ended a five-day hunger strike "for the sake of her daughter", amid reports in previous weeks that she has been suffering pains in her hands and shoulders, blurred vision, little ability to eat or concentrate, unstoppable palpitations, and feeling less and less able to go on.
"On Friday (after 5 days) her family were asked to make an emergency family visit. The sight was enough for her mother to pass out. It sent Gabriella hysterical. Only at that point could she be persuaded to eat at least one meal in front of them. It was at least a stay of the impending," 41-year-old Mr Ratcliffe wrote.
Her husband, an accountant, also reported the 37-year-old had written a suicide note in October after she had reached "breaking point", although she has reportedly not spoken of it since.
He has been unable to see his daughter, who is currently staying with her maternal grandparents in Iran as she is unable to return to the UK without her mother, since Nazanin's arrest.
Amnesty International reiterated its concerns for Nazanin's welfare on Tuesday and urged the UK Government to secure her freedom.
"We've always said Nazanin's case has been a travesty of justice - beginning with her secret detention and culminating in her sudden five-year sentence. Politicised cases before Iran's Revolutionary Court are notorious for resulting in long prison sentences after trials barely worthy of the name, and we've always had our fears that Nazanin was being used as some kind of political pawn," Amnesty International UK's Individuals At Risk campaign manager Kathy Voss told The Independent.
"Whether or not money is at the root of this and other dual-national cases... the UK Government should be pressing hard to secure [their] freedom."
The Iranian authorities announced earlier in the year that her arrest was linked to her alleged involvement with a network of bloggers imprisoned in 2014 for taking part in journalism training courses. On 15 June Iran's Revolutionary Guards released a statement saying that Ms Zaghari-Ratcliffe had "participated in devising and carrying out media and cyber projects aimed at the soft overthrow of the government".
Ms Zaghari-Ratcliffe works as a media charity worker for the Thomson Reuters Foundation, which gets some UK government funding though it does not work in Iran, and previously worked as Project Assistant for the BBC development charity, BBC Media Action.
She was initially held in solitary confinement for several weeks and allegedly denied access to either a lawyer or her family.
A Foreign Office spokesperson told The Independent: "We are deeply concerned by reports that Mrs Zaghari-Ratcliffe has been sentenced without confirmation of the charges made against her. The Prime Minister and Foreign Secretary have both raised her case with their counterparts in Iran and will continue to do so.
"We have been supporting her family since we were first made aware of her arrest and the Minister for the Middle East, Tobias Ellwood, has met the family to reassure them that we will continue to do all we can. While we continue to press the Iranians for consular access and for due process to be followed, we also stand ready to help get her daughter back safely to the UK if requested."
Boris Johnson, the Foreign Secretary, told Parliament on Tuesday: "The Foreign Office is in regular contact with the Iranian government at all levels... It remains a matter that is of the utmost priority for this government and we are doing our level best to resolve it."
During Prime Minister's Questions on Wednesday, MP for Hampstead and Kilburn Tulip Siddiq asked the Prime Minister if it would take Mrs Zaghari-Ratcliffe's death for the Government to take action, to which Theresa May said she was doing "everything possible" to secure her release.
However, Amnesty International believes far more needs to be done.
Ms Voss told The Independent: "Theresa May says the Government is doing everything possible over Ms Zaghari-Ratcliffe's deeply troubling case, but far more can and should be done and the Government shouldn't rest until she's brought home.
"Zaghari-Ratcliffe is a prisoner of conscience languishing in Tehran's notorious Evin prison following an unfair trial on bogus "national security" charges - the UK should be publicly calling for her release and return to the UK, not paying lip service to a miscarriage of justice.
"Unsurprisingly, Ms Zaghari-Ratcliffe's husband Richard feels let down by the Government. As a first step to properly supporting him and Nazanin, the Foreign Secretary Boris Johnson should at least agree to meet Mr Ratcliffe, something he has so far failed to do."
Register for free to continue reading
Registration is a free and easy way to support our truly independent journalism
By registering, you will also enjoy limited access to Premium articles, exclusive newsletters, commenting, and virtual events with our leading journalists
Already have an account? sign in
Join our new commenting forum
Join thought-provoking conversations, follow other Independent readers and see their replies