British soldiers 'with Nazi flags and Hitler pictures racially abused black colleagues'
'I found it very intimidating and offensive as a non-white person'
Zamira Rahim
Tuesday 02 July 2019 19:54 Comments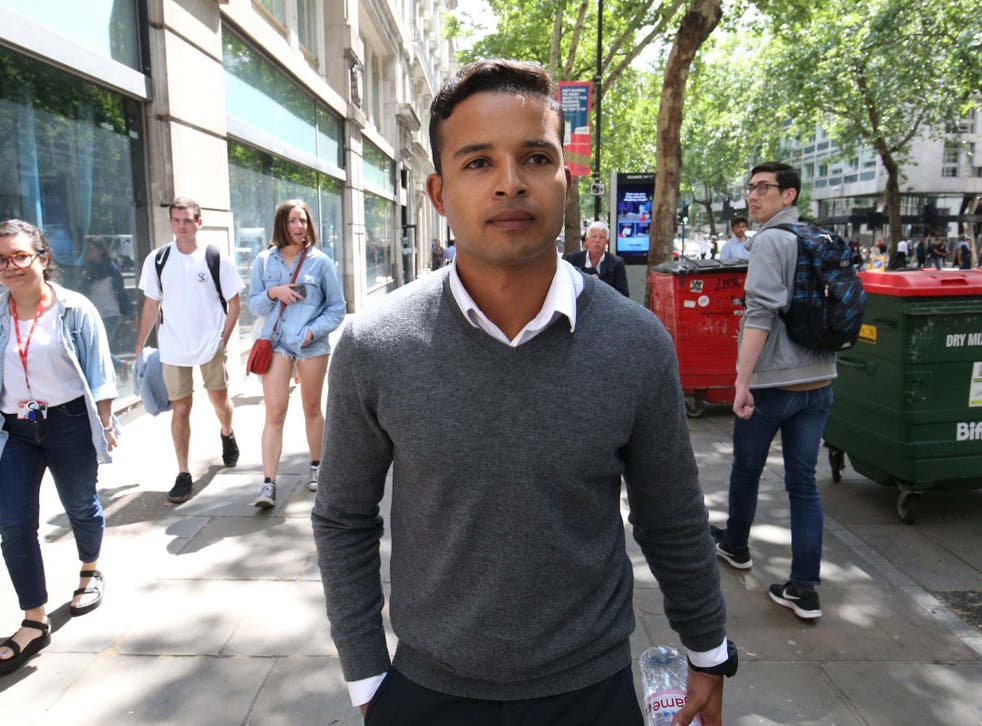 A former paratrooper has accused his British Army colleagues of decorating their barracks with Nazi flags, racially abusing him and used bigoted slurs.
Hani Gue, who identifies as a black African with Ugandan nationality, said they displayed pictures of Hitler in their accommodation block, trashed the corridor he lived on and drew swastikas on photographs of him, in testimony submitted to an employment tribunal.
After joining the Army in 2012, he was later assigned to the 3rd Battalion A Company. He was formally asked to leave in January 2018.
Now he has since taken the Ministry of Defence to tribunal, alleging that he suffered racial discrimination and harassment and that the Army did not take reasonable steps to prevent it.
Nkulueko Zulu, a South African Lance Corporal, has joined his claim.
UK news in pictures

Show all 50
"During the course of my employment I noticed that there were Nazi Confederate and SS flags and photographs of Hitler displayed in A Company's accommodation which is a stone's throw away from the Battalion headquarters," Mr Gue said, in a statement submitted to the tribunal. "This was all passed off as banter although I found it very intimidating and offensive as a non-white person."
The Ugandan national said his ex-colleagues used a range of racial slurs, including c***", "p***" and "the non-swimmers".
In October 2017, Mr Gue said he saw a photograph of a number of his colleagues with Tommy Robinson, the far-right political figure.
"It was clear to me at that point that racism was prevalent in 3 Para and A Company in particular," he said. "Things only got worse from there."
Simon Tibbitts, the lawyer representing the MoD, said the Army had taken the post very seriously, that the photograph was taken down and a Lance Corporal demoted.
But Mr Gue's account of racial abuse contained numerous other allegations and anecdotes.
The former soldier said someone drew swastikas, Hitler moustaches and the words "f*** off" and "n*****" on photographs of himself and Mr Zulu in January 2018.
The images were left pinned to the door of his room. The former soldier said he reported the incident to his commanding officer.
He also alleges that the corridor on which he lived, alongside a white South African colleague, was repeatedly trashed.
Doors along the corridor were urinated on and had beer bottles smashed against them, Mr Gue said. There was also graffiti with racial slurs written in marker pen, which the former paratrooper said he removed the next day.
The ex-paratrooper said he decided to leave the Army after being deployed to Kenya.
Under questioning from Mr Tibbitts​, the Ugandan national said the deployment came as a "big wake-up call".
Support free-thinking journalism and attend Independent events
He claimed he heard members of the battalion use a range of racist language against locals, including "n*****s" and "African idiots".
One corporal repeatedly ​referred to Kenya as a "s***hole" and on arrival the battalion was allegedly told to behave or risk having to "go to prison and get Aids".
"I was shocked that the racial abuse was not just directed at privates, but at [non-comissioned officers] too," Mr Gue said.
In 2018, after talking to his "absolutely horrified" mother about his experiences and after his father's recent death, he decided it was time to leave.
The former paratrooper claimed that after he told senior officers he was leaving the Army due to racism, battalion commanders recorded his motives for seeking discharge as "personal reasons" and for "perceived incidents".
Additional reporting by agencies
Register for free to continue reading
Registration is a free and easy way to support our truly independent journalism
By registering, you will also enjoy limited access to Premium articles, exclusive newsletters, commenting, and virtual events with our leading journalists
Already have an account? sign in
Join our new commenting forum
Join thought-provoking conversations, follow other Independent readers and see their replies