Nearly half of UK pets are now classed as obese, report finds
Up to 45 per cent of all pets are unhealthily overweight, according to a study by the Pet Food Manufacturers' Association (PFMA)
Antonia Molloy
Sunday 06 April 2014 12:20 Comments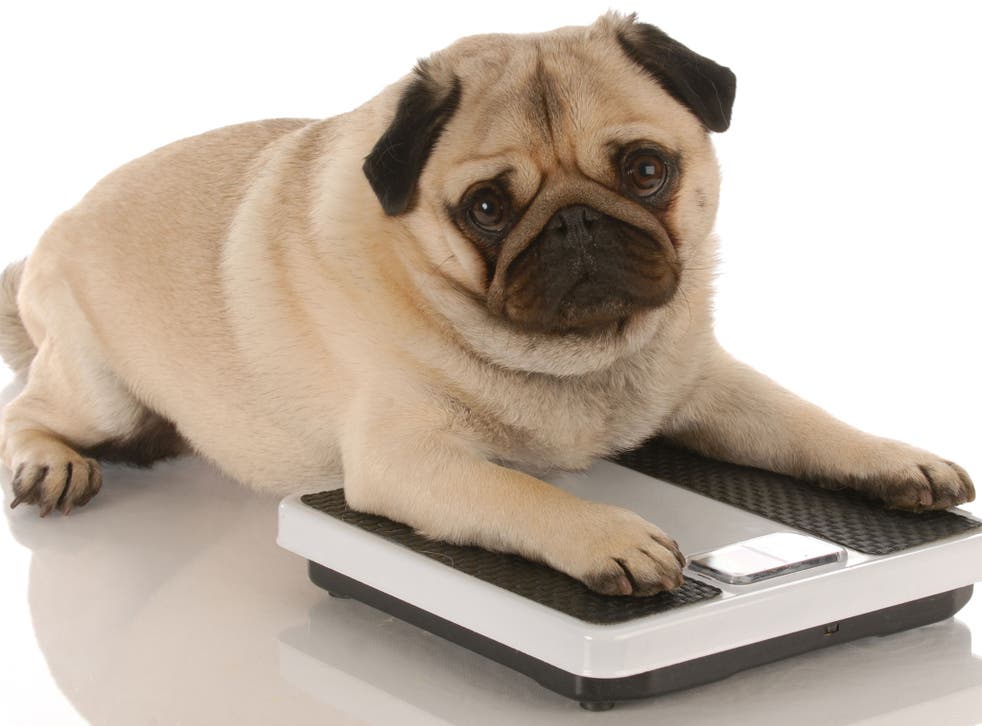 It's been known for a long time that people in the UK are getting fatter – but it's not only human waistlines that are expanding.
Nearly half of Britain's dogs and cats are now regarded by vets as obese, a new report has revealed - and the epidemic is costing owners £215 million a year.
The study by the Pet Food Manufacturers' Association (PFMA) showed that the number of overweight animals in the UK has greatly increased during the last five years, with up to 45 per cent of all pets seen by vets now classed as obese.
Nearly half (45 per cent) of dogs were found to be overweight, while the figure for cats was slightly lower at 40 per cent. Over a quarter (28 per cent) of small furries, such as rabbits and guinea pigs, fell into the obese category, while 15 per cent of caged birds were too fat.
But, despite these findings, two in three (63 per cent) pet owners believed their pets were the correct weight.
The study, involving 200 vets and 1,000 owners, identified owners feeding their animals leftovers as one of the biggest factors in the obesity epidemic. Failure to follow feeding guidelines, as well as pets undertaking insufficient exercise, were also cited as problem factors.
Only one in three (37 per cent) owners knew how to check whether their animal was a healthy weight - but the vast majority (93 per cent) said they would be concerned to discover their pet was overweight.
The new report, titled "Pet Obesity: Five Years On", follows a similar study by the PFMA in 2009.
It found that 77 per cent of vets believed pet obesity to be on the rise and it called on owners to resist overfeeding and excessive treating.
The report also recommended exercise of at least 30 minutes twice daily for adult dogs, forty minutes for cats and four hours daily for rabbits - but it advised owners to seek the advice of vets in order to tailor exercise programmes appropriately for their pets.
Zara Boland, founder of Vet Voice Ltd, said: "Overweight pets, like humans, can suffer from a myriad of health issues such as osteoarthritis, cardiovascular disease and diabetes.
"There is nothing "cuddly" about an overweight pet. Obesity is a disease in itself. It causes discomfort and illness that can result in both emotional distress and financial pressure for owners, and it has also been proven to reduce actual life length."
As well as citing a figure of £215 million a year as the cost to owners of overweight pets, the report also warned that a rise in obesity-related claims was leading to some pet insurance firms considering cutting pay-outs for fat pets.
It stated that 78 per cent of UK vets are now running obesity clinics at their surgeries and that controlling pets' weight was a priority for any owners wanting to prolong and improve their animals' lives.
Michael Bellingham, chief executive of PFMA, said: "All the tools are in place for pet owners and pet care professionals to better pets' lives together - now is the time to use them. We need to engage pet owners emotionally, helping them realise that feeding and exercising their pet to optimum level can result in an extra two years of active life."
Register for free to continue reading
Registration is a free and easy way to support our truly independent journalism
By registering, you will also enjoy limited access to Premium articles, exclusive newsletters, commenting, and virtual events with our leading journalists
Already have an account? sign in
Join our new commenting forum
Join thought-provoking conversations, follow other Independent readers and see their replies