New plans submitted to breed beagles for scientific testing in UK
Anti-animal testing activists are petitioning against the plans, but the would-be breeders already have a licence from the Home Office
Adam Withnall
Thursday 17 October 2013 12:04 Comments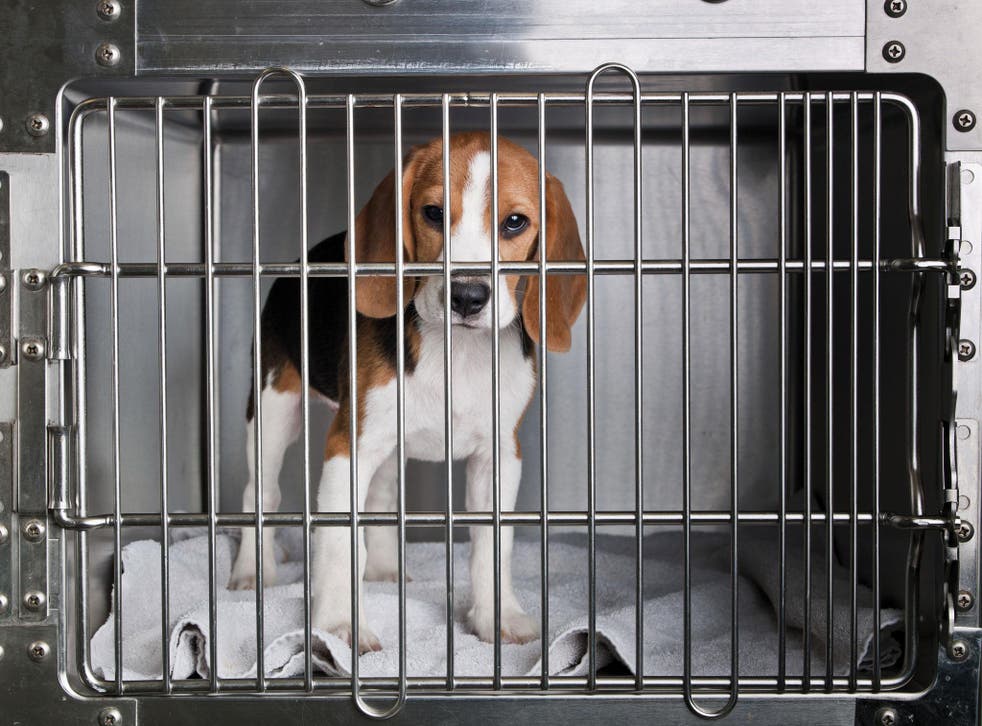 A new breeding centre to supply beagles for animal testing could be set up in the UK, less than two years after a set of similar plans were rejected on the same site.
The planning committee for East Riding in Yorkshire must now decide whether to approve the new set of plans from the US-backed firm B&K Universal, a branch of Marshal BioResources.
The downsized scheme would see the building of one large structure, instead of four small ones, able to supply 2,000 dogs a year to scientific facilities across the UK.
The company has argued that laws require new medicines to be tested on animals before they can go for human trials, and said that if beagles cannot be bread domestically they will just be shipped in from abroad instead.
But they have clashed with animal rights groups, who want the Government to honour its promise to reduce animal testing and say the practice is not necessary to ensure new drugs are safe.
The UK market for beagles is reportedly worth around £2.5 million a year. They are the chosen breed for testing because of their friendliness, docility and relatively small size – often the same reasons that make them popular pets.
The National Anti-Vivisection Society described the plans as cruel and has launched a campaign to fight them.
"Allowing the planned beagle breeding facility would increase the supply of beagles which goes against the Government's pledge to reduce the number of animals in experiments," the group's chief executive Jan Creamer told Sky News.
More than 10,000 people have signed a petition against the plans from a separate animal rights group, the British Union for the Abolition of Vivisection, which warned: "Beagles are largely used in toxicity (poisoning) testing both for human and veterinary drugs, as well as agrochemicals."
"They can be force fed chemicals and drugs in capsules or via plastic tubes inserted through their mouths, directly into their stomach or strapped into a harness for hours at a time while substances are pumped directly into their bloodstream. Animals can suffer adverse effects that result in vomiting, diarrhoea, weight loss and lethargy. Some dogs may become so ill that they either die or have to be euthanised for welfare purposes."
B&K Universal owns the land at the site in Grimston, and holds a licence from the Home Office to breed the dogs. Its plans were rejected in January last year because they were deemed not in keeping with the surrounding area, and amid fears of noise pollution and disruptive construction works.
The company's general manager Roy Sutcliffe told the Hull Daily Mail: "This is a scaled-down application and we have addressed all the concerns raised.
"We are not able, at this moment in time, to breed the dogs on site and they have a long journey to reach us from overseas."
Last year, 3,118 beagles were required by the UK medical research industry – up from 2,771 the previous year, said Mr Sutcliffe.
If plans are approved, B&K will be competing with a centre run by Harlan in Cambridgeshire, currently the only beagle breeding site in Britain.
Any decision made by the East Riding committee will be based purely on whether or not the proposals breach planning laws – and not on the emotive issue of whether beagles should be used for animal testing.
Register for free to continue reading
Registration is a free and easy way to support our truly independent journalism
By registering, you will also enjoy limited access to Premium articles, exclusive newsletters, commenting, and virtual events with our leading journalists
Already have an account? sign in
Join our new commenting forum
Join thought-provoking conversations, follow other Independent readers and see their replies