Newcastle fans united against anti-Islamic group Pegida
Club's supporters send 'you are not welcome' message to far-right ahead of Pegida march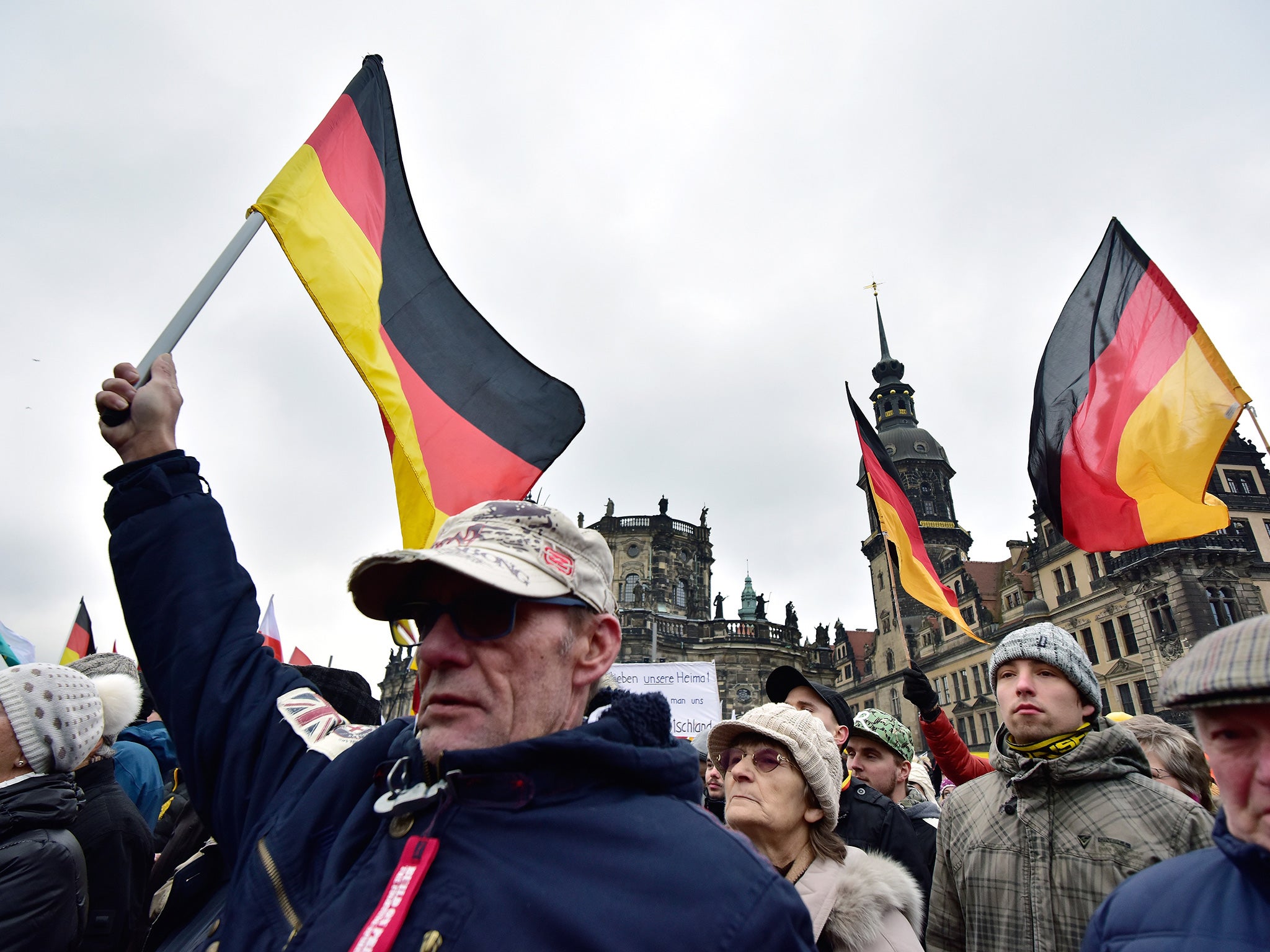 Newcastle United fans have urged far-right activists to stay away from their city, amid growing tensions over the anti-Islamic movement Pegida's first rally in Britain.
Supporters of Pegida – a new populist anti-immigrant group – have staged marches in several German cities in recent months, with a UK offshoot planning its first demonstration in Newcastle next weekend.
There are fears that the rally, which is due to be held on the same day as Newcastle United home match against Aston Villa, could attract as many as 2,000 people and spill over into violence.
Last night the NUFC Fans United supporters group made it clear that far-right protesters were not welcome in Newcastle, saying the city was "famous for its tolerance, integration and warmth of spirit". In a statement, they warned: "There is a fear that Newcastle United supporters who are of the Islamic faith or origin may be singled out for abuse by this group and we say that the authorities cannot allow any of our community, whatever their race, creed or religious belief to be treated in such a manner in our city on match day or any other day.
In pictures: Anti-Pegida protesters
Show all 10
"What kind of message does it send to those who come to study in our colleges and universities, or who visit as tourists to wonder on the splendour of our heritage history? What message does it send to those who may be offered the opportunity in the future to come and work in a city that has prided itself on its warm welcome but will now be tarred with being a city that allowed itself to be associated with those of the German Far Right. Is this the message we want our city to be remembered by and tarnished with?" On its Facebook page yesterday Pegida warned extreme far-right groups to stay away from the demonstration, insisting it wants it to be peaceful.
Matt Pope, of Pegida UK, insisted that the movement believes in "freedom of expression and speech".
"In an ideal world we would love the extreme right-wing element to leave us to it," he said. "But this isn't an ideal world. As long as everyone behaves themselves, this should go without incident." Pegida UK is an offshoot of the group which began in Dresden, Germany, last October. Its name translates as Patriots of Europe Against the Islamisation of the West.In Dresden earlier this month, 25,000 supporters joined a rally which was condemned by the Chancellor Angela Merkel for being xenophobic. She said the organisation's leaders have "prejudice, coldness, even hatred in their hearts".
Pegida says it merely opposes radical Islam and hate preachers and believes "Muslims need to adapt to our way of life in the west instead of us adapting to them".
Professor Matthew Feldman, an expert in fascist ideology at Teesside University's far-right research centre, said Pediga UK had emerged from nowhere and, unlike other far-right groups like the BNP and EDL, appealed to some middle-class people who are concerned about multiculturalism and Islamist extremists.
"They want people to take families to the demonstration and be the acceptable face of anti-Islamisation," he said. "They are clearly trying to develop the brand."
He said it's difficult to pinpoint the leadership, as so much is done via social networking sites, unlike the physical structure of the EDL and the membership system of the BNP.
Matt Pope: Pegida organiser
Matt Pope, the self-styled organiser of the Pediga UK rally in Newcastle on Saturday, was born in Stevenage and now lives in Cambridgeshire. The 29-year-old previously worked as a nurse and says he is now a social worker.
Pope became involved in Pegida after studying Islam for around 11 years. He says he has Muslim friends and the organisation isn't about antagonising the Muslim community, but challenging extremism.
Pope says despite a suggestion on the internet that he has an assault conviction, he has none. He describes himself as "a very liberal person".
Join our commenting forum
Join thought-provoking conversations, follow other Independent readers and see their replies