Number of NHS patients waiting more than 12 hours on hospital trolleys rises 6,000%, figures show
Number of people waiting on trolley for longer than NHS waiting time target up from 38 in winter of 2010 to 2,608 last winter, new analysis reveals
May Bulman Comments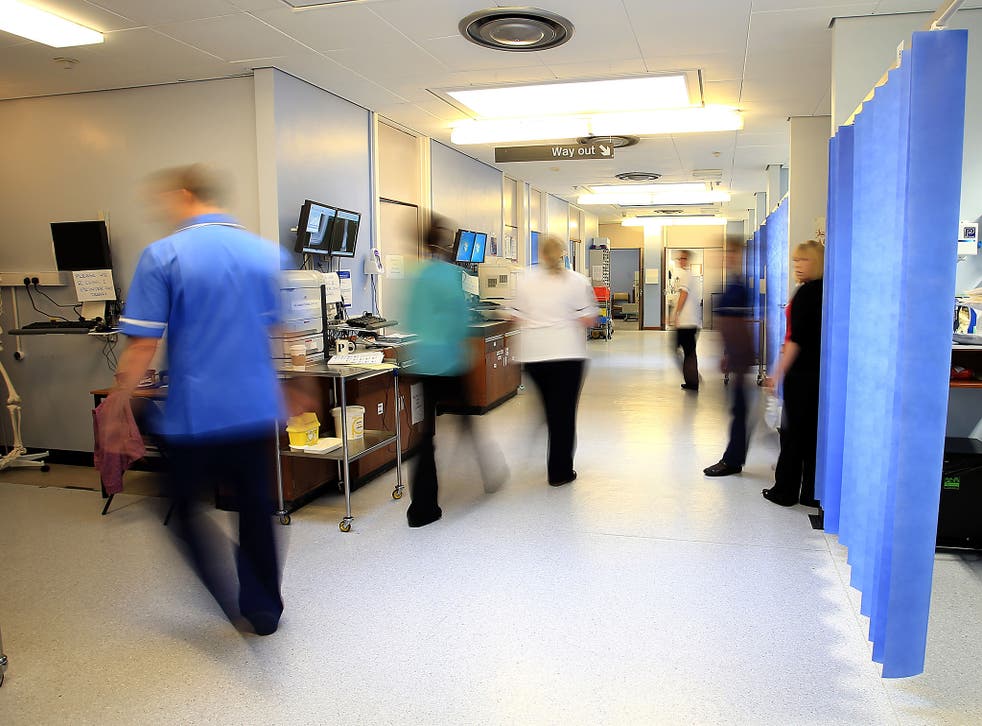 The proportion of patients waiting for more than 12 hours on trolleys has increased by more than 6,000 per cent, NHS figures show, prompting warnings that hospitals in England have "endured one of the worst winters on record".
Delayed transfers of care and waits at A&E were both found to be increasing, while bed occupancy on general and acute wards reached record levels, according to the latest British Medical Association (BMA) analysis of NHS performance in the country.
The findings show the number of trolley waits rose dramatically between November 2016 and March 2017, with more than 290,000 patients waiting at least four hours to be admitted – an increase of almost 70,000 on the previous year.
Despite the NHS England target that no patient should wait more than 12 hours on a trolley, the number of such incidents has dramatically increased over the past seven years, from 38 in the winter of 2010/11 to 2,608 last winter – an increase of 6,763 per cent.
Bed occupancy on general and acute wards was 91 per cent over the first three months of 2017 – the highest figure on record, and there were 328 fewer available mental health beds between January and March than between October and December, according to the findings.
Between the start of December 2016 and the middle of March 2017, 94 of 152 trusts issued major alerts on at least one day to say they couldn't cope, with 6,708 patients experiencing a delayed transfer of care on any one day between November 2016 and March 2017.
Commenting on the analysis, Dr Mark Porter, BMA council chair, said: "These figures show that hospitals have just endured one of the worst winters on record, with patients facing unacceptably long waits for treatment.
"These delays are having a profound impact on patients' experience of the NHS and mean frontline staff are left working under extremely difficult conditions."
Mr Porter said the new analysis was "particularly stark" because the weather was mild over winter and there were no widespread outbreaks of flu or norovirus, suggesting the pressure the NHS is under was "purely down to bad political choices".
He added: "Years of chronic underfunding and investment in services are failing to keep up with patient demand. Politicians are consistently missing their own targets across the health system and the NHS is clearly at breaking point.
"Pressures previously only seen during the winter months are now becoming the norm year-round, as current trends suggest that performance will continue to deteriorate rather than improve."
"In the run-up to the general election, we call on politicians of all parties not to duck this crisis any longer."
UK news in pictures

Show all 50
It comes a week after Britain's healthcare system was ranked just 30th in a new global study – lagging behind other European countries including Germany, Ireland, Spain, Slovenia and Italy.
In a report published in The Lancet medical journal, the UK scored a total of 84.6 out of 100, placing it on an equal footing with Cyprus, Qatar, Malta, Portugal and the Czech Republic – with an especially low score for cancer care.
Theresa May has meanwhile been accused of failing to tackle the growing crisis in the health service in the Conservative manifesto.
Register for free to continue reading
Registration is a free and easy way to support our truly independent journalism
By registering, you will also enjoy limited access to Premium articles, exclusive newsletters, commenting, and virtual events with our leading journalists
Already have an account? sign in
Join our new commenting forum
Join thought-provoking conversations, follow other Independent readers and see their replies